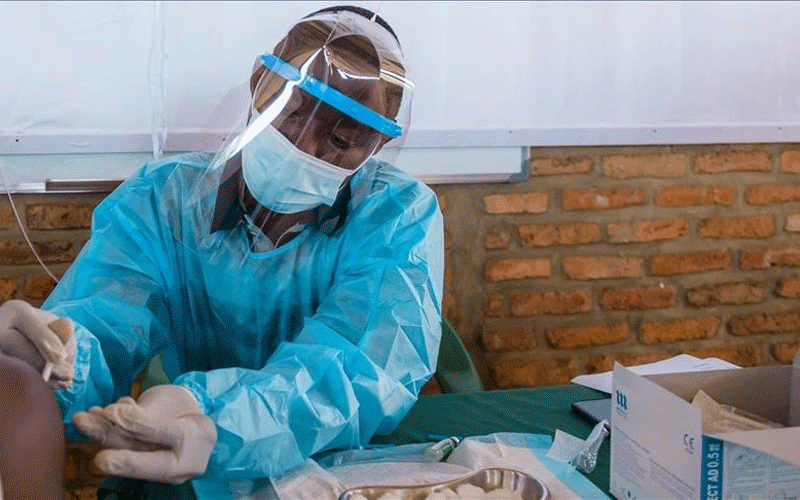 THE Zimbabwe Lawyers for Human Rights (ZLHR) commiserates with both the working and unemployed people of Zimbabwe as they grapple to make ends meet at a time when they are shattered by innumerable challenges afflicting them and calls upon government to repeal draconian legislation which violates trade union rights.
On this International Workers Day, which is commemorated every year on May 1, ZLHR recalls the historic struggles, commitment and extraordinary sacrifices made by local and global workers that ushered in hard-won gains.
ZLHR salutes workers for their sacrifice in upholding the critical values of social justice and for demanding respect for fundamental rights at workplaces and their determination to build a better future.
With the impact of coronavirus lessening in recent months, ZLHR pays tribute to workers particularly first responders who have been on the frontlines providing essential goods and services and helping keep people safe during the outbreak of the devastating pandemic.
While this virus appears to be receding, ZLHR is outraged by the unending pandemic which is the deepening erosion of workers' rights and fundamental freedoms.
We note with particular concern the persecution and prosecution of teacher trade unionists, ordinary workers and individual citizens, which in most cases has failed to yield anything tangible in terms of convictions as they have been acquitted after standing trial on flimsy charges.
Of great concern to ZLHR too is the recent enactment of the Health Services Amendment Act, which outlaws industrial action by healthcare workers lasting more than three days and requires them to provide a written notice of 48 hours before a job action begins.
ZLHR condemns the enactment of such a draconian law and the unjustified and punitive sanctions it imposes on healthcare workers as they are contrary to freedoms of expression, assembly and association, which are fundamental freedoms enshrined in sections 61 and 58 of the Constitution.
Promulgation of such retrogressive legislation has the effect of stifling the rights of the working people and is in contravention of the International Labour Organisation's principles concerning the rights to strike which Zimbabwe ratified and which states that "no one should be penalised for carrying out or attempting to carry out a legitimate strike and that penal sanctions should not be imposed on any worker for participating in a peaceful strike."
While ordinary workers and citizens grapple with the debilitating economic and political crises in Zimbabwe, which are punctuated by astronomic prices of goods and services and the levying of the same in scarce foreign currency, it is perturbing to note widespread media reports of endemic corruption in both the public and private sectors and the unprecedented looting of the country's resources including grand-scale asset stripping.
It is saddening that Zimbabwean workers continue wallowing in extreme levels of poverty even though the country is endowed with natural resources such as precious minerals, which are being exploited by the elite and are also grappling with shortages of basic amenities.
ZLHR reminds government of its obligations contained in the founding values and principles of the Constitution which places a duty on it to adhere to the principles of good governance which entails transparency, justice, accountability and responsiveness.
Owing to company closures and uncompetitive wages and salaries, most workers have been condemned to informal sector trading.
However, it is worrying that those eking out a living by way of informal employment are always at the mercy of government as running battles continue to be experienced between informal sector traders and municipal police and Zimbabwe Republic Police officers, and this has at times led to arrest and prosecution of informal traders on flimsy charges.
As an administration which frequently parrots that it is a listening government, ZLHR calls upon it to:
Immediately implement vigorous measures to arrest the escalating prices of commodities and services and tame the local currency instability in order to protect the purchasing power of workers and their families and dependants;
Boost workers' income through slashing excessive taxes and high mandatory pension contributions.
Respect, protect and promote the right of all workers to petition and demonstrate peacefully for better working conditions and their right to freedom of expression, assembly and association;
Stop the persecution and prosecution of workers and labour activists and repeal the Health Services Amendment Act.
Qina Sisebenzi Qina!
Shinga Mushandi Shinga!
Long Live Zimbabwean Workers! - Zimbabwe Lawyers for Human Rights
Climate change taking a toll more on women
CLIMATE change threatens the effective enjoyment of a range of human rights including but not limited to the right to life, water and sanitation, food, health, housing, self-determination, culture and development.
Existing climate governance does not adequately support inclusivity as women are rarely consulted when climate decisions are made.
Women, youth, indigenous people and other marginalised groups are the most noticeably absent — and yet these groups bear the brunt of climate change impacts.
States have an obligation to prevent the adverse effects of climate change and ensure that those affected by it, particularly those in vulnerable situations, have access to effective remedies and means of adaptation to fully enjoy their rights and live dignified lives.
The key climate change risks in Zimbabwe stem from increasing temperatures, more variable rainfall, and the intensification of extreme weather events.
The climate crisis is a societal challenge with ethical and human rights impacts occurring alongside a number of already existing inequalities based on gender, socioeconomic class, race, ethnicity, nationality, ability, sexual orientation and age.
Climate change negatively affects the production, availability and accessibility of resources, such as land, water and food.
Women constitute most of the world's poor and are often directly dependent on natural resources as their main source of food and income.
Many smallholder farmers are women, and their livelihoods and food sources are at risk from climate change.
Women are more exposed to food insecurity than men and this can affect them differently because of their nutritional needs, especially during pregnancy and lactation.
Male-dominated structures often govern land ownership, making it a challenge for women to access, control and own fertile land.
The record-breaking heat, floods, storms, droughts and wildfires devastating communities further underscore the grave risks women already face.
Recurrent drought and flooding disasters, deforestation, scarcity of water for households, industry and agriculture, and pollution are just a few ways in which climate and human behaviour are taking a toll on our resources.
Women tend to suffer more from indoor air pollution due to the use of polluting fuels for cooking and heating.
Extreme weather events and increased incidence of vector-borne diseases such as malaria, coupled with unequal care burdens, can cause undue pressure on women to support their families.
In this regard, women have less "formal" working time and this deepens inequalities on the job market where women already face significant obstacles.
Intersecting dynamics, such as indigenous or disability status, compound the vulnerability of some women, particularly when adequate social protection systems are lacking.
Climate action that excludes women intensifies these challenges. - Zimbabwe Coalition on Debt and Development
Related Topics