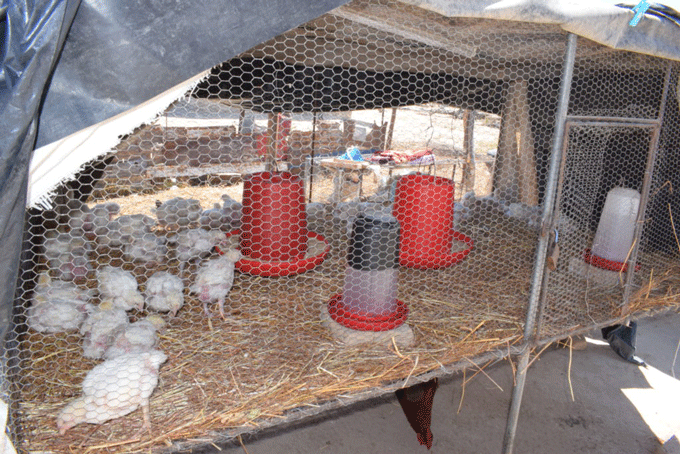 BY STAFF REPORTER
FOR Thembani Ndlovu, a mother of three, Hand in Hand Zimbabwe (HHZ)  women empowerment programmes have brought peace to her home.
Condemned to a life of poverty and abuse by her husband, Ndlovu said her life story saw her overcome her trials after participating in an HHZ empowerment programmes.
"We used to fight a lot with my husband due to lack of income and resources.
"We would abuse each other emotionally, but ever since I joined this group, we are now living in peace as a family," Ndlovu, a member of Sivukile Cooperative said during a recent media tour.
Based in Bulilima East in Plumtree, the group was formed in 2014 by 10 women, most of them widows.
The group is into poultry and goat production as well as marula jam production among other projects.
"We use the money we generate from these projects to look after our families.
"This has helped eliminate poverty in our families," another Sivukile member, Esther Ncube, said.
In 2019, HHZ, a non-profit organisation decided to support the group after realising its potential.
The organisation capacitated members on market engagement and conducting market surveys including full market assessment on high value markets.
Members also underwent training on managing money, opportunity identification and enterprises planning, marketing, managing enterprise finance and credit management.
To further capacitate the group, HHZ supported it with 300 day-old chicks, feed, equipment, including building material to construct a fowl run among other things.
"HHZ taught us how to run a business and we are now businesswomen. Before meeting HHZ, we used to keep 50 birds at a time but now we have increased the figure to between 100 and 150," Regina Ncube, group chairperson, said.
"We have now achieved self-sustenance and no longer dependent on our husbands for money," she added.
After every six weeks, the group makes an average of R8 700 from the poultry project.
Sivukile is not the only group that has benefited from HHZ programmes in Bulilima; there are a lot more.
For instance, the organisation also supports Thembelani/Great Hope Horticultural Cluster.
Group members told Sunday Southern Eye that each of them could make an average of R1 500 per month from the sale of tomatoes, chomolia and onions.
Some members have used the money to buy domestic animals like goats and  traditional chicken.
"Poverty is no longer among us. We have eliminated it," Great Hope member Zanele Ncube said.
Addressing participants at a prize-giving ceremony where two women's groups were honoured for their entrepreneurial skills in ward 23 recently, Chikomba Rural District Council assistant district development coordinator Monica Chamboko said the coming in of Hand in Hand helped reduce cases of gender-based violence in the area.
"Women have been economically empowered to the extent that they also bring food to the table and this has helped reduce violence in homes," she said.
Poverty, according to UN Women, can increase violence.
It said particular groups of women, including women and girls living in poverty, face multiple forms of discrimination, and face increased risks of violence as a result.
Studies show that poor girls are 2.5 times more likely to marry in childhood than those living in the wealthiest quintile.
Women and girls living in poverty are more vulnerable to sexual exploitation, including trafficking. And those who experience domestic or intimate partner violence have fewer options to leave violent relationships, due to their lack of income and resources.
Furthermore, approximately 137 women die at the hands of a partner or member of their family each day.
To address such issues, HHZ runs programmes to empower women economically and lift them out of poverty, as well as strengthen social services for survivors and increase awareness of their rights.
HHZ is a non-profit organisation that helps resource-limited and marginalised people in rural communities, particularly women and youth, to create better livelihoods for themselves and their families.
HHZ presently operates in Bulilima and Gwanda in Matabeleland South province, Lupane and Nkayi in Matabeleland North, Chirumanzu and Shurugwi in Midlands province and Chikomba district in Mashonaland East.
Women entrepreneurs said through interventions by HHZ, they have started witnessing development in their communities.
"Our aim is to transform our lives and communities," one member said.
Related Topics