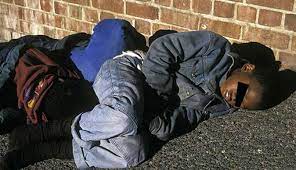 BY JONAH NYONI "Life in the dark has never been easy," a commercial sex worker speaking on condition of anonymity says as she narrates the abuse she sometimes goes through at the hands of clients.
"Some men come for our services and never pay after the act," she said.
"Others are violent and we are beaten if we don't comply with their demands.
Some want sex without protection. Yes, we are given more money when there is no protection, but that comes with its dangers.
"To make matters worse we also have young girls that have joined our trade. The economy pushes us to do this.
"This is hard and we have to find means to earn a living, even though society calls us names.
"Truly, I want to have a normal life, be married and settle, but it's unfortunate I have to exchange my body for money."
Young girls and boys are being pushed into the sex trade as the economic crisis bites.
This emerged during a workshop held recently in Bulawayo organised by the Regional Psychological Support Initiative where sexual exploitation against young sex workers was described as prevalent.
Sexual or child prostitution is a crime in Zimbabwe, but there are no exact statistics on the extent of the vice.
Poverty is cited as one of the reason why many, including young girls are pushed into child prostitution.
This is happening at a time when statistics show that the country's HIV pandemic is also reaching the young.
According to UNAids, in 2018 about a third of all new HIV infections in Zimbabwe were among people below 24 years.
In that year UNAids reported 9 000 new HIV infections among young women, more than double the number of new infections among young men (4 200).
Scripture Union in Zimbabwe, Bulawayo team leader Sikholiwe Ncube said not only girls were  exploited sexually, but young boys find themselves in the same plight.
"For children living in the streets, sexual exploitation is one of the violations that they face," Ncube said.
"Both boys and girls are exploited. These children are usually exploited by people of older age.
"On the other hand, girls are exploited by boys of the same age.
"If you are a girl child and you are in the streets you are more vulnerable and need more help."
The Scripture Union is an interdenominational Christian organisation registered as a welfare organisation and works with homeless kids in trying to alleviate their plight.
"Usually at first these children might see or receive this sexual exploitation as abuse, but with time they accommodate it as a way for life," Ncube added.
"So that you find these children selling sex for survival, especially at night in bars, streets corners."
She said while it has never been easy to work with children working or living in the streets, the Scripture Union continues to offer more services to remove the girl child from the streets.
"People report such cases to us and we then move the child out of the street and help them through alternative care from different ministries that we work with or our partners.
"We also do sexual reproductive health awareness programs with them.
"When we find kids that have already been sexually exploited we seek competent service providers like clinics or hospitals.
"At times we do counseling sessions with them," said Ncube.
Related Topics