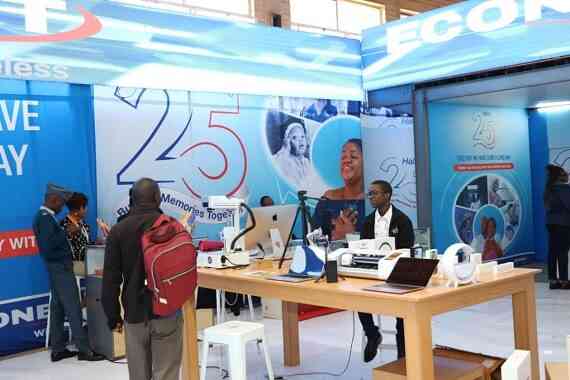 Econet Wireless, Zimbabwe's largest telecommunications and technology company, is set to launch the first-ever drone show in the country on the closing night of the Zimbabwe Agricultural Show on Saturday as part of its 25th anniversary celebrations.
The highly anticipated event will feature drones, also known as unmanned aerial vehicles, which have gained popularity in recent years for their capability to perform intricate aerial manoeuvres and create dazzling displays.
Econet said the drone show will feature a fleet of 150 drones that will be choreographed to perform a synchronised display over the night sky. It said the show will take the audience on a journey through Econet's history, highlighting key milestones in the company's 25-year journey of commercialisation.
"We are thrilled to bring this groundbreaking experience to Zimbabwe as part of our 25th anniversary celebrations.
"The drone show represents our commitment to innovation and showcases the potential of cutting-edge technologies to make a real difference in our country. We are confident that this event will leave a lasting impression on our audience," said Econet's Chief Commercial Officer, Mr Navdeep Kapur, ahead of the event.
The show, he said, will be accompanied by an enchanting audio commentary, musical score and Econet branded fireworks.
He noted that the drone show was just one of the many events that the company was staging as part of its 25th anniversary celebrations.
"Our aim is really to reconnect with our customers. As the public may be aware, we have also launched a number of other initiatives, including the 'Hallo 25 Building Memories Together' campaign and the promotions and numerous prizes we have so far given away since May this year," Mr Kapur said
The drone show will cap a week in which Econet's exhibition stand at the Agricultural Show has been grabbing the limelight with its eye-catching design and a wide array of products and innovative services on display.
The 113th edition of the Zimbabwe Agricultural Show is running under the theme: "Sustained growth. Adaptation. Productivity and Linkages." It has attracted over 500 exhibitors from various countries, including the Democratic Republic of Congo (DRC), the European Union, China, South Africa, Malawi, Zambia, and China among others.
Related Topics