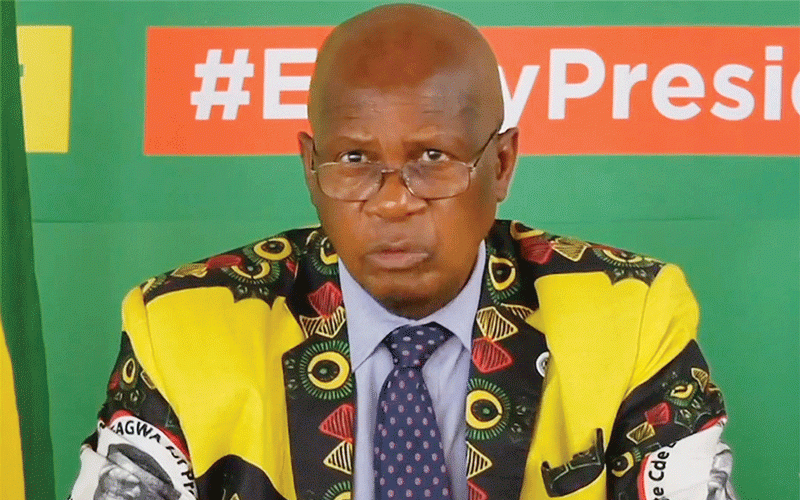 PRESIDENT Emmerson Mnangagwa's visit to Manicaland province on Wednesday for a campaign rally left the ruling party divided with party bigwigs clashing over the venue.
Former Finance minister Patrick Chinamasa, reportedly imposed the venue, Handina Primary School, in Makoni South constituency in support of the constituency's candidate Albert Nyakuedzwa, his top ally.
Sources at the rally said Chinamasa was repaying Nyakuedzwa for saving him in the central committee elections.
"Hosting the rally in Makoni South constituency was payback time by Chinamasa to Nyakuedzwa after he saved him in the central committee elections," a party source said.
Zanu PF Manicaland chairperson, Tawanda Mukodza, said he was in a meeting when contacted for comment.
Chinamasa reportedly opposed a Makoni district co-ordinating committee (DCC) resolution for the rally to be held at St Lukes Secondary School in Nyabadza in Makoni Central, which is more central.
Makoni DCC chairperson Phineus Koro, wrote to Zanu PF political commissar Mike Bimha suggesting Makoni Central as the venue.
There was heated debate at a preparatory meeting at Handina Primary School on Sunday in Makoni South constituency ahead of Mnangagwa's visit.
The meeting was attended by several party bigwigs such as Zanu PF secretary for security Lovemore Matuke, secretary for transport July Moyo, Mike Madiro, Bimha and national youth leader Tinoda Machakaire, among others.
At the meeting, several politburo members reportedly expressed reservations about the venue.
However, Chinamasa shot them down.
"People were saying they don't want this venue, but I think we have settled for this venue," Chinamasa told the Zanu PF officials.
Makoni district has five constituencies, with only Makoni Central in the hands of the opposition.
Addressing the rally at Handina, Mnangagwa confirmed that Chinamasa had a hand in choosing the venue for the rally.
Mnangagwa said Chinamasa led a delegation that wanted a presidential star rally held in Manicaland even though Zanu PF launched its campaign in Chipinge in June.
Zanu PF will be represented by Shepherd Nyika in Makoni Central where Chinamasa lost in 2018.
Related Topics