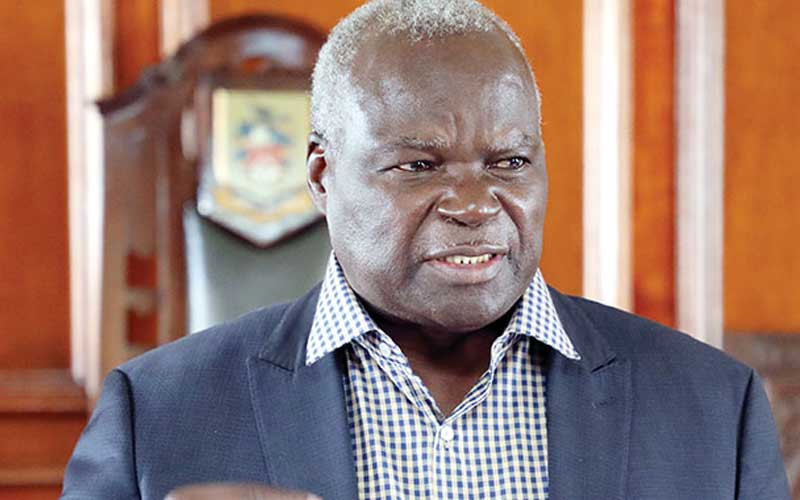 SENIOR Zanu PF officials have been accused of using unorthodox means to elbow out ambitious Young Turks seeking to challenge them in party primary elections slated for this Saturday.
President Emmerson Mnangagwa recently announced that primary elections would be held this weekend to select candidates to contest in the general elections expected in August this year.
The announcement was made at the politburo meeting last Wednesday, giving the aspirants only a few days to campaign.
Old horses such as Joram Gumbo, July Moyo and Owen Ncube have sailed through without facing challengers.
The feared Ncube, a former State Security minister, is said to have made it clear that no one should contest him in the Gokwe-Kana constituency.
"I have told you several times that I do not speak to newspapers," Ncube said yesterday when contacted for comment.
Zanu PF deputy youth secretary John Paradza is now in the eye of a storm after he reportedly facilitated the suspension of his rival Mutonho Mutonho in Gutu West ahead of the primary elections.
Masvingo provincial chairperson Rabson Mavhenyengwa and secretary for commissariat Brian Munyoro are also being accused of ambushing Mutonho with a disciplinary letter in a bid to stop him from contesting in the internal party polls.
As Mutonho handed over his curriculum vitae, he was handed the disciplinary letter to ensure he does not participate in Saturday's primary elections.
The disciplinary letter means he will be barred from holding any party positions for two years.
Mavhenyengwa confirmed the letter.
Mutonho, who was Gutu ward 6B chairperson, was suspended for allegedly campaigning before receiving the party go-ahead.
He was carrying out various projects, including donating bicycles and food hampers in his ward when he was suspended.
Paradza yesterday told NewsDay: "Yes, I will not be contested in the primary elections because I have worked hard in the constituency."
Mutonho said he had approached the Zanu PF leadership in Harare over the matter.
Veteran politician and Nkayi North legislator Sithembiso Nyoni will also not be contested after other candidates were disqualified on technical grounds.
Nyoni sought a "safe" seat in Nkayi North after losing in Bulawayo on two separate occasions.
In Mashonaland Central, Home Affairs minister and Zanu PF provincial chairperson Kazembe Kazembe was accused of attempting to withdraw his rival Christopher Makwezva's curriculum vitae so that he remains unchallenged.
Kazembe is Mazowe West legislator.
"Kazembe tried to disqualify me, but I stood my ground and my CV was luckily accepted. He did not want to be contested. He is now regarding himself as the godfather of the province. He has sent his foot soldiers to intimidate people to stop supporting me," Makwezva said.
Efforts to get a comment from Kazembe were fruitless as he did not answer his mobile phone. In Zvimba South, legislator Phillip Chiyangwa reportedly donated bicycles to party supporters to sway votes in his favour.
Former Finance deputy minister Terrence Mukupe is also trying his luck in Hurungwe North after losing in Harare East.
In Matabeleland North, 54 aspiring Zanu PF legislators had submitted their CVs last weekend.
Related Topics