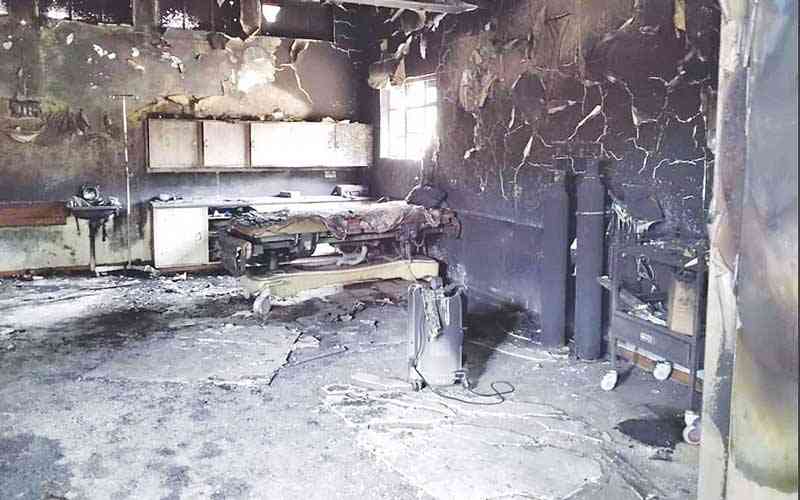 HOSPITAL equipment valued at several millions of dollars went up in smoke yesterday when the 160-bed Beitbridge District Hospital's operating theatre caught fire.
Witnesses said the fire, the second at the institution in four months, was noticed soon after power was restored.
Last year on November 17, the hospital pharmacy also caught fire.
District medical officer Linus Samhere said the fire started in one wing of the main theatre at around 1000 hours.
"We are waiting for experts to tell us the cause of the fire. We are not specialists in that field and we will not speculate. We are going to have to use the small theatre for smaller jobs, but major jobs cannot be handled here," he said.
Police had cordoned off the area when NewsDay arrived at the scene.
Some hospital staff who spoke to NewsDay on condition of anonymity said the fire broke out soon after regular electricity was cut off during load-shedding.
"We were on the other side preparing implements for jobs lined up for the day. After a while we saw smoke filtering from the other wing. Vital equipment, almost all has been destroyed," a staff member said.
"We called for help, and when we moved to that wing the room was already engulfed in fire."
In November last year, the Beitbridge District Pharmacy housed at the hospital went up in smoke under similar circumstances.
The hospital caters for the district's 120 000 people and a transit population of at least 10 000 people a day.
Politicians from the region have over the years appealed for the hospital to be upgraded to a general hospital to increase its budget and capacity.
Related Topics