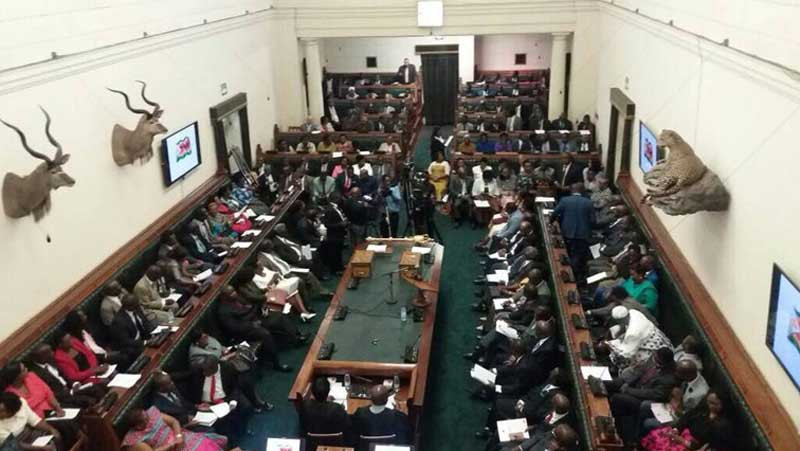 CIVIL society organisations (CSOs) and legislators have called on Auditor-General Mildred Chiri to carry out a forensic audit on how Parliament approved acquisition of 173 laptops and 79 desktops which were overpriced at US$9 264,48 and US$3 076,61 per unit, respectively.
The tender was awarded to Blinart Investments P/L and Mid-End Computers Hardware P/L amid suspicion of procurement malpractices following an outcry that the unit prices for the gadgets were inflated.
The deal was, however, cancelled and the winning companies blacklisted after Treasury raised concern over the pricing disparities.
This comes as Finance minister Mthuli Ncube on Tuesday told journalists in Harare that government will implement a value for money process on government procurement contracts to curb corruption by government departments.
In a statement yesterday, Transparency International Zimbabwe (TI-Z) chairperson Isheanesu Chirisa said: ''The Office of the Auditor-General should complement these efforts by launching a forensic audit of the Parliament of Zimbabwe in the procurement of goods and services in 2021 and 2022, given the apparent deficiencies in the procurement process. This forensic audit will undoubtedly establish the extent of corruption in the institution and flag out corruption risks in public procurement.''
TI-Z has also demanded that after the forensic audit is done, the findings should be made public for accountability purposes.
''Evidence presented so far is suggestive of collusion between public servants, parties in the private sector and individual citizens. TI-Z urges the Parliament of Zimbabwe to consider this as a form of financial misconduct in line with section 85(1)(b) of the Public Finance Management Act (PFMA). Proper disciplinary procedures should, therefore, be followed consistent with sections 87 and 88 of the PFMA,'' TI-Z said, adding that citizens should be able to hold public officials to account.
"Given the foregoing, it is equally imperative that Parliament causes public disclosure of the beneficial owners of Blinart Investments P/L and Mid-End Computers Hardware P/L and ensure that they are personally blacklisted from any future government procurement process, along with all entities that they have current and future association with.
"Publishing these details will not only give the public an opportunity to know the specific individuals who are receiving personal gain from such despicable acts of corruption, but also enable local businesses to remove them and their associated entities from their suppliers' lists. The publication will also certainly act as a deterrent mechanism.
''This calls for serious investigations and inquiry into the possibility of undue influence and/or fraud in the evaluation of bids. This leaves the probity of these committees highly questionable. These transactions and conduct clearly violate section 315 of the Constitution, and provisions of the Public Procurement and Disposal of Public Assets Act [Chapter 22:23], which prescribe that procurement of goods and services by the State and all institutions and agencies of government at every level must be effected in a manner that is transparent, fair, honest, cost effective and competitive. This conduct by Parliament erodes public trust in government institutions, damages institutional integrity, and distorts public sector outcomes."
The Zimbabwe Coalition on Debt and Development also called for a probe into the Parliament tender, saying the august House's accountability standards should be very high as it is a torch bearer which has an oversight role over government departments.
"Parliament is supposed to lead in the pursuit for transparency, accountability and oversight. Today we ask, who is Blinart that it benefits from overpriced supplier tenders, and shows up on the Forex Auction receiving millions every other day," Zimcodd said in a statement.
In a statement dated September 17, 2022, Clerk of Parliament Kennedy Chokuda defended the contract saying all necessary procurement procedures were followed.
But in the National Assembly yesterday, Norton MP Temba Mliswa (Independent) demanded that a forensic audit should be undertaken.
"We have to be prudent in whatever we do so that this institution is not reduced to nothing. A forensic audit of all that has been purchased from 2013 to date is quite necessary," Mliswa said.
Speaker of the National Assembly Jacob Mudenda responded: "The chairperson of the Public Accounts Committee (Brian Dube) has written to say that Parliament officials must appear before the committee. Only after the interrogation of PAC will a decision be made to decide if there should be a forensic audit."
On Monday, the Finance minister said: "Tenders have been awarded without due regard to price checks on the basis that prices have passed a competitive bidding process. It is never too late to do the right thing."
Related Topics