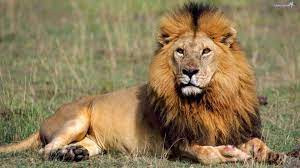 A big lioness took its position under the cool shed of massive tree on the edge of a watering hole in an area befittingly named Shumba, deep inside the Hwange national park as it cooled the Sunday afternoon off.
As the vehicles stopped and turned in its general direction, the annoyed feline got to its feet as if to flee, but, to our surprise, it simply walked a few yards further up and, finding another tree shed, sunk its evidently well-fed belly into the ground and never moved another inch.
The watering pan was bereft of any other creature, for in the presence of the deadliest Savannah predator, none dares come closer.
This lioness provided was consolation for missing out on the spectacle of 22 lions and their cubs we were told killed and fed on two buffalo carcases near Sinamatela Camp earlier in on the day.
At Mandabvu Camp, dozens of elephants with their calves at various ages converged in different herds by the watering hole, providing a spectacle to numerous tourists from diverse countries.
This scene is repeated at every other watering hole, evidence that recent conservation efforts in the giant national park are bearing fruit.
This largely testifies to the visionary partnership between the Zimbabwe National Parks and Wildlife Authority (ZimParks) and the International Fund for Animal Welfare (IFAW) which has helped keep poachers at bay while at the same time triggering a wildlife explosion that has transfigured Hwange from a poacher-ravaged park into a serene wildlife paradise in just three years.
Under this five-year US$5 million partnership, animals that have been at the mercy of climate crisis have been rescued, thanks to many new watering holes, poachers have been kept away and diseases are being attended to promptly.
In fact, Hwange's revamped veterinary unit was on full use on Monday morning, with a team of rangers and the resident veterinary doctor setting out to attend to an injured elephant as we were about to depart the jungle.
The biggest achievement is, however, the establishment of a whole new camp at Makona area, which was worst affected by the greatest poaching crisis Zimbabwe ever witnessed in 2013 when at least 300 elephants died due to cyanide poisoning.
The incident, which also resulted in deaths of scavenger animals like hyena, jackals and vultures, was declared an ecological disaster.
The Makona Camp has been transformed from a mere ranger outpost to a station to a standalone station with the assistance of IFAW and it will cover at least 140 square metres.
Zimparks spokesperson Tinashe Farawo describes it as a game changer.
"This is a massive project that is a result of our conservation partnership with IFAW. They are assisting us in a big way. Over the last three years they have poured in more US$3m and we are extremely grateful as ZimParks. The road that we have used from the main camp to Makona is about 100km. At some point you need to spend a day travelling by that road because of the Kalahari sands but it's now twice faster," he said.
He said construction work on the camp is almost complete.
"They are now putting up finishing touches on the houses and the administration block. We are expecting to officially open it in November," he said.
The new Makona Ranger Sub-station is a foundational step in Room to Roam—IFAW's new vision to ensure safe and healthy coexistence for Africa's elephants as they move freely across their natural range.
Although the station will be officially opened in the next couple of months, IFAW has already supported ranger training in the park and procurement of a patrol vehicle and other equipment. As a result, there has been a significant reduction in poaching with not a single elephant incident being recorded in Hwange National Park in the three years the partnership has existed.
In addition to this, IFAW has also funded the refurbishment of other camps like Sinamatela and Mandabvu, transforming them into world class facilities.
An old people's home at the neighbouring Dete area is also being upgraded with funding from IFAW.
"We are extremely excited about the significant strides that have been made in the implementation of the value-driven conservation agreement between ZimParks and IFAW. Under the historic agreement, our main objective is to address some of the key conservation challenges being faced in and around the greater Hwange ecosystem, namely poaching and human wildlife conflict. A key milestone under the partnership is the construction of the new Makona ranger base in the southern part of the iconic park. We believe the infrastructure project will help ensure effective law enforcement and boast the morale of the brave men and women tasked with the responsibility of protecting the treasured wildlife resources," IFAW communications officer Luckmore Safuli said.
"ZimParks-IFAW has helped reduce poaching incidents in the Hwange National Park. Over the past three years, we have recorded zero elephants poaching cases at the iconic park largely due to the interventions aimed at strengthening law enforcement. As IFAW, we foresee Hwange National Park—which is home to an estimated 45 000 elephants—playing an important role in our Room to Roam initiative. Under the Room to Roam initiative, we seek to connect and secure habitats and create safe passages for animals to move more freely," he said.
Under the US$5million conservation agreement with ZimParks, IFAW is also supporting the Umtshibi Canine Unit at Hwange National Park. We appreciate the important role that detection dogs play in the fight against illegal wildlife crime and we pledge our continued support towards ensuring excellent working conditions for the dogs and their handlers," he added.
Related Topics