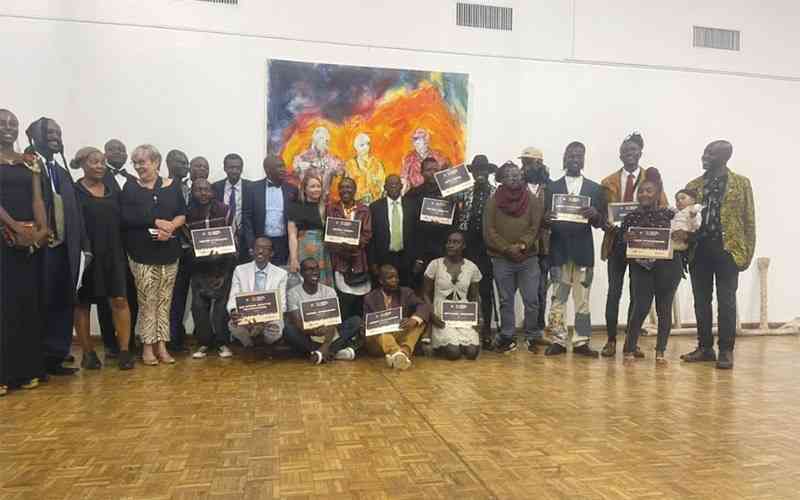 SELF-TAUGHT multi award-winning visual artist Keith Zenda says he set up an art community centre at the Makepesi Shopping Centre in Lower Gweru after realising that most indigenous communities lack exposure and mentorship to appreciate art as a career.
"I would like to appeal to the government, through the National Arts Council of Zimbabwe (NACZ) and the Ministry of Youth Sports Art and Recreation, to promote visual artists in the same manner they do to musicians," he told NewsDay Life & Style.
"Musicians benefit a lot from State-organised functions and national galas and we would wish that visual artists in their diverse form be granted an opportunity to exhibit or showcase their
prowess."
Zenda was among the artists honoured at the recently held inaugural Zimbabwe Visual Art Awards at the National Gallery of Zimbabwe (NGZ) in Harare.
His mixed art artistry and painting Hari Yaputsika won him second position at the awards.
Zenda said he was also working in partnership with the NACZ and the Youths, Sport Art and Recreation ministry to reach out to more youths around the country and beyond the borders.
He recently conducted a painting workshop at the NGZ in Harare.
"The grassroots art projects are taking shape and I wish to do more if resources permit. As a way to stimulate interest I have also launched an Art Climate Change Competition which has so far attracted a lot of interest from school leavers as well as boys and girls who are still in school," he noted.
"The recent slash in artists' registration fees at the NACZ is a welcome development and we would like to see more opportunities created for artists."
Born in Chirumhanzu rural area in the Midlands province, Zenda reckons he discovered his talent at a tender age of 10 and became a full-time artist in 2003 after finishing his secondary schooling.
Since then, he has never looked back.
"The sky is the limit for me because I believe with God, all things are possible. My faith keeps me going as I do my best and God doing the rest," he noted.
"My art works are highly influenced by my rural life background. The work also projects the Zimbabwean and African ubuntu spirit and also portrays the essence of our rich culture and belonging."
Zenda, who has exhibited at a number of exhibitions both locally and abroad, is also doing mentorship and training programmes for up-and-coming artists.
"Challenges are a way of life and it is a sign that you are breaking through to victory. Victory is a result of fighting and overcoming them," he said.
"I spent most of my time alone in the art studio doing my artworks. Most of the challenges are from the art galleries and art dealers who take advantage of the desperation of artists to exploit them."
Related Topics