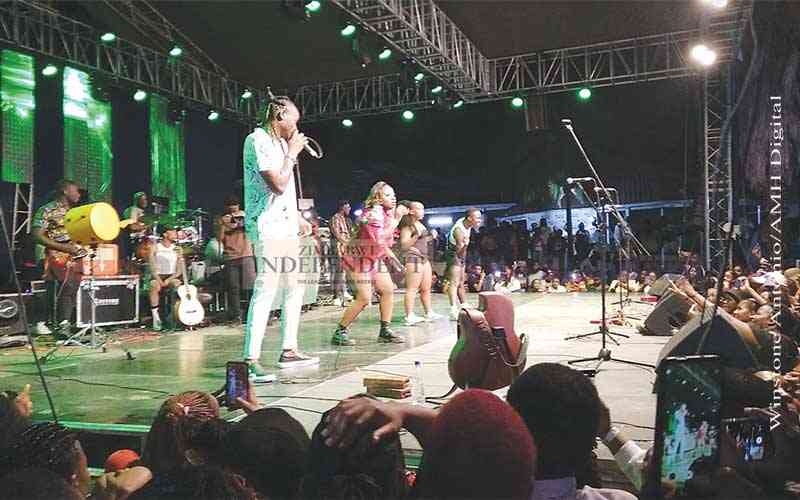 Thousands of people turned up to witness Makhadzi, a multi-award-winning South African singer, stage an epic show at Odyssey in Kadoma.
It was a memorable maiden performance for the Mzansi songbird born Ndivhunzannyi Ralivhona Makhadzi in the agriculture and mining town courtesy of 2Kings Entertainment.
They understood her assignment, she came to entertain and exactly that she did, putting up a top-notch performance and her fans absolutely loved it judging by their reactions during her set.
Her energetic performance will linger in many revellers minds as she crosses the Limpopo River today.
Since she staged her first performance in Zimbabwe, Makhadzi, has continued to rake in compliments.
This has resulted in local music promoters stampeding for her signature to perform across the Limpopo River.
At the concert, Makhadzi shared the stage with Jah Prayzah, urban groover EXQ, songstress Marceline "Marcy" Janyure, dendera musician-cum-preacher Charles Pintec and wheelspinner DJ Lroy.
In a surprise act, controversial comedian Mai Titi and Jiti singer Baba Harare had a cameo appearance on the stage.
Interestingly, fans were taken down memory lane when Baba Harare joined his former paymaster Jah Prayzah on the stage, a gesture that many merrymakers appreciated as evidenced by their cheering during the duo's performance.
The Jah Prayzah, Makhadzi magic
Jah Prayzah proved to be a man of his words as he honoured his promise to the fans, he shared with NewsDay Life & Style through his manager Keen Mushapaidze two days before the show.
He promised to deliver a performance to remember since he had prepared well for the show and no doubt, he did it to perfection.
On the other hand, Makhadzi honoured the fans and the promoter who hired her with a special performance.
The two superstars on either side of the Limpopo proved why they are considered among the best in their respective countries.
Multi-award-winning Jah Prayzah born Mukudzei Mukombe and Makhadzi have formed a formidable combination since they collaborated on the song Makokovha off the latter's Muya Wanga album released in 2020.
In the latest development, the duo's fans were taken to another level of entertainment as it performed the new single Dzima produced by Rodney Beats at JP Studios in Harare for the first time for their lively fans.
They both showed energy as they performed the two songs much to the delight of their fans.
Free of rogue bouncers concert
While rogue bouncers have become a menace at live concerts, the Makhadzi & Jah Prayzah Live in Kadoma concert was free from bouncers' rowdy acts.
This was probably made possible by tight security.
Music fans have lately become victims of harassment and theft, often losing money and valuables to thieves and thugs masquerading as bouncers and operating in syndicates at live shows.
It was, however, a different story at Odyssey as the set-up of the barricades was good for the safety of everyone such that the VIP, VVIP was chaos free as well as the standard entrance.
The car parks were well secured.
At one point, the ugly scenes of violence forced music promoters to appeal to the President's Office to intervene as they continued losing money and valuables to rogue bouncers during live shows.
"In the wake of rogue bouncers who have become a nuisance at most live concerts, we had to undertake serious measures about security issues as we wanted to ensure the safety of the music fans and stakeholders," concert co-ordinator Dee Nosh said.
"We knew this was a show that we wanted to be accessible to so many people, so fans' safety as always is our top priority as 2 Kings Entertainment. The fans must not be worried about their safety at our shows."
Of brisk business
The Makhadzi & Jah Prayzah Live in Kadoma concert attracted a lot of attention, tickets were sold out and it brought with it brisk business to the accommodation and hospitality industry. A snap survey by NewsDay Life & Style showed that major accommodation facilities were fully booked.
Get well soon Madam Boss
It was a bad day for comedian and socialite Madam Boss who was billed to emcee at the concert as she was involved in an accident some kilometres after Chegutu. Reports have it that a wheel came off Madam Boss's car amid allegations that some nuts (wheel) were not properly secured after the car had been earlier taken to the garage to change the tyres. Madam Boss was briefly admitted at Norton Hospital on Saturday afternoon and was discharged yesterday morning. NewsDay Life & Style is reliably informed that 2Kings Entertainment paid the hospital bills. Wish you quick recovery Madam Boss.
When rising artiste yearns for opportunities
Kadoma bred dendera musician-cum-preacher Charles Pintec said he felt honoured to rub shoulders with great music legends in the mould of Makhadzi and Jah Prayzah.
He added that arts promoters should take a leaf from 2 Kings Entertainment which has given budding artistes the opportunity to perform at a show of such magnitude.
"There is talent in Kadoma, Mashbest, but we have not been accorded the much-needed opportunities to showcase our talents as many promoters prefer to engage established artistes who match the standards when it comes to live performances," he noted.
"I am overwhelmed, and I really appreciate the opportunity to have performed at this concert. This is the only way we can get recognised as artistes from
towns other than Harare and Bulawayo.
Follow Winstone on Twitter @widzonato
Related Topics