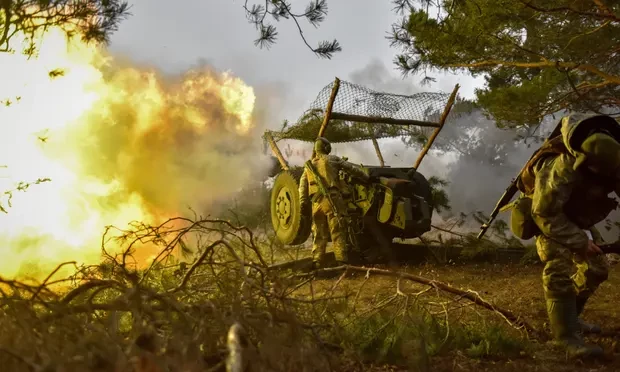 Ukrainian resupply routes out of the besieged city of Bakhmut are becoming "increasingly limited", according to the UK Ministry of Defence.
In its latest intelligence update, the MoD tweeted that Kyiv is "reinforcing the area with elite units" and destroying key bridges, but Russian forces are making further advances.
"The Ukrainian defence of the Donbas town of Bakhmut is under increasingly severe pressure, with intense fighting taking place in and around the city," the MoD said.
"Regular Russian Army and Wagner Group forces have made further advances into the northern suburbs of the city, which is now a Ukrainian-held salient, vulnerable to Russian attacks on three sides.
"Ukraine is reinforcing the area with elite units, and within the last 36 hours two key bridges in Bakhmut have been destroyed, including a vital bridge connecting the city to the last main supply route from Bakhmut to the city of Chasiv Yar.
"Ukrainian-held resupply routes out of the town are increasingly limited."
Ukraine's top prosecutor has said the country is moving towards opening an office of the international criminal court as Kyiv seeks to establish a special tribunal to prosecute the leadership in Moscow.
The ICC is currently investigating possible war crimes and crimes against humanity committed by Russian troops during the war on Ukraine but it has no mandate to pursue the broader crime of aggression.
"Today, the cabinet of ministers of Ukraine approved a memorandum between the Ukraine government and the international criminal court, which will allow the opening of the office of the prosecutor of the international criminal court in Ukraine in the near future," Andriy Kostin said.
Kostin told a justice conference in Lviv it will "allow the ICC prosecutor to more fully investigate international crimes committed in Ukraine".
"However, there are currently no legal mechanisms that would allow the ICC to bring to justice for the crime of aggression those who planned and launched this brutal and unprovoked war," Kostin said.
"This requires the establishment of a special international tribunal," he added.
Speaking at the conference, Ukraine's president, Volodymyr Zelenskiy, said Ukraine "will further strengthen our relationship with the ICC".
"Russian president Vladimir Putin and all his accomplices must receive lawful and fair sentences," Zelenskiy said, adding that "over 70,000 Russian war crimes" have been registered in Ukraine.
Related Topics