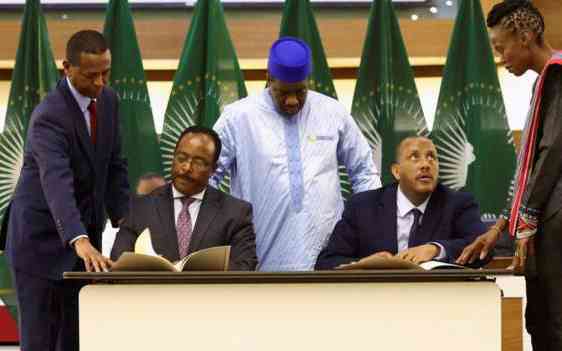 World leaders have hailed the deal signed by the two sides in Ethiopia's civil war ending hostilities in the two-year conflict.
It was concluded on Wednesday in South Africa and brokered by the African Union.
Senegalese President and the current AU chairperson Macky Sall described the announcement as "excellent news".
UN Secretary-General Antonio Guterres has welcomed the truce and has urged all Ethiopians and the international community to support the "bold step" taken by the two warring parties.
"The agreement is a critical first step towards ending the devastating two-year old conflict in which the lives and livelihoods of so many Ethiopians have been lost," Mr Guterres said.
US Secretary of State Antony Blinken hailed the momentous step, and noted that his country would remain closely engaged to support the continued AU-led efforts in the weeks ahead.
Kenya President William Ruto, German Foreign Minister Annalena Baerbock and the EU, all applauded the efforts by the two parties towards restoring peace in Ethiopia.
But the mediators have warned that there is still work to do.
"The lasting solution can only be through political engagement and being able to accommodate our differences, our diversity, while still remaining a united Ethiopia," Kenya's ex-president Uhuru Kenyatta, who helped broker the deal, said.
Related Topics