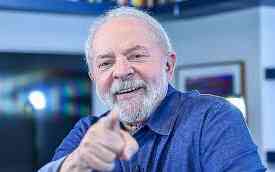 As news of Lula's victory spread, a sea of red - the colours of his Workers' Party - massed on São Paulo's main street, Paulista Avenue, eager for a glimpse of the president-elect.
"Lula has returned," the crowd chanted, as they let off red smoke in celebration.
"It was a very hard campaign," Luiz Inácio Lula da Silva admitted to the crowds a few hours later. "It wasn't Lula against Bolsonaro, it was a campaign of democracy against barbarity."
Like him or loathe him, the fact that Lula, once Brazil's most popular politician, is returning to the top job is a moment in history.
"I feel free, relieved not only for the Brazilian people but for the whole planet - for the Amazon, for democracy, for human rights," said 47-year-old Viridiana Aleixo, while admitting that Brazil remained very divided. "We have to be very patient, and we have to leave the anger and hatred behind."
Twenty years ago, Lula came to power promising huge change - but a subsequent fall from grace over corruption scandals disqualified him from running in 2018. He had a stint in prison, before his charges were annulled. It has been quite a journey for Lula, but he has returned with a vengeance.
"I went through a political resurrection, because they tried to bury me alive," Lula said. "From the first of January there won't be two Brazils, we are one - we don't want to fight anymore, it's time to lay down our weapons that should never have been raised in the first place."
But uniting Brazil will be Lula's biggest challenge.
On Sunday, 24-year-old Felipe Fonte went to vote dressed in Brazil's football shirt, a colour that's become linked with Brazil's far right.
"I think [President Jair] Bolsonaro has a lot of flaws, but he's a man of God," says Felipe. "He has the right principles, and he's not the biggest thief that ever existed in Brazil. So that for me is the biggest thing."
Although Lula officially takes over in the new year, his job begins now - trying to win over people like Felipe.
"Starting tonight, the focus must be on initiating a dialogue with those who didn't vote for the president," says Oliver Stuenkel, professor of international relations at the Getulio Vargas Foundation in São Paulo. "He needs to be the president for all Brazilians."
In the wake of Lula's victory, there was silence from the Bolsonaro camp. The rumour was he had gone to bed. A bad loser perhaps, but there is real concern over whether Bolsonaro and his most radical followers will accept the vote.
"I think we are facing a few potentially tense days and weeks," says Stuenkel. But while the world waits to hear whether Bolsonaro will accept the result or contest it, as he has often threatened to do, one thing is for certain: this is good news for democracy, says Stuenkel.
"Bolsonaro had over the past four years sought to undermine checks and balances and put increasing pressure on the judiciary and civil society," he says. "In that sense, particularly for other democracies around the world, his victory is unambiguously good news, particularly at a time of democratic regression."
While Lula may be the same politician, he will be leading a Brazil that's very different - and much more divided - than the one he took control of 20 years ago. And it comes at a time of deep economic hardship.
Not only that, but as Bolsonaro steps aside - one hopes - his legacy will remain in Congress and regional politics. Lula will have to contend with conservative lawmakers in whatever he wants to do.
Will Lula once again be the saviour of Brazil that many of his supporters still see him as? On Sunday evening on Avenida Paulista, they were hopeful.
"It's time to go, Bolsonaro," they chanted. Lula's back - and he's here to change Brazil.
Related Topics