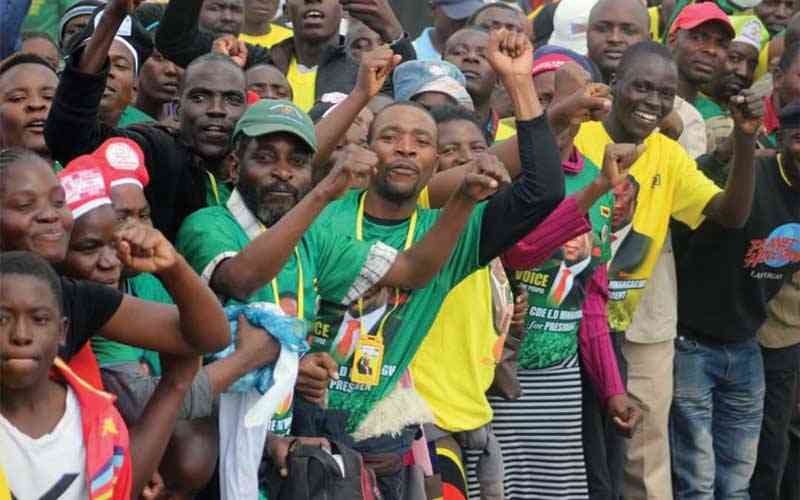 A NEW voting system used in the ruling Zanu PF's recent primaries left many supporters disillusioned, the Zimbabwe Independent can reveal.
Zanu PF insiders said many supporters were turned away because their names did not appear on cell registers.
The system, which centred around verified cell registers provided by the party's security and commissariat departments, did not allow supporters not appearing on its national register to participate.
Zanu PF insisted on cell-based registers to gauge how people would vote in general elections set for August.
The Independent understands that members participated during a cell and village building and verification exercise held before the primaries.
But they found their names not appearing on registers sent from the party headquarters in Harare during polling.
Before the internal poll, Zanu PF's commissariat department head, Mike Bimha, said the party had 87 000 cells.
But insiders said the verification exercise was affected by irregularities as the 87 000 cells would translate to about 4,4 million members who would vote for Zanu PF, they said.
Zanu PF treasurer general Patrick Chinamasa said before the internal polls that the party had printed 23 million ballot papers.
But it has emerged that the number of members who participated in the election did not go beyond two million.
Sources told the Zimbabwe Independent that while most dissatisfied supporters blamed affiliates, Forever Associates of Zimbabwe (FAZ) and Heritage Trust, for chaotic primary polls, the party itself had failed to understand the dynamics.
"If you remember well the party had a cell and village verification and building exercise just before the primary elections and members of these structures were expected to be part of the internal polls," sources said.
"However, the commissariat and security departments, in a bid to verify the numbers of supporters and members who would vote for Mnangagwa, distributed cell registers that were being used in the elections," they added.
They said genuinely registered Zanu PF members were turned away when their names were only found on cell registers that had not been verified.
The sources added: "Yes, members had been registered during the verification exercise but after failing to produce voter registration slips or confirmation, their names were not on the Electoral College."
This led to chaotic scenes in most voting centres, they said.
"Some candidates also raised queries on the registers but the members' names could have been there in their counter-books, for example, but there were particular cell registers that had been verified and distributed from head office."
The sources also revealed that the voting system also ended up being susceptible to manipulation.
Losing candidates and their supporters especially blamed FAZ and Heritage Trust for destroying the party's support base.
The sources said while Mnangagwa has ring-fenced his campaign on these structures, some supporters were clamouring for the way Zanu PF used to conduct their internal polls.
"FAZ and Heritage structures have caused a lot of mayhem in Zanu PF with conservative members and leaders raising their concerns with their activities," the sources told the Independent.
"These structures are a way of ensuring that supporters are whipped to vote for Mnangagwa to secure an emphatic vote for the president. But some feel they are abandoning other candidates. FAZ and Heritage have been working for Mnangagwa for a long time and there are candidates including some members who feel they are also subverting other structures."
The FAZ and Heritage structures have been linked to the country's intelligence and security forces.
They have been a source of furore, with members blaming them for the chaos that rocked party polls.
They have been responsible for the programmes propping up Mnangagwa's campaign, including distribution of inputs and other programmes that are used as campaign tools.
The FAZ and Heritage structures have also been blamed for manipulating systems for candidates who are not favoured by the Zanu PF leadership.
Responding to the reports yesterday, party spokesperson, Christopher Mutsvangwa said primary elections went 'very well'.
"No system of governance can (better than) the one person one vote system. That's why President Emmerson D. Mnangagwa opted to do exactly that primary election exercise," he said.
"The party worked with the reality of population in statistical discipline as opposed to the algorithm statistics of ghost sampling."
Mutsvangwa also dismissed the Citizens Coalition for Change (CCC)'s candidate selection system.
"This is a far cry from the ghost polls of the biased Brenthurst Foundation and Tendai Biti. The open voting exercise is in direct contrast to the Mafioso–style, cultish candidate hand picking by the one-man show of (Nelson) Chamisa. CCC jettisons popular democratic norms to the chagrin and embarrassment of his sponsors of the West," he said.
CCC did not respond to Mutsvangwa's claims.
Related Topics