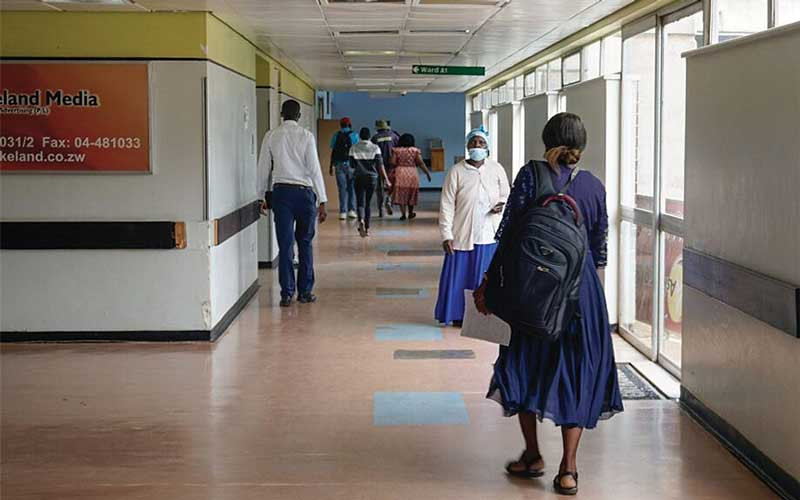 NURSES and doctors say new amendment curbs their rights and could further erode morale and send more staff to other countries.
When Rumbidzai, a nurse at a local public hospital, gets to work, she does a round at the wards to make patients' beds and change their linens. But sometimes she can't swap used linen for fresh ones. There aren't enough. Instead, she has to leave the patients lying on their soiled linen.
Every day, she sees patients groaning in pain without family or friends to buy them their prescribed medication, she says. These scenes are emotionally draining.
"At times, I even hesitate to go to work," says Rumbidzai, who wanted to use only her first name for fear of retribution. "When your alarm rings each day, you become timid. Instead of being happy to go to work, you get depressed."
Rumbidzai says she would strike for a better salary and improved working conditions. But that is no longer a possibility for her and others working in public hospitals without enough resources.
In January, the Zimbabwean government, through an amendment of the Health Service Act, banned public healthcare workers from striking for more than 72 hours.
Strikers face disciplinary action, while organisers of such strikes can face imprisonment for up to six months, or both.
Healthcare professionals say the amendment violates their rights and will demoralise healthcare workers and hasten their exodus from Zimbabwe.
Before the amendment, healthcare workers' right to strike was protected under the Zimbabwean Constitution if they followed the procedures outlined in the Labour Act, such as giving an employer 14 days' written notice.
Now healthcare workers are classified as essential service providers like the police, military and prison services. Essential service workers are not permitted to go on industrial action.
The Health Service Commission, which oversees healthcare workers, did not respond to requests for comment on how the amendment affects healthcare workers' rights.
Rumbidzai says government believes nurses strike only about salaries, but that is not the case.
"Our working conditions are dire. If you give a patient a prescription to buy the required things, some are unable to buy. In such a situation, I am told to keep quiet," Rumbidzai says.
But not being able to protest her remuneration does worry her.
"If I am to give you my basic salary today, you will not be able to purchase even a shoe rack in a furniture shop," Rumbidzai says.
Douglas Chikobvu, secretary-general of the Zimbabwe Professional Nurses Union, says basic salaries for nurses range from $35 000 to $50 000 (about US$28 to US$39) a month.
They also receive monthly allowances of up to $360 000 (about US$291) to supplement their income and pay for necessities such as uniforms and transport, and an additional US$200 that is given to all civil servants.
Rumbidzai says she worries about her salary because it will affect her pension payments when she retires.
According to a 2018 article published in Global Health Action, an international global health research journal, the healthcare system in Zimbabwe has been deteriorating especially since the 2000s because of the country's economic collapse.
Public health institutions have struggled with obsolete infrastructure as well as drug and medical supply shortages.
Inflation eroded the value of the local currency, and salaries of health workers were not spared. Many have left their jobs, with some migrating to other countries in search of better opportunities.
In a written response, Tryfine Rachel Dzvukutu, Health Service Commission deputy spokesperson, says as of the end of December 2022, more than 1 700 public hospital healthcare workers had left the service.
In 2021, more than 2 600 health professionals left public health service, according to the commission.
Rumbidzai says with this law, disgruntled healthcare workers will not put in any effort to serve patients. Patients will suffer because no one will provide them with the care they need, she says.
"Sometimes people complain that nurses are mean, but in some instances, it is because of depression and exhaustion," says Rumbidzai. "People do not really understand what we go through on each day."
Rumbidzai says her hospital no longer has adequate nursing staff.
"For us who still remain, the burnout is unbearable," she says.
Zimbabwe requires 81 517 healthcare workers to meet population needs, but as of September 2022, the country had 74 298, Dzvukutu says.
The Health Service Commission did not clarify how it calculates these numbers or how the current number of healthcare workers does not reach the requirement.
According to a 2022 research article published by the Journal of Asian and African Studies, medical professionals, including junior and senior doctors, went on strike in 2018 and 2019.
The nurses' strike lasted five days while the junior doctors and medical graduates held out for 30, according to a 2019 article published in the Bulletin of the World Health Organization.
Norman Matara, secretary for the Zimbabwe Association of Doctors for Human Rights, says the passing of laws such as the recent amendment to the Health Service Act hastens the exodus of health workers.
"The law is a draconian law," Matara says. "We currently have a crisis of health worker migration, and passing laws like this will fuel migration, and the crisis will worsen."
Strikes have been a recurring issue since the late 1980s. According to the 2022 study, public sector workers, including healthcare workers and teachers, engaged in prolonged labour strikes in 1996.
The strikes continued into 1997 and throughout the 2000s. It was only between 2009 and 2013 during the inclusive government, a power-sharing government made up of the major political parties, that health workers did not strike because they were receiving their salaries in US dollars, Matara says.
In 2018, government fired about 16 000 nurses who had gone on strike for almost a week over poor remuneration.
In 2019, at least 448 doctors were dismissed for not reporting to work during a strike, but they were later admitted back into service.
Matara says there aren't many options because the law has already been enacted.
"We are still trying to gather as associations to see how best we can respond to this, but what we know is most people have given up," he says.
He adds that most people in his sector are now focusing on how they can improve their own lives outside the public health service.
Like Matara, Shingai Nyaguse-Chiurunge, president of the Zimbabwe Senior Hospital Doctors Association, says making industrial action punishable with jail hurts workers.
"This will undermine workers' negotiations and may negatively impact overall morale," says Nyaguse-Chiurunge.
Daniel Molokele, a Member of Parliament for Hwange Central who sits in the Parliamentary Portfolio Committee on Health and Child Care, says the changes to the law have been unpopular with the public and Parliament.
The Bill was rejected after public hearings. The committee recommended that the Minister of Health and Child Care start over.
"But the minister defied the committee — went ahead and bulldozed the law," he says.
Molokele says he hopes the law will be amended and will frame the issue as a labour matter rather than a national security matter, allowing healthcare professionals to be recognised as employees of the State with labour rights.
Nurse Rumbidzai says her frustrations have left her future in public service uncertain.
"I don't have plans to leave the country, but if I get an opportunity at a non-governmental organisation within Zimbabwe, I will leave the public service," she says.
Related Topics