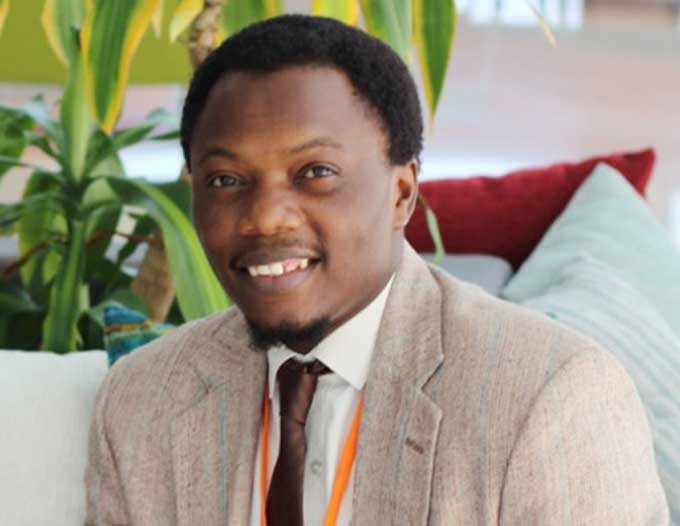 LEADERSHIP management and organisational development have been the driving factors that make an organisation achieve its objectives.However as the world transforms, challenges such as strengthening culture and building skills to help managers to lead geographically dispersed teams in today's new hybrid workplace context has been one of the challenges organisations are facing. Senior Business reporter Melody Chikono (MC) spoke to a leadership and development expert, Justin Chinoperekweyi (JC, pictured) who is the CEO of an International Advisory Firm, Centre for Organisation Leadership and Development Zimbabwe (COLD), to understand some of these issues. Below are the excerpts of the interview:
MC: Can you briefly explain your mandate in Zimbabwe?
JC: Our work revolves around creating generative spaces and designing interventions to reframe and reboot people, work groups, and organisations' orientation towards transformational change and development. We do so through advancing the theory and practice of organisation development using international professional networking platforms, organisation development certification, advisory and consulting services, research, and sharing insights in corporate governance, change, and organisation development.
We create knowledge-exchange platforms and professional learning spaces for professionals and leaders. At the core of our work is supporting people to effectively use self as an instrument, and building healthy, healing, and performance-based organisations.
MC: What have been the major milestones that you have achieved so far?
JC: Besides facilitating numerous international dialogue sessions, we are involved in advisory and consulting services to establishments in the Kingdom of Saudi Arabia, Nigeria, Zimbabwe, and other countries. In Saudi Arabia we successfully registered, under a government programme, as a service provider for the growth of SMEs, providing leadership guidance, and access to sector experts.
We participated at the Saudi Arabia 2022 Demo Day Event, showcasing our approaches to advisory and consulting. In addition, we have certified organisation development consultants from over 10 countries, in Africa and beyond, under the Certified Organisation Leadership and Development Consultant (COLDC) programme.
The programme has attracted professionals from Nigeria, Uganda, Philippines, Uzbekistan, Zambia, Afghanistan, and Botswana. Through the generative dialogue sessions, we published 'The 2022 Humanising the Workplace Report' as a collaborative initiative. To date, we hosted three annual international organisation development and change conferences, with rich conference proceedings published.
Our professional community has members from over 20 countries, with forums and paper presentations done in countries such as Nigeria, Afghanistan, Oman, India, Uzbekistan, and Botswana. Through the Action Learning activities, we published Case Studies of our consulting work including the work in the Ministry of Justice in Afghanistan and with a bank in Zimbabwe. We facilitated consulting workshops with educational and consulting firms including sessions with Harare Institute of Technology (HIT).
MC: What have been the challenges that you have faced and how have you manoeuvred around them?
JC: We serve an evidence-based practice and as such a lot of our work relies on research activities. First, the challenge we face across Africa, and in Zimbabwe, is lack of commitment by leaders and organisations to participate in research activities. Secondly, we notice that professional associations nurture social politeness and create social chameleons.
This means there is a lot of blind conformity, and people are averse to divergent thoughts and gadfly mindsets. Through social politeness, our people endorse, without critical analyses, ideas shared by their associates. Third, there is so much reliance on incremental change and development as leaders focus on efficiency, effectiveness, and even moving from point A to B. Though such makes sense, in the short-run, organisations fail to actualise their full potential through transformational change and development mindsets and approaches. To address the challenges, we embrace generative dialogue approaches.
MC: Leadership has been a contested area in organisation with most business leaders lacking the required skills. What is your comment on this and how have you been working to improve on this area in organisations in Zimbabwe?
JC: Indeed, the leadership challenge is pervasive across Africa. The challenge that we see is lack of imagination among leaders in organisations.
There is also a predominance of traditional leadership and management paradigms that contrast the complex, emergent change Zimbabwean environment. Our activities focus on creating spaces for leaders to reboot their orientation towards 21st century leadership paradigms.
Beyond leadership development, we co-create interventions with approaches and influence beyond reactive adaptation, tenacious resistance, and rigid, status-quo 'stuckness' within an ever-changing landscape.
To open corporate leaders to emerging potential, we start with traditional leadership development activities of workshops, seminars, retreats, and conferences. These create space for us to then co-create generative leadership conversations, characterised by not only generativity, but emergence and new narratives.
To facilitate new conversations around leadership, we are working on the Change & Transformation quotient for CEOs and directors in Africa. This is an inquiry that seeks to embed new thinking, driven by a truly humanistic paradigm, in executive leadership.
For this we are working in partnership with Benedictine University in the USA and The Institute of Emergent Organisational Development and Emergent Change in Canada. We are also working on the Transformational Change and Development Forum to be hosted on 31 March 2023 in Harare.
To ensure evidence-based practice in executive leadership, we are working on a Special Issue Journal Publication on African Organisation Development.
This will be published in November 2023 by the International Society for Organisation Development & Change. The publication seeks to tackle colonial thinking, cultural transposition, and linear thinking among leaders in Africa.
MC:You are set to launch the Handbook in March, what is it about and how is it going to benefit the organisation?
JC: In the midst of today's traumatic and transformative disruptions in Zimbabwe, there are individuals facilitating responsible and sustainable transformational change and development.
The traditional approach is to give such people awards. Sadly, the award space has been bedevilled by the growing logic of entrepreneurialism. We are convinced that commercialization has contaminated the award processes thereby invalidating some awards. Contrary to their essence, some awards have become mere artefacts for status and prestige, and schemes for personal and professional branding without inculcating certain values and norms of practice in a given discipline. Therefore, we are hosting a Transformational Change and Development Forum as a knowledge-exchange platform for experienced and emerging practitioners in Zimbabwe. The Forum recognizes practitioners in the country, and international & regional role models whose work and experiences inform local practices. The recognition is designed in the form of an evidence-based Practitioners Profiling Handbook themed 'Influencers & Pace-setters of Transformational Change & Development in Zimbabwe'. Through the Handbook, organisations in Zimbabwe will appreciate the capabilities of practitioners in the country. Professionals in organisations and learning institutions will appreciate the lived experience and professional development journey of role models in the field. Organisations will also be in touch with competencies, specialisms, and mastery levels of transformational change and development practitioners.
MC: What are the gaps that you have noticed in organisation development in Zimbabwe?
JC: The essence of organisation development is elevating humanity and bringing presence to human systems. Real organisation development is about creating great teams and great organisations. In Zimbabwe, because of stultifying and sluggish organisations, we need that understanding as a matter of urgency. Sadly, the practice of organisation development is not widely appreciated in the country. Most people and organisations think that organisation development is a function under human resource management. Others think that organisation development is merely about change management.
The exposure to adulterated organisation development and a misunderstanding of the essence of organisation development as a practice profession has limited its transformative value in Zimbabwe. In addition, our universities do not offer organisation development programmes but rather a few offer mere modules in organisation development.
This lack of proper grounding among those who call themselves organisation development professionals has led to a loosely defined professional field that permits, perhaps even unknowingly encourages incompetency and anti-professionalism.
Without skills in conceptualization, the ability to design change strategies, and an understanding of emergent change, so-called OD professionals sway from the pillars, premises, and values of organisation development.
MC: What professional advice can you give to organisations in relation to institutional development?
JC: There are some fundamental elements that organisations must embrace to foster institutional development. It is key that leaders reframe their mindsets and emotional frameworks toward approaches that are truly generative.
Leaders must reaffirm their commitment to truly transformational leadership, and to building their organisations through people. In as much as organisations invest in state-of-the-art technologies, revamp their systems and processes, interventions that awaken and amplify people's strengths and capabilities must be embraced.
This should be premised on leaders' understanding of the fact that we are in a humanistic paradigm, both in business and in society.
lRead full interview on https://www.theindependent.co.zw
Organisations must nature contextual intelligence, change intelligence, and strategic intelligence. Without downgrading traditional tools and frameworks, as taught in most of our graduate schools, it is key to harness the power of informed inquiry and effective engagement in our organisations. Rather than adopting problem-based thinking, organisations should adopt strength-based approaches in fostering positive change. In the emergent change environment of today, organisations must foster whole system thinking, widespread stakeholder engagement, and organisational learning methodologies.
MC: What is your comment on how organisations are handling corporate governance issues in Zimbabwe?
JC: From where I stand, there is excessive focus on rules-based corporate governance in our organisations. There is little focus on principles-based corporate governance, hence organisations excessively focus on the conformance dimension without striking a 'balance' with the performance dimension. Those assuming corporate governance roles, must rewire their leadership beyond adaptation, continuity, and stability. These fall within the domain of management. Board leaders must demonstrate strategic thinking and strategic leadership, thereby developing great, pioneering organisations. This comes with reframing our corporate governance orientation to be truly strategic.
MC: What role do you think CG can play in organisation leadership and development?
The crystallisation of the future corporate governance orientation requires embedding principles and practices of organisation leadership and development. The success of any intervention is premised on the commitment of senior leaders. Through enriching the oversight function, board leaders model key concepts and principles such as systems thinking, effective engagement, human development, justice, environmental sustainability, and community.
MC: What is your outlook in the next five years?
Our perspective of the future is a product of today's actions. As I look at today's actions in local organisations that I have interacted with, there is an awakening and yearning for transformational change and development. This is a huge step in redefining the future of leadership and as such the growth of our organisations. Our leaders are opening up for conversations and interventions that challenge the status quo of thoughts and actions. Our leaders are creating safe spaces for people to showcase their enduring natural capabilities. The propensity for innovation and digitalization is high as organisations are prioritising learning and development in key competency areas. The continued focus on innovation, digitalization, performance, and ethical & professional conduct in our organisations paints a favourable outlook for Zimbabwe. The time now is to deepen transformational change and development conversations.
Related Topics