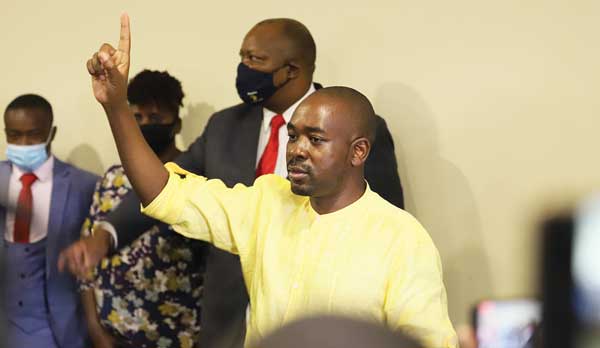 TINASHE KAIRIZA THE recent beatings of opposition supporters by alleged law enforcement agents and Zanu PF supporters threatens the credibility of Zimbabwe's by-elections and 2023 polls — a key ingredient for the country to thaw frosty relations with the international community.
Zimbabwe, currently battling to shake off Western-imposed sanctions, held general elections in 2018, which were contested and marked with extreme violence. Soldiers opened fire on protesters in the aftermath of the general elections, killing at least six people and injuring scores others.
The country is scheduled to hold by-elections in 28 parliamentary constituencies and 105 council wards on March 26.
This week there were widespread reports of alleged Zanu PF supporters and the police harassing Nelson Chamisa's Citizens' Coalition for Change (CCC) supporters.
The heavy-handedness by law enforcement agents brought back memories of former president, the late Robert Mugabe's brutal reign.
When President Emmerson Mnangagwa came into power in 2017 through a military coup that ousted Mugabe, he pledged a number of political reforms, including upholding human rights and broadening the democratic space.
Mnangagwa's victory by a wafer-thin margin against Chamisa, then leader of the MDC Alliance, was upheld by the Constitutional Court (Concourt) after an intense legal battle.
Political analyst Dumisani Nkomo argued that apart from the spate of violence against the opposition, Mnangagwa's administration was attempting to unleash law-fare against civil society to constrict the democratic space.
"The latest developments are worrying given the legislative crackdown on civil society and the dwindling democratic space because of some proposed legislative amendments, for instance, the Private Voluntary Organisations (PVO) Bill.
"This also coupled with the brazen attempts to limit the movement of people to opposition rallies, more specifically that of Chamisa and his CCC. This is worrying in that another disputed poll might be on its way.
"This is bad for what is left of Zimbabwe's international reputation and image. We need to win the confidence of the international community so that we attract foreign direct investments (FDI.
"This is not good for the country. It does not bode well with the people of Zimbabwe. It does not improve our competitiveness as a conducive investment environment," Nkomo said.
The shooting  of  civilians was condemned by the European Union (EU), United States and human rights groups.
Recommendations by the Kgalema Motlanthe Commission, which was assembled to probe circumstances leading to the fatal shootings, are yet to be implemented.
The commission recommended that Mnangagwa's administration compensate victims of the shootings. Nearly five years after the shooting, the victims are yet to be compensated.
Video footage of police allegedly viciously assaulting           CCC supporters, who were mobilising for the Highfield Sunday rally in Harare, raised serious questions on whether Mnangagwa's administration has the political will to foster a conducive environment for free and fair elections.
Those who were at the receiving end were accused of disturbing the smooth flow of traffic.
The CCC interim vice-president, Tendai Biti was arrested last week at Letombo shopping centre in Harare while on a voter mobilisation drive. No charges were levelled against him.
This week, as the CCC launched its by-elections campaign in Highfield at the Zimbabwe Grounds, police gazetted what critics described as "restrictive conditions" under which the rally could be held.
Earlier this month, Zanu PF supporters allegedly assaulted the driver of Judith Chobaiwa who is vying for the Kwekwe Central parliamentary seat on a CCC ticket.
The Crisis Coalition in Zimbabwe (CiCZ) —  a grouping of civic society bodies – expressed concern over the violence wave.
"We are disturbed that despite assurances of a new dispensation, Zanu PF has continued to use violence and cohesion during elections,"CiCZ said this month in a statement.
"CiCZ reiterates that peace and tolerance are the panacea to free, fair and credible elections and we implore the ruling party Zanu PF to desist from terror and shock tactics during the elections.It is disturbing that Zanu PF militia continues to act with impunity and this has been fuelling violence against members of the opposition."
The grouping also implored the Zimbabwe Human Rights Commission (ZHRC) to investigate all cases of politically-motivated violence ahead of the by-elections.
Economist Tawanda Purazeni said with Zimbabwe cut off from multi-lateral lending institutions, staging a credible poll in 2023 would strike the right chord for the country in its re-engagement agenda.
"It is a critical parameter which the outside world and multi-lateral lending institutions use to gauge our sincerity in terms of rolling out desired reforms. The March 26 elections will be a precursor to the election next year," Purazeni said.
"Political stability, the rule of law will help in a big way to attract Foreign Direct Investment. This is a make or break window which the authorities should take advantage of to extricate the battered economy from the doldrums."