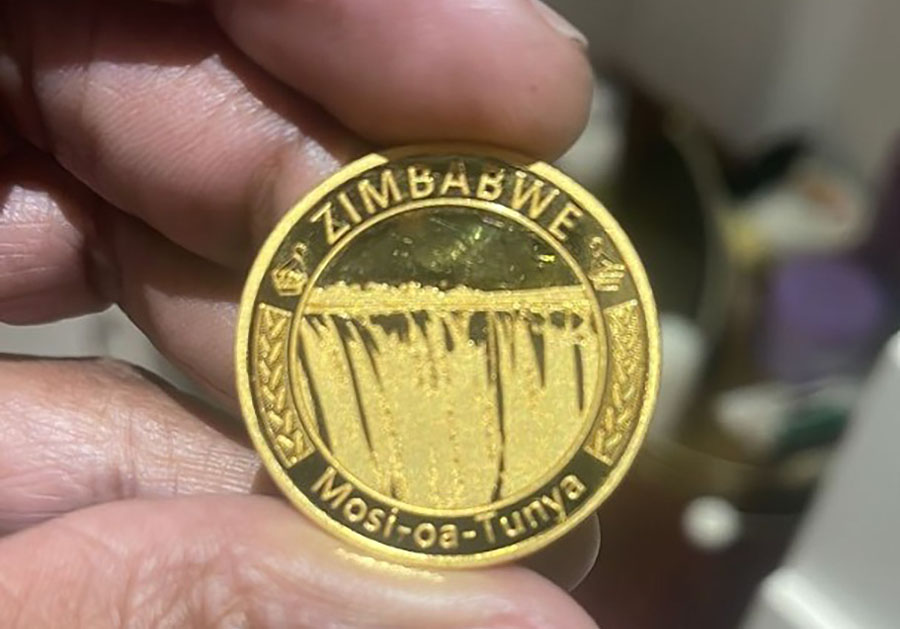 TINASHE KAIRIZA ZIMBABWE'S latest economic measures underpinned by the introduction of gold coins ostensibly to preserve currency value fall far short of addressing the economic malaise.
The intractable economic crisis is characterised by spiking inflation, high unemployment and an external debt stock of US$13,7 billion.
When fiscal and monetary authorities announced a raft of measures, whose centrepiece was adopting the US dollar as legal tender and using the gold coin as a store of value, the tide of inflation was rendering the local currency worthless. Zimbabwe's galloping inflation, which now stands at 196%, is one of the highest in the world.
Fiscal and monetary authorities announced the range of measures a fortnight ago, sparking intense debate on whether the country had finally found the remedy to address its economic crisis. Economists and financial analysts have proffered various pros and cons arguments on the gold coins.
Brian Sedze, an economic analyst, said the new measures were ineffective to contain the currency volatilities and inflation.
"This thing of gold coins to preserve value does not make any economic logic and I will say why," he said. "Our challenge is foreign currency. Why would a central bank make money float around instead of acquiring forex by selling the gold? I believe it will be an irrational analysis of opportunity cost."
The bullion coins, which are set to be in circulation on July 25, will be sold in local currency, United States dollars, and other foreign currencies at a price based on the prevailing international price of gold and the cost of production.
Not everyone is pessimistic about the 22-carat gold coins, which will contain one troy ounce of gold (31,10 grammes).
Some believe this move is a solution to runaway inflation and will boost production of the yellow metal.
Zimbabwe Miners Federation (ZMF) president Henrietta Rushwaya recently said the gold coin, which will be known as Mosi-oa-Tunya named after Victoria Falls, will "act as a medium of exchange for national transactions and safe haven" for a country currently battling foreign currency shortages.
"The Reserve Bank of Zimbabwe has created one extra use of gold in Zimbabwe and moved to a higher level of the value chain. Gold has many other uses, which are not covered in the enabling Act, but at the stage of the coins the commodity has been applied to produce a distinct product with varied uses and characteristics," Rushwaya said.
IH Securities, a Harare-based brokerage, expects the sale of the coins to boost investor confidence in the Zimbabwean dollar.
"This will distinguish the gold coin market from the government paper market or money market," IH Securities said.
The Mosi-oa-Tunya gold coin, which will be sold by Fidelity Gold Refinery, Aurex, and local banks will carry a serial number and, as highlighted by the central bank, will be easily converted to cash as well as tradable locally and internationally.
Zimbabwe is not the first country to introduce gold coins. According to the Gold Bars Worldwide, countries with gold coins include South Africa with its Krugerrand gold coins, Australia has Australian Kangaroo, the United States has the American Eagle, Canada has the Maple Leaf and Austria has the Vienna Philharmonic.
Krugerrands, for example were first minted by the Republic of South Africa in 1967 to help promote South African gold to the international markets and to make it possible for individuals to own gold. They are among the most frequently traded gold coins in the world market.
Tawanda Purazeni, an economic analyst, said: "The gold coins which are about to be launched seem like another rent-seeking initiative meant to benefit a few just like the foreign exchange auction system.
"Buying coins at the interbank rate creates an opportunity for profiteering through the existing arbitrages whereby the coins will be sold in United States dollars which will later be exchanged at the local currency rate. This will have detrimental effects on the exchange rate which is expected to plummet," Purazei said.
Economic commentator Reuben Mbofana said the gold coins, whose expected introduction by the central bank was done without consulting stakeholders, were set for doom.
"What we have witnessed ever since the Second Republic came to power and more specifically after the 2018 elections when Mthuli Ncube was appointed as Finance minister, is that the measures taken by the government were rather hurried. There were no consultations with stakeholders, especially business and labour. The government has adopted a strange command approach in our economics. The reason why the Zimbabwean dollar is on a free fall is a lack of confidence. The population does not have confidence in the local currency.
"So, when you introduce these so-called gold coins which on paper look like a fantastic idea, why is it that the government never consulted? This is a knee-jerk reaction to the economic challenges that we are facing. You cannot solve economic problems that way," he added.
However, Piggybank Advisor founder and chief executive Batanai Matsika in an article titled What a golden opportunity published last in the Zimbabwe Independent says Piggy believes that it is a positive development since it broadens the universe of investable assets for investors.
"The Mosi-oa-Tunya gold coin should be seen as an alternative investment to USD, stock market and properties market. Generally, a gold coin is amongst the most preferred choices of investment," he said.
"It is a low-risk investment option that offers better security. Gold is also a tangible asset and has always commanded a good market value for centuries. Some of the benefits of investing in gold coins are as follows:
"Overall, buying gold coins is definitely a good way to save money for those who cannot do so in currency. Gold has been able to successfully preserve wealth throughout thousands of generations.
"The same, however, cannot be said for the paper-denominated currency. Piggy recommends investors to park ZWL balances in gold coins as soon as they become available," he said.
The gold coins will be sold at a price based on the prevailing international price of gold and the cost of production.
Across the world, gold coins are used by investors to hedge against inflation and wars.