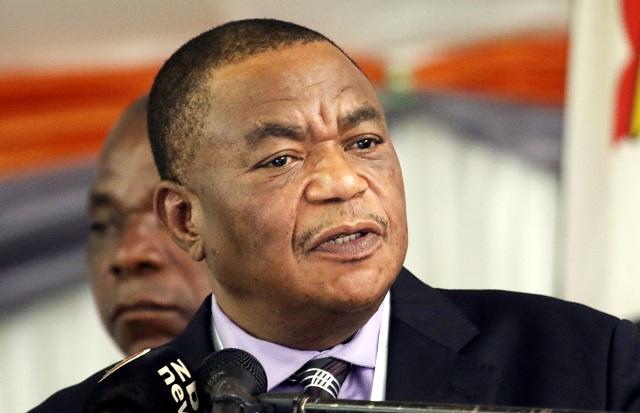 SYDNEY KAWADZA CIVIL servants representative group Zimbabwe Confederation of Public Sector Trade Unions (ZCPSTU) is headed for another showdown with Vice President and Health minister Constantino Chiwenga over the latter's continued meddling in Premier Service Medical Aid Society (Psmas) issues.
In a letter gleaned by the Zimbabwe Independent yesterday, the government workers challenged Chiwenga's recent announcement, which they say was not done in consultation with civil servants.
The ZCPSTU alleges that Psmas has not held an annual general meeting (AGM) because of undue political interference, adding that Chiwenga must reverse his directive to cancel the meeting that had been scheduled for June 24 last year.
Chiwenga is battling a strike by health workers who have downed their tools.
Sources within the ZCPSTU, which represents 24 organisations of government workers, said Chiwenga ignored their letter to him written on May 17 this year.
In the letter delivered to Chiwenga's office last month, ZCPSTU demanded an urgent meeting with the Health and Child Care minister.
"We wish to thank our employer, the government, for finally accepting the need to review Psmas subscription fees, which had been eroded by inflation to a mere US$3 per member per month, making healthcare access impossible for civil servants.
"We wish to commend the government for publicly acknowledging that Psmas is owned by its members, the majority of whom are civil servants and that government has no intention, whatsoever, of taking ownership and/or control of the society," read part of the letter.
"Events preceding your press statement had, unfortunately, left civil servants in no doubt that government was intent on wresting ownership of the society from them and we have incontrovertible evidence to that effect."
Contacted for comment, Health and Child Care secretary Jasper Chimedza said he was not aware of the civil servants' letter referring all questions to Chiwenga.
"I think you should contact the minister's office since the letter was addressed to him," he said.
Efforts to get a comment from Chiwenga's office yesterday were in vain. Chiwenga, early last month, issued a press statement announcing that the government had committed additional financial resources on a monthly basis to ensure the viability of Psmas to deliver. The government, Chiwenga said, wanted Psmas to use a significant proportion of the money from the Treasury to retire the debt owed to the service providers and restore the integrity of the Psmas medical aid.
Meanwhile, the government employees' representatives also raised concern over being sidelined by their employer over issues affecting workers, especially the Psmas decision.
"Your announcement, Your Excellency, is, regrettably, yet another example of the employer making a unilateral decision on a matter of collective bargaining nature without consulting its employees at all," read the letter, in part.
The workers said they had also written to the Ministry of Public Service, Labour and Social Welfare requesting that the government pay them an allowance to enable them to choose alternative medical aid societies.
"We have taken note of the rather irrational scenario where we are paying way more for funeral assurance than we do for medical aid.  Surely, healthcare is far more important than a burial."
The workers charged that Chiwenga's directive to cancel the 2020 AGM created a situation where Psmas was not compliant with its constitution. Both Statutory Instrument 330/2000 and the Psmas constitution provide that the society holds its AGM not later than June 30 of each year.
"In keeping with tenets of good governance, we request that you lift your cancellation order and allow the long overdue AGM to proceed and make the society legally compliant."
However, corporate governance expert, Gift Mugano said: "I think the thing that needs to be understood is that governance lies at the centre of any business; you would want to look at governance as the backbone of any business," he said.
Government employees make up the majority of Psmas' 900 000 members who are struggling to access medical services.
Hospitals and pharmacies are declining Psmas, citing non-payment of claims. This has resulted in policyholders being required to make payments up-front, often in foreign currency.