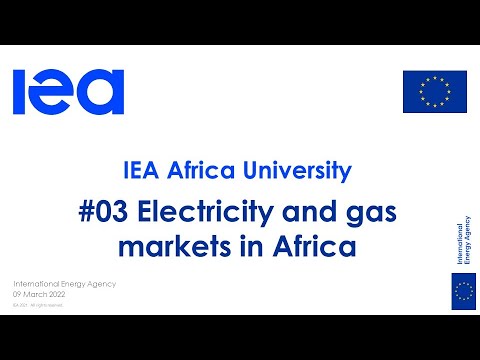 Eben Mabunda Stats show that 600 million people in Africa, most of them in sub-Saharan Africa (SSA), or 43% of the continent's total population, lack access to electricity, while 970 million Africans lack access to clean cooking fuels.
The International Energy Agency (IEA) latest Africa Energy Outlook 2022 report gives Insights on Africa's current energy setup and its prospects for building a more modern, clean and affordable energy future for all of its people.
The IEA notes that bringing access to modern energy for all Africans calls for an investment of US$25 billion per year – a sum equivalent to the cost of building just one liquefied natural gas terminal.
The major highlight of the report is the urgent need for energy investment injection in Africa to meet the continent's energy demands:
"Achieving Africa's energy and climate goals mean more than doubling energy investment this decade. This would take it over US$190 billion each year from 2026 to 2030, with two-thirds going to clean energy. The share of energy investment in Africa's GDP rises to 6,1% in the 2026-30 period, slightly above the average for emerging markets and developing economies. But Africa's energy investment in that period is still only around 5% of the global total in the IEA's Net Zero Emissions by 2050 Scenario."
According to the Africa Energy Outlook report: "Our detailed analysis shows that extending national grids is the least costly and most prudent option for almost 45% of those gaining access to 2030. In rural areas, where over 80% of the electricity-deprived live, mini-grids and standalone systems, mostly solar-based, are the most viable solutions."
Achieving universal access to clean cooking fuels and technologies by 2030 requires shifting 130 million people away from dirty cooking fuels each year.
"Liquefied petroleum gas (LPG) is the leading solution in urban areas, but recent price spikes are making it unaffordable for 30 million people across Africa, pushing many to revert to the traditional use of biomass," highlighted the IEA report.
While there are growing clamours globally for the reduction of carbon emissions, Africa accounts for less than 3% of the world's energy-related carbon dioxide (CO2) emissions to date and has the lowest emissions per capita of any region — housing approximately 20% of the world's population today.
As of May 2022, countries representing more than 70% of global CO2 emissions have committed to reaching net-zero emissions by around mid-century. This includes 12 African countries that represent over 40% of the continent's total CO2 emissions
Notably, SSA has tremendous solar PV and wind potential, in addition to vast hydropower resources. Africa is home to 60% of the best solar resources globally, yet only 1% of installed solar PV capacity. Solar PV — already the cheapest source of power in many parts of Africa — outcompetes all sources continent-wide by 2030.
Renewable capacity is expected to increase by 76%, or almost 33GW, in SSA from 2021 to 2026 in the main case, twice the amount of capacity additions in the preceding five-year period. Nearly half of the new additions are from large-scale reservoir hydropower projects, while solar PV and onshore wind represent the majority of the remaining growth over the forecast period
The growth of renewable energy capacity globally is forecast to accelerate in the next five years, accounting for about 95% of the increase in global power capacity through 2026, an earlier report by the IEA predicted.
In bridging the energy funding gap Africa faces, concessional finance is imperative. This includes domestic financial markets, which need to more than double in size by the second half of this decade.
New capital sources, such as climate finance and carbon credits, among others, are necessary as well.
Mabunda is an analyst and TV anchor at Equity Axis, a leading financial research firm in Zimbabwe. — [email protected]