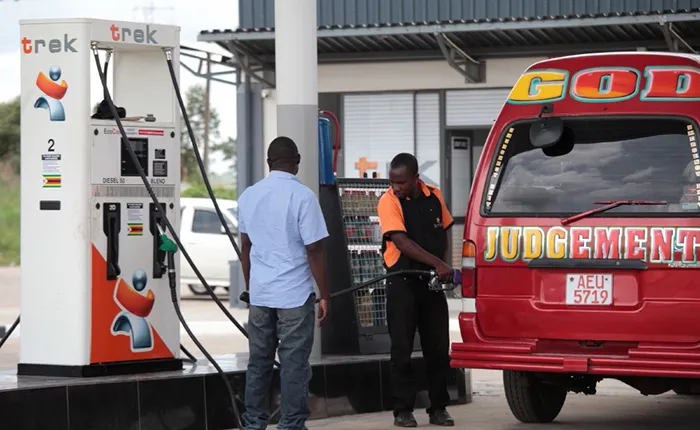 JULIA NDLELA/TATIRA ZWINOIRA ZIMBABWE is in a cost problem as fuel prices remain the highest in the region due to various factors, which push up diesel and petrol retail prices.
This follows complaints about the recent spike in fuel prices, with consumers raising questions around the high cost of diesel and petrol.
The Zimbabwe Energy Regulatory Authority (Zera) last week reviewed fuel prices for the second time in a week, following an increase in oil prices on the international market.
Energy minister Soda Zhemu said any increase on the international market triggers a fuel price rise locally.
Movements on the international market have affected other countries in the region but Zimbabwe's fuel prices remain the highest in the region.
Angola is selling at (petrol US$0,33), (diesel US$0,28); Mozambique (petrol US$1,08), (diesel US$0,96); Botswana (petrol US$1,08), (diesel US$1,06); Zambia (petrol US$1,21), (diesel US$1,06); South Africa (petrol US$1,38), (diesel US$1,39) and; Zimbabwe (petrol US$1,67), (diesel US$1,68). As illustrated in the graph.
A government official who asked not to be named for professional reasons explained that there were different factors which determine the price of fuel in Zimbabwe.
"We are comparing countries with different situations.
If you compare Zimbabwe with South Africa, Mozambique and Tanzania, it would be an injustice because those countries have ports.
"Therefore, fuel in those countries is cheaper due to less transport costs.
Countries face different costs and these include duty, transport, storage; that's the situation," the official said.
He said transport from the port to Zimbabwe and eventually respective service stations is not fixed, but determined by distance and that is then factored in when Zera comes up with a final price.
"So, it's not possible for our local prices to be at par with prices in other countries.
These factors vary from country to country.
The different cost structure has an impact and every process comes with a cost."
"Some countries have refineries; instead of importing refined products like Zimbabwe, they import crude oil which they refine and reduce expenses."
In the fuel cost build-up, Zera cited Zimbabwe being a landlocked country as one of the factors contributing to the spike in fuel price. But other landlocked countries like Zambia are cheaper.
"Inasmuch as Zambia is landlocked, it uses the Dar es Salaam port (in Tanzania) and from what I hear, the port is cheaper because it's bigger and Zambia is closer to that port unlike Beira," the source added.
"Zera is a price packer and if the fuel price is reduced, the government would have to subsidise, which will affect the civil servants in the long run as the money meant to pay them would have been channelled elsewhere."
The issue of the fuel cost build up has rattled stakeholders in the fuel industry, a situation which also continued to affect business operations.
There are also allegations in the industry that some fuel companies have been charging fuel above the prices gazetted by Zera.
Contacted for comment, Zhemu referred questions to Zera.
"I think Zera deals with that through statutory instruments, so you must ask them.
If you see some service stations charging more on fuel than what is prescribed, as a good citizen, you must report this to Zera.
They have the remedies.
"I think it's fake news that some fuel stations are charging US$1,91 per litre.
I remember reading something like that on social media, but when we checked, that was not the case.
"Why are you asking me about fuel taxes? That is the work of Treasury.
If I were you, I would reach out to them."
The country's fuel consumption rose to nearly 1,2 billion litres between January and November 2021, compared to just over one billion in 2020.