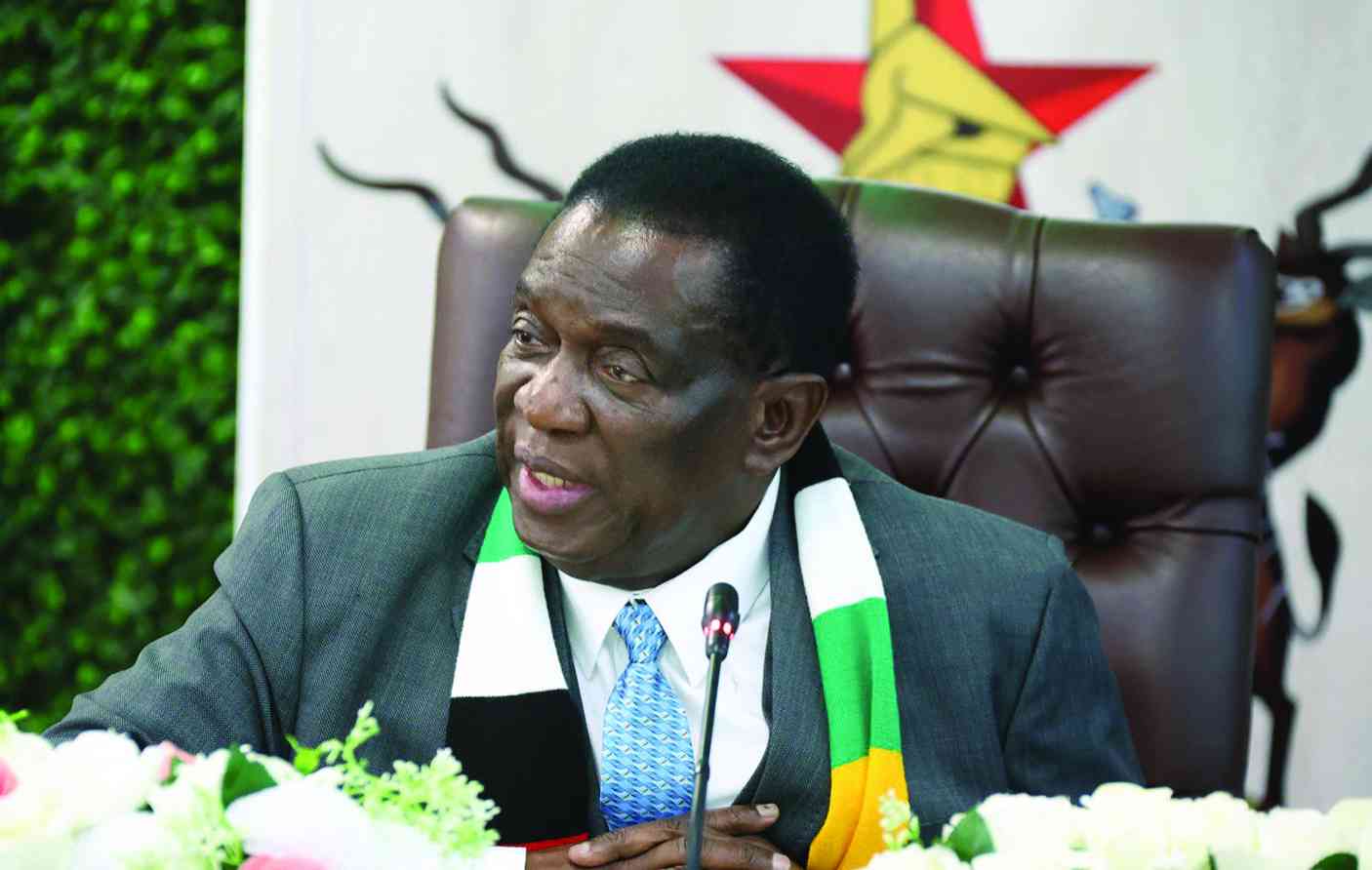 THE group of mostly men and a few women appointed to eat on the people's behalf, also known as cabinet, held its first meeting this week. It was the first cabinet meeting after the alleged elections.
At the meeting, the feeders were shocked when their leader, President Emmerson Mnangagwa, warned them against feeding too much.
He told them: "Meanwhile, all members remain guided by the relevant circular on foreign travel … Travel outside the country will be strictly limited to those programmes which are of strategic importance and contribute to our country's national priorities."
This was a shock to the ministers. All along, they had been told by their party to always emulate their leader, who is known far and wide as a frequent visitor to his own country. We were all under the impression that we were to follow in the footsteps of our President. In this case, it would mean going off on pointless junkets around the globe in a hired jet packed with dozens of hangers-on.
What is the point of being a minister when you are not allowed to eat as much as you want?
'My deputy ministers'
Mnangagwa had even more advice for his ministers. Some of you, he warned them, look down too much on your deputy ministers.
"I am aware that in the past cabinet, some ministers did not want deputy ministers. And the decision is mine, not yours," our current owner said. "It is my expectation that the role of deputy ministers will correctly be understood as complementing your own in order to derive maximum benefit from their skill sets …"
Of course, nobody takes deputy ministers seriously. This may, of course, be because deputy ministers serve no purpose at all. They do not sit in cabinet. They do not formulate any policy. Nobody listens to them. They are only good for attending launches when some minister or another is too bored to attend.
However, since we have recently appointed important people to be deputy ministers, some of whom may or may not be members of our family, these ministers need to be suddenly reminded that these deputy ministers are actually important.
Genius plan
Still in cabinet, the government announced this week that it has cutting edge solutions to the problems bedevilling the City of Harare. These include issues such as cholera and the shortage of water.
For years, experts have discussed ways to deal with the problem. Some wrote major strategic papers proposing the construction of new dams. The country borrowed a lot of money to build new pumps and replace old pipes. Some of the money, naturally, disappeared into holes and came out the other side looking like luxury 4X4s for council chefs. A solution has finally been unearthed.
According to cabinet: "The nation is being informed that the government is fully committed to resolving the Harare water challenges and that of all cities, rural and urban centres.
"The government, through the Presidential Rural Development Programme, has drilled 301 boreholes in the past year. Furthermore, a rig has been dedicated to Harare Metropolitan Province and Zinwa (Zimbabwe National Water Authority) will continue the borehole drilling programme, prioritising suburbs, which are not receiving water from the City of Harare."
What a genius plan. The only way to modernise Harare is to turn it into a rural growth point.
Time to eat
Speaking of our cities, it was heartening to learn that our recently elected councillors have hit the ground running. It was reported that a group of councillors had spent an equivalent of US$20 000 on an alleged seminar.
According to NewsDay: "Reports reaching NewsDay indicated that 12 councillors in the finance committee attended a two-day workshop in Kadoma, where they pocketed US$800 each. The amount is reportedly twice the normal daily allowance of US$200."
One wonders why people are whining about these measly amounts of money. First of all, this was a meeting for the finance committee, the people who are meant to manage the capital city's budget.
These people were sent to that workshop to be taught about managing finances wisely. That they spent all that money was just part of their curriculum on bad financial management. It was part of the lesson.
Secondly, even if they were eating, who cares? Why else do people run for political office in this country? So, people actually think that politicians from the opposition are holy and that they do not want to eat too? If anyone thinks like that, they must be barred from voting on the grounds of naivete.
Evangelical Saviour
Our commiserations go to Saviour Kasukuwere, who has been moaning all week after what was left of the orchard he stole was burned down. He claims that the arsonist was someone who is trying to steal this orchard that he stole years ago.
Said Kasukuwere: "Against all legal efforts to remove the invader, the ZRP has refused to enforce a High Court order. For now, we are yet to ascertain the motive behind this arson attack."
Muckraker, back in his church days, would always be fascinated by new converts. As soon as they walked up to the altar, and vowed that they had seen the light, they became the most enthusiastic evangelists of the gospel.
It is, therefore, heart-warming to see Kasukuwere's newly discovered love for the concept of the rule of law and obeying court orders. We hope that more similar opportunities to admire the rule of law will be availed to him by his former colleagues in due course.
Misdirected violence
The nation was shocked this week when it was announced that a group of Zanu PF supporters had been arrested for something that we all know is not a crime in the country — public violence.
According to a report: "A group of Zanu PF supporters arrested last week after engaging in public violence at the party's headquarters have been granted bail of US$50 each."
The shock was not that the bunch of yobs had been granted bail. It was that they had been arrested at all in the first place. However, it soon dawned on the nation as to why they had been nabbed. They had been "violent" against a group of Zanu PF chefs.
The reports say they held a demo at their party offices, demanding the resignation of some of their chefs.
This explains it. While bashing the heads of opposition supporters is just fine, we draw the line when people go singing and shouting and making noise to annoy Zanu PF leadership.
We hope they learn their lesson. Next time, if they feel the urge to be violent, they are free to find a few CCC supporters. Nobody will bother them.
Siltation gala
After seeing the siltation of the Save River, which is threatening communities across multiple districts in the Lowveld and Manicaland, our government has come up with a solution: they will hold a musical gala on the sand.
Dubbed the Birchenough Beach Bash, the event will see musicians from all around the country descending on the river to sing and dance. This, according to our government, will improve tourism.
"We will go play, including enjoying land and air tours of the Eastern Highlands. We have to support the new Minister of Tourism, Barbra Rwodzi, in promoting domestic tourism and enriching Zimbabwe's tourism product," said George Charamba, the world's least gifted presidential spokesman.
Indeed, people will flock from all around the world to see this marvel of poor environmental management.
Lungu's turn
Up north, our neighbours in Zambia have been having some interesting political entertainment. It was announced over there this week that the country's former owner, Edgar Lungu, had been arrested for a serious crime — jogging.
Zambian police told the man: "We have noted with concern the unlawful assembly and political activism that was conducted by the Patriotic Front cadres when the former president Edgar Lungu was conducting his morning jogging routine. Public gatherings should be notified to the police."
We wish to congratulate Hakainde Hichilema for such firm leadership. We cannot have former presidents running around while we are trying to manage the price of maize meal. We do not want any distractions.
Related Topics