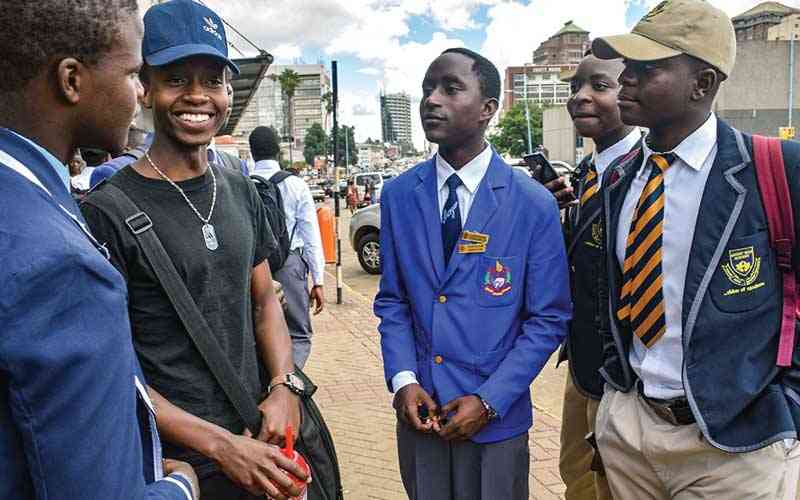 ON Father's Day, many wonderful musings and memories are passing through my mind. How lucky my sisters and I were to have the kindest dad in the world! He said he would have been tough on a boy, but with his three daughters, he had a soft approach.
Boys grow up to be men without a rule book. In civil society, the process is not as well-orchestrated in many cases for boys as for girls. There are many not-for-profit organisations that are equipping the girls and women with life and education skills.
They have made positive inroads. The flip side is when girls and women go home; there are husbands and fathers who resist and dismiss this new mindset.
I wonder if the mindset changes are masked at home and then presented and packaged by women when they are out of their homes.
Communities that are marginalised desperately need a masculine and feminine balance. There is need for support for the boys and to educate them from their growth at home to school and in the workplace.
We are reminding girls of their rights and assuming that boys automatically have theirs. There are many safe houses for women and support in different situations. Where do the boys and men find assistance? Boys are also trafficked. Is enough being done to make both genders aware of sexual predators.
Violence in communities has multi-faceted reasons. The boys get a bad rap and it is assumed that all men do not know how to accept a refusal from a woman for intimacy.
Churches play a role in supporting children and families as does the social services, but do we see material and information aimed at both genders?
Where there is no father present in the home, boys do not have a male role model. Boys really need a father to give them a sense of their own identity. Mothers tend to treat their sons as their husbands and pamper them. I believe this is to their detriment.
Boys need to be taught boundaries and respect from an early age. Mothers ought to share domestic duties with the boys as well as the girls. Our schools in Zimbabwe still have discipline and boys lift their cap to adults and seniors. They do learn respect.
The influences that boys have today are the internet, their friends and those older than them. At each of these stages, positive reinforcement of what the right behaviour is would make a difference.
Dating happens early and the girls are choosing their age mates not only sugar daddies. Girls want to get married. This is surprisingly across the board in all communities.
When I was invited to speak to outgoing university students in Lusaka some years ago, they lamented that those girls that had not secured fiancés at university were worried about their future prospects of marriage. I thought that we were going to have a different discussion. The disconnect in relationships and marriages comes from life skills not being taught at school. Still today, discussions about dating with parents are not always open.
Debates on how the youth see their lives in the future compared to their parents and past generations must be had. Stereotypes about what boys or girls should do as a career have improved greatly.
Patriarchal society still exists in Africa and our part of the world. It will take time to change. Authorities at work should be implementing strategies that support women who work and also have equal pay structures. In my experiences this has not been the case.
Women in business also need to remove prejudices about young women or single mothers.
Creating a platform where girls and boys interact without fear from an early age and have a voice will be a starting point.
Boys should be taught how to manage their masculinity, their strengths and their weaknesses and to learn that ego and power is not the way to a successful life.
Joining hands with each other and carving out lives where there is less misunderstanding, and disappointment, is the way to go.
Societal problems would be watered down if there was a balance of power between genders.
Drinking alcohol is out of hand as are recreational drugs. The emptiness and lack of worthiness is an age-old issue. Some things have changed, but much has not.
Keeping the youth engaged and motivated and having the chance to make money for a better life is our duty. In Africa, we have a high population of youth compared to Europe and Asia. We should be planning for this.
Let everyone be at the table — and the boys and girls learn to communicate on a level playing field from home and school.
Overseas the men are expected to be involved with domestic duties and looking after their children. They must work as a team.
There is a small shift in Zimbabwe with young people thinking about whether they really desire to be married and have children.
Choices and culture and expectations become new trends. We all have a responsibility to work with the youth and the different generations to create harmony.
Marriage and children are common aspirations for people and since the Covid-19 pandemic, people realised that family and home life matters.
I see a brand new vista where all genders love, live and start communities that care about each other and the land.
Yes, I can dream! It is going to be in my lifetime!
White is a born and bred Zimbabwean. A career spanning banking, hospitality and courier/logistics. She wrote a column in The Post newspaper in Zambia for five years and published a book, Conversations with Carol as well as hosting a TV programme featuring entrepreneurs and small businesses. Passionate about team transformation, customer experience mapping, sales and marketing and leadership which combines increases in profitability and performance, she connects the dots. — [email protected].
Related Topics