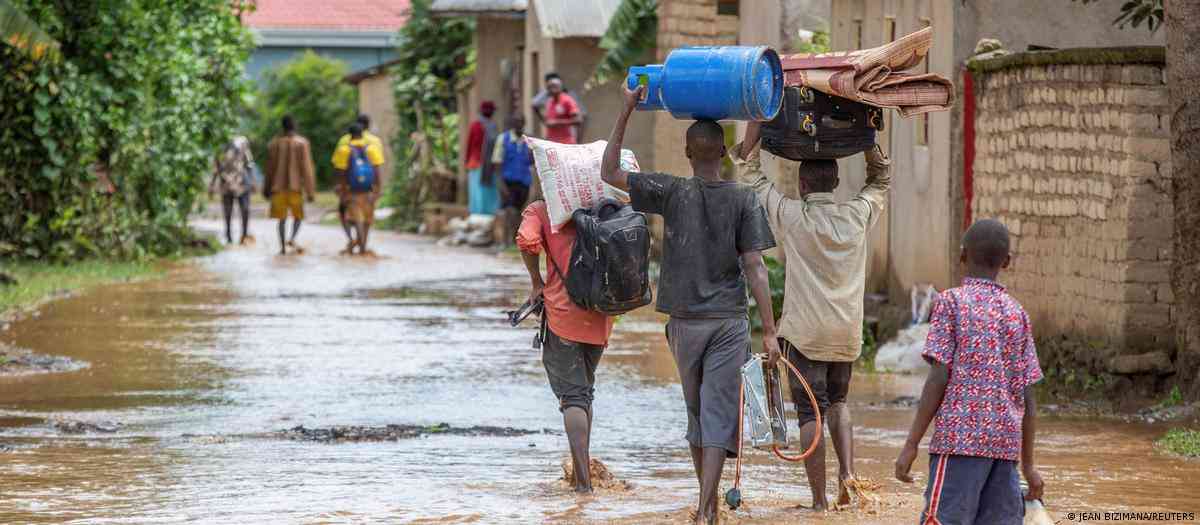 Weather is sometimes confused with climate. However, climate differs from weather in that it is measured over time, whereas weather can change from day to day or year to year.
An area's climate includes seasonal temperature and rainfall averages, as well as wind patterns. Climates differ from location to place.
A desert, for example, has an arid climate since it receives minimal rain or snow throughout the year.
Tropical climates, which are hot and humid, and temperate climates, which have warm summers and milder winters, are two more types of climates.
Climate change is known to have an impact on ecosystems and availability to natural resources such as water.
Because of Sub-Saharan Africa's low economic development and varying local conditions, adaptation and mitigation against climate change impacts are limited.
Africa is acknowledged to have abundant water resources on a continental and annual level, but spatial and temporal variance within and across countries places the continent as one with a severe water problem.
According to reports, global warming is a direct outcome of climate change, and the change in greenhouse gas emissions is caused by both human and natural activities.
Climate change is having a wide range of immediate and long-term effects on water supplies in numerous African countries.
Although African communities have long faced climate-related issues, the recent increase in the frequency and intensity of droughts and floods has imposed significant loads on African countries in dealing with high occurrences of water-related diseases.
Human threats have resulted in water pollution (chemical and biological), water scarcity, and global climate change, which has resulted in precipitation redistribution, increasing sea levels, changes in ocean CO2 absorption, and an increase in extreme precipitation events.
According to the latest UN press release, Central Africa is "richer in opportunities and resources than in challenges," the Organization's senior-most official in the subregion told the Security Council on June 6, 2023, in a briefing on political developments and the impact of climate change on security.
Abdou Abarry, special representative of the Secretary-General and Head of the United Nations Regional Office for Central Africa (UNOCA), praised Chad and the Central African Republic for their exceptional solidarity in accepting Sudanese refugees.
He cited the first Economic Community of Central African States (ECCAS) summit on maritime security and the One Forest Summit, where Heads of State focused on climate security and the preservation of the Congo Basin as examples of subregional cooperation on security issues.
As the subregion continues to experience the effects of climate change, as recently illustrated by floods in Rwanda and the Democratic Republic of the Congo.
Africa's mountain glaciers are decreasing faster than the world average, potentially resulting in total deglaciation by the 2040s, with Mount Kenya's glaciers disappearing a decade early.
Climate change has a wide range of effects on human lives and health.
It jeopardizes the key components of good health — clean air, safe drinking water, a nutritious food supply, and safe shelter — and has the potential to undo decades of global health advances.
Climate change is estimated to cause around 250 000 more fatalities each year between 2030 and 2050 due to hunger, malaria, diarrhoea, and heat stress alone, according to the WHO.
The direct health-related expenses are anticipated to reach between $2-4 billion per year by 2030.
The mining and burning of fossil fuels produces greenhouse gas emissions, which play a significant role in both climate change and air pollution. Numerous programs and individual decisions about how to utilise energy, food, and transportation have the potential to cut greenhouse gas emissions and have a significant positive impact on people's health, especially by reducing air pollution.
According to the World Health Organization, phasing out polluting energy systems and encouraging use of public transportation and physical activity could both reduce carbon emissions and ease the burden of household and ambient air pollution, which contributes to 7 million preventable deaths annually.
African Union news events states that over the last decade, 1.7 billion people worldwide have been affected by extreme weather and/or climate-related disasters, with individuals in Africa being among the most affected. The Horn of Africa, for example, has a history of extended and continuous drought.
More than 36 million people require assistance, and the region is expected to see high levels of severe food insecurity this year. The region's drought is causing worrying levels of malnutrition among children and women.
People in West and Central Africa have also been affected.
According to the AU, short-term weather forecasts indicate above-average seasonal rainfall across most of West Africa, threatening 43 million people with emergency food insecurity. Natural calamities have also struck Southern Africa.
Cyclone Eloise made landfall in Beira, Mozambique, in January 2021, displacing over 440,000 people.
Eloise hit the same area hit by Hurricane Idai less than two years ago.
Idai uprooted around 1.7 million Mozambicans and killed nearly 1,600 people. Recurring climate disasters in the region completely submerged the homes of some of the impacted residents twice.
The relationship between climate change and food insecurity is apparent.
Cimate change and other global environmental changes, such as severe temperatures, excessive flooding, powerful storms, and lengthy droughts, have raised and continue to increase concerns about ensuring food security, particularly in vulnerable environments.
Many climate experts consider it to be a threat multiplier for hunger.
"It is estimated that up to 118 million extremely poor people in Africa will be exposed to drought, floods, and extreme heat by 2030 if adequate response measures are not put in place."
This will exacerbate poverty reduction efforts and considerably impede economic progress. Food security is diminished when food systems are stressed. This has become clear during 2022 as a result of rising armed conflicts and supply chain interruptions caused by COVID-19 and the Ukrainian war. It is increased, however, when these elements are combined with climate shocks.
Climate change, according to the Inter-Governmental Panel on Climate Change (IPCC), has direct implications for food security.
Climate change, according to the Panel, will continue to result in the loss of livelihoods and income in rural, marine, terrestrial, and coastal ecosystems, as well as severe food insecurity and the breakdown of food systems unless transformative adaptation measures are implemented.
Denhere is a freelance journalist and business development strategist who is determined to leveraging his creative mind for the improvement of Africa. — [email protected].
Related Topics