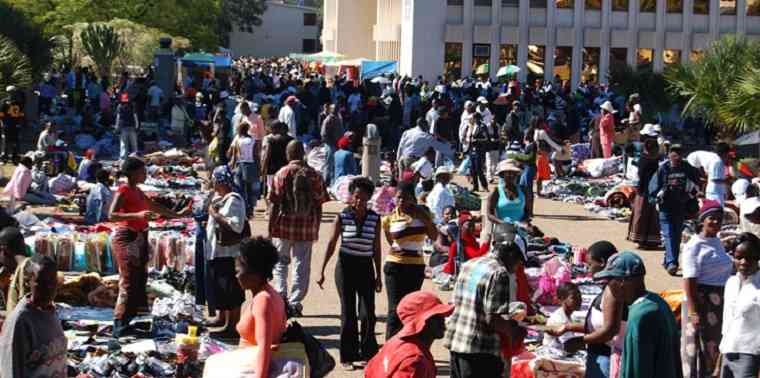 THE Zimbabwean economy has been on a downward spiral over the past two and half decades. This period has been characterised by company closures, retrenchments, hyperinflation and the poor performance of the agriculture and mining sectors — the mainstays of Zimbabwe's economy.
The period between 2007 and 2008 was particularly catastrophic. Ravaged by hyperinflation, most companies closed or significantly downsized, while social services were severely undermined. This led to the rapid proliferation of informal businesses mainly established by workers, who fell out of the formal job market, school leavers and graduates who fail to find jobs.
Pensioners whose savings were eroded by inflation were also part of this group. According to various labour force survey reports, the informal sector employs over 90% of Zimbabwe's economically active population, making it the driving force behind the country's economy.
However, despite this rapid growth, the informal sector continues to be side-lined from national social protection programmes, which only target the formal sector.
The country's poor economic performance has exacerbated the situation making informal sector workers vulnerable due to high exposure to risk, coupled with little or no social protection coverage.
The majority of informal sector businesses and workers face high risks due to conditions under which they work.
They also earn low income and are less likely to afford saving for any contingencies.
They are, therefore, not able to prepare for unforeseen circumstances such as natural disasters and their health needs.
They also have little or no access to formal means of managing risks, such as insurance, pensions and social assistance.
In addition, they largely have no access to finance to help them cope in times of need. They are exposed to risks of illness, maternity, asset loss, disability, old age and death. But they are not protected from such risks. Neither do they have capacity to manage them. They have no job security, they do not enjoy worker benefits and are also not protected by legislation, which leaves them more vulnerable. Some of the challenges faced by informal sector players include:
Lack of information
Most workers in the informal economy lack knowledge and awareness of social protection programmes available to them. They also do not have information about programmes run by government or by non-state actors.
For example, the distribution of the Covid-19 harmonised cash transfer and the stimulus package for businesses were poorly communicated by government.
Most informal sector workers did not know how to access the funds. Such information gaps become a barrier to accessing social services. Linked to lack of information is the transparency required during the distribution of social benefits to citizens.
Despite contributing significantly to the country's gross domestic product (GDP), informal sector players do not get commensurate state protection in times of need. There is a feeling that funds earmarked for social protection are lost through corruption and/or disbursed to people with close links to elites.
Trust deficit
Zimbabwe's government has not demonstrated full commitment to build relationships with the informal sector. Workers and businesses believe the government has no other interest than taxing them. Most informal sector workers operate in squalid conditions, without basic ablution facilities. To compound matters, they are subject to raids, arrests, beatings by law enforcement agencies.
They often lose their stock to unscrupulous law enforcement agencies.
This neglect from government contributes to trust deficit between authorities and the informal sector.
An analysis of other countries
Ghana — In 2003, the government of Ghana established the National Health Insurance Scheme (NHIS), which extended coverage to informal sector workers.
Ninety percent of total employment in Ghana's labour market is informal. Ghana spends a huge chunk of its national budget on social protection, largely health, at 5,4% of GDP. Ghana also has the Social Security National Insurance Trust (SSNIT), which provides coverage for a defined benefit pension, invalidity and a survivor's benefit to formal workers.
Both the NHIS, which is managed by an independent body known as the National Health Authority, and the SSNIT are provided for by the law through the National Health Insurance Act of 2003, and the Social Security Law of 2011.
The NHIS has achieved significant coverage from 6% in 2005, which had grown to 42% by 2007. The NHIS has covered both public and private health facilities since its inception. It has dramatically increased Ghana's health uptake.
Zambia — The Zambian government established the National Pension Authority (NAPSA) in 2019, after passing a Statutory Instrument that established the legal basis for extending social protection to informal workers.
Informal employment makes up almost 88% of total employment in Zambia. The NAPSA has run two pilot programmes targeted at the informal economy — the Spirework — and the Extension of Coverage to the Informal Sector (ECIS).
The Spirework pilot is focused on small scale farmers and self-employed workers in agriculture. The ECIS pilot is targeted at specified groups of urban informal workers.
To benefit from the scheme, informal workers need to apply for NAPSA membership. The NAPSA — ECIS benefits include pension, survivor and invalidity benefits. The NAPSA — Spirework has a wider mixture of benefits that include pension, maternity, family funeral and weather index insurance. All members are guaranteed the minimum state pension, but the final retirement benefit is determined by the contributions made. Rwanda's economy is dominated by the informal sector, which accounts over 94% of total employment.
Rwanda — The Rwandan government has extended health insurance to 94% of the population, which is not covered by the formal sector health insurance scheme. The Mutuelles de Santé has provided widespread health insurance coverage, reaching 81,6% of the population (Chemuoni, 2018).
The programme has registered enormous success, significantly cutting down on out-of-pocket medical expenses and has increased the uptake of health services thereby reducing disease prevalence in Rwanda.
In 2017, the Rwandan government also established the Ejo Heza, a long-term savings and pension scheme. The scheme is run by the Rwanda Social Security Board (RSSB). It aims to double current savings levels by 2024. Under the Ejo Heza, contributors receive benefits that are linked to the amount of money that they contribute. The contributions are flexible enough that they can be made at any time for any amount. Beneficiaries are not penalised for missing contributions and members start enjoying benefits at 55 years, as opposed to 65 years in the formal sector.
Savings are converted into a pension, automatically adjusted to inflation.
Members can use the money for other income generating projects or purchase various capital goods. Parents are also allowed to open accounts for their children once they turn 16. The Ghanaian, Zambian and Rwandan case studies shows that it may be difficult to achieve perfect social protection for informal workers.
But a properly planned social protection programme can change lives. However, from these evidence, extending innovative and flexible programmes to this population can significantly reduce poverty, boost savings, improve health outcomes and contribute to national growth. It is high time this discussion gets to the implementation stage to improve social security for all including workers in the informal sector.
Wadzai is the executive director of Vendors Initiative for Social Economic Transformation (VISET). These weekly New Perspectives articles, published in the Zimbabwe Independent, are coordinated by Lovemore Kadenge, an independent consultant, managing consultant of Zawale Consultants (Pvt) Ltd, past president of the Zimbabwe Economics Society and past president of the Chartered Governance & Accountancy Institute in Zimbabwe (CGI Zimbabwe). — [email protected] or mobile: +263 772 382 852.
Related Topics