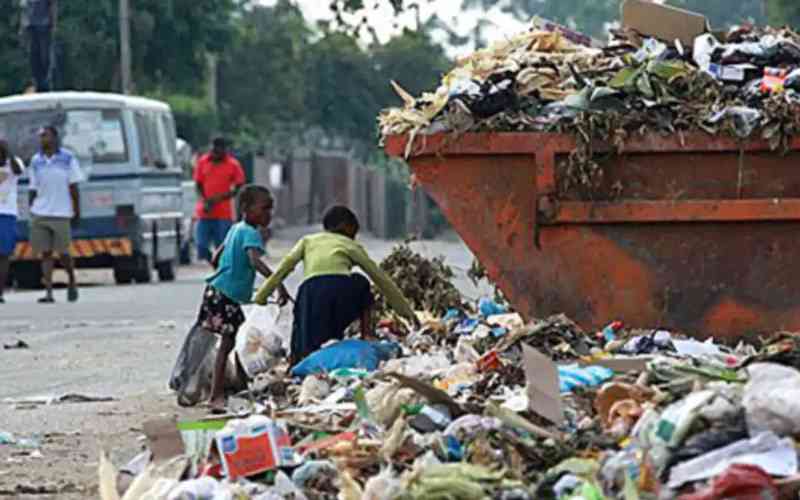 THE nation this week marked the birthday of its previous owner, the late Robert Mugabe. In keeping with the long tradition that Mugabe left behind, our leaders gathered all around the country to eat on the people's behalf.
In Lupane, people gathered at a ground to be addressed by their current owner, who immediately made an announcement that reverberated all over the nation. He told the people that the economy is booming and none of them will now have to skip the borders for jobs.
"There will be no need for our people to go to Egoli in search of employment, come home, the country is growing," President Emmerson Mnangagwa said.
In the crowd, there were huge cheers to this announcement, a sign that this was all new information to everyone in the vicinity. Until that point, none of the hungry people gathered in the Lupane sun waiting for a free lunch had noticed that the economy was growing.
Young voters
Still in Lupane, Mnangagwa stated that soon, he will be announcing a new date for the election. He urged the young people to prepare to vote.
He told them: "The majority of you, our young people will be voting in these elections, some for the first time. I challenge you to exercise this sacred right, responsibly, aware that it was paid for by the blood of many sons and daughters of Zimbabwe, some of whom were your age."
Now that weeks of a needless circus over the delimitation report has passed, in which government spokesmen had their knickers in one twist or the other, we can now prepare for an election date, and a new circus.
The right to vote is a right that must never be taken lightly, Mnangagwa went on, adding: "It was not given on a silver platter. Your individual and collective votes as a demographic group must defend, protect and guard the independence, sovereignty and national interests of our motherland, Zimbabwe."
Of course, what he forgot to tell the poor rural youth is that the only young people enjoying the fruits of our hard-won independence are those that reside in his household.
The rest of you must work hard, dig holes in the ground in the name of agriculture, and get your bread from earth ovens.
Special youth
Another youth that is enjoying the fruits of the land is Robert Mugabe Junior, the son of our former long-time owner.
It was reported this week that the chap had been arrested after, it is alleged, he had gone off on a bit of a bender after one or two drinks at a party. He is alleged to have smashed the windshield of a vehicle and broken windows at a house in Harare.
The young man arrived at court but was never put before a magistrate, which must have been a relief to court officials who still want their jobs.
His lawyer Ashiel Mugiya explained: "Charges were not withdrawn. The state decided to give parties the opportunity to negotiate".
If only this courtesy was extended to all of us, the nation would be full of peace and love. Imagine committing a crime, allegedly, and only for the courts to tell your victim to sit down with you over tea and talk it over.
Muckraker, meanwhile, is shocked at the behaviour of those overzealous, unpatriotic policemen who arrested Bob Junior in the first place. Clearly, some people are no longer interested in their jobs.
We have no doubt they were called to Police General HQ and told that we don't arrest people on the eve of their fathers' birthdays.
No to free publicity
Nelson Chamisa, leader of the alleged opposition CCC, was in the foreign press this week whining that our country's best television station, the Dead BC, and other patriotic media outlets refuse to give him airtime.
"I have not appeared on state media, radio or newspaper for the past seven years," Chamisa said.
"I only appear when they are saying something on my behalf, but they don't give me an opportunity to say . . . my side of the story."
Why can't this man just form his own media house and stop bothering our patriotic media? We already have too many pastors preaching to us in our media, and we don't need another one.
Besides, his media advisors need to tell him the truth. Media space is a limited resource. It must be reserved for newsworthy things, not waffle. If we start allowing the likes of Chamisa space in our papers to talk about pointless things like corruption and the economy, what space will be left for more important news, such as the work our First Lady is doing to teach our people how to use cow dung as flooring in their homes?
Our media has better things to cover, Mr Chamisa.
Harare now rural
You have to pity all those people unfortunate enough to still be living in the alleged city of Harare, one of the worst capital cities on this continent. From having to dig wells for water, and driving their illegal cars on roads that haven't been fixed since the Pioneer Column arrived, they are in trouble.
What is most fascinating is that nobody knows who is in charge. The question of who is running the city depends on why you are asking; if it is because something bad happened, then nobody takes responsibility. If it's a rare, good thing, then everyone claims to be in charge.
First, they abandoned Rufaro stadium. When they heard that one business wanted to refurbish the stadium, they woke up and suddenly sent a few wheelbarrows there to be seen to be doing stuff.
Then, last week, it was announced that the Environmental Management Agency wanted to take over refuse collection.
They suddenly woke up and announced "Operation Chenesa Harare" to clear up trash.
At least someone has finally found a formula to push Mayor Jacob Mafume and his "City Fathers" to take responsibility; just threaten to do their jobs for them and they suddenly wake up.
Perks for nothing
It was reported this week that nine former members of the Zimbabwe Allegedly Anti-Corruption Commission (Zacc) are to get houses in plush suburbs of Harare as part of their packages. According to a report, this is for "appreciation of the work they did at the commission".
Of course, predictably, some people started making unnecessary noises over this. Some people kept pointing out that Zacc had done nothing at all in meeting its mandate to warrant rich rewards for commissioners.
Some said these people were being paid to sit all day, much like those pointless security guards at government offices whose job it is to write names in a big book that goes nowhere all year round.
But these people know nothing. The Zacc commissioners do in fact deserve these perks. When you are appointed to these posts, your job description is not to fight corruption. It is to make sure nobody is arrested for a mere crime like corruption.
Clearly, these people have met their employment targets and must be rewarded as per their employment contracts.
Related Topics