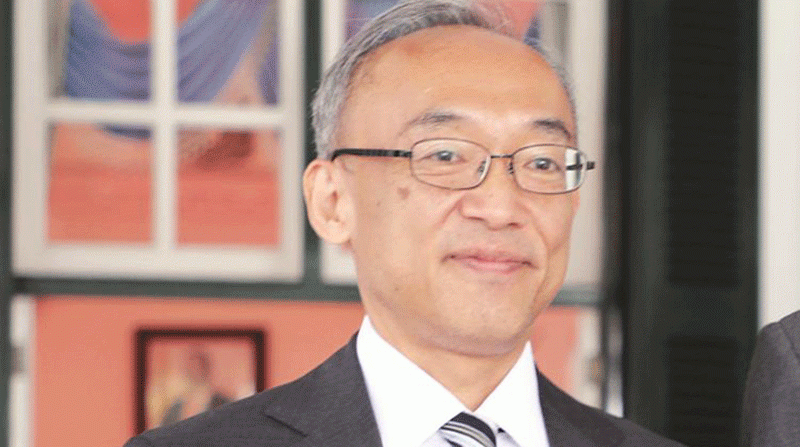 THE credibility of these elections will have a major impact on Zimbabwe's future development. Credible elections and a democratically-elected government are vital for Zimbabwe's sustainable development. Zimbabwe last year announced that it will take part in the Osaka, Japan World Expo 2025. This week, Enos Denhere (ED), a correspondent for the Zimbabwe Independent, reached out to the Japanese embassy (JE) in Harare for insights into how preparations have progressed and how one of the world's biggest economies views Zimbabwe's upcoming elections.
ED: Zimbabwe will hold general elections in August. What is Japan's advice?
JE: The upcoming elections will give Zimbabweans an opportunity to decide who should lead the country. It will give citizens to choose who will be their members of parliament and who will be their local representatives. It is an opportunity that comes once in five years.
For this reason, everyone deserves a chance to cast their votes and be confident that their vote will matter.
The credibility of these elections will have a major impact on Zimbabwe's future development.
Credible elections and a democratically-elected government are vital for Zimbabwe's sustainable development. If these elections are held in an inclusive, credible and peaceful manner, it will stimulate Zimbabwe's economic and social recovery.
Other countries, including Japan, will also be encouraged to invest in Zimbabwe. For this reason and for Zimbabwe's future, I would encourage all stakeholders to allow these vital elections to take place in an inclusive, credible and peaceful manner.
ED: Tell us about relations between Japan and Zimbabwe
JE: In terms of security as a whole, Japan declared realising sustainable peace and stability in the TICAD8 Tunis Declaration. As such include, firstly, democracy, importance of good governance and the rule of law.
Secondly, reaffirming Japan's commitment to realising a world without nuclear weapons, thirdly, expressing serious concern about the situation in Ukraine and importance of the preservation of peace through dialogue. Lastly, reaffirming support for the African common position and accelerate the reform of the United Nations security council.
On the trade side, Japan took good note of the initiative of a Free and Open Indo-Pacific and support realising structural transformation for sustainable economic growth and social development including quality infrastructure investment, connectivity and the African Continental Free Trade Area and the promotion of Japan's Green Growth Initiative with Africa. Japan also took note on the importance of investment in people considering Africa as a driving force of global growth.
At the regional level of security, Japan has been and will continue to support the removal of landmines, which pose a major threat to the lives and livelihoods of people living near and along the Zimbabwe-Mozambique border.
On the investment side, over the years, there were some Japanese companies operating in Zimbabwe. Some of those companies later relocated to neighbouring countries like South Africa and only few are still doing business with Zimbabwe from their new bases.
The embassy has been on a drive to attract more Japanese companies to explore vast opportunities existing in Zimbabwe.
ED: Tell us about Japan's humanitarian initiatives and scholarship programmes
JE: In terms of humanitarian initiatives, Japan has been providing emergency responses to people affected by drought and cyclones, through UN agencies.
For severely drought affected communities, we have funded food assistance and construction of community assets, such as nutrition gardens and dams, through the World Food Programme.
We are also supporting Zimbabwe in the health sector. We are providing medical and hospital equipment for Sally Mugabe Children's Hospital, as well as for 12 other public hospitals around the country. And JICA is training staff at the same hospitals to improve management and the quality of health service delivery, through the 5S-Kaizen-TQM project.
Another type of our cooperation is supporting small-scale community projects through NGOs.
Some of our current projects include landmine clearance in Rushinga and Mudzi, building new classroom blocks for a primary school in Goromonzi and constructing an agricultural training centre in Mbire.
ED: …and the scholarship programmes?
JE: In terms of scholarships, Japan's Ministry of Education or MEXT has provided scholarships for a number of young Zimbabweans to pursue their undergraduate or graduate degrees at universities in Japan.
They have studied in fields such as medicine, engineering, agriculture, business and politics.
Japan has provided training scholarships for Zimbabwean teachers to improve their skills at Japanese universities.
We believe that people-to-people exchange is important to share skills and build the capacities of Zimbabwean people in strategic sectors, as well as to deepen friendship between our two countries. In this regard, as well as scholarships, there are JICA training programmes, through which over 2 000 Zimbabwean civil servants have gone to Japan to receive training in the latest expertise in their respective fields.
We have also dispatched more than 1 000 Japanese experts in various fields to Zimbabwe to share their skills with Zimbabwean counterparts.
And over 550 Japanese volunteers have taught their vocations at various institutions across the country.
ED: Following the 2nd Japan-Africa Business Forum, how are FDI flows into Africa and Zimbabwe?
JE: The Japan-Africa Business Forum is a platform for promoting business and investment opportunities between Japan and African countries, increasing the number of business matching opportunities for participating countries and encouraging Japanese companies to commit and actively invest in Africa. The forum was a follow-up on TICAD VI, which was held in August 2016.
On the investment side, Prime Minister Kishida, in his opening speech in the TICAD8, expressed his intention, as "a partner growing together with Africa", to promote African development with approaches quintessentially Japanese, focusing on "people" and to realise a resilient Africa that the continent aims to achieve through a virtuous cycle of growth and distribution.
He stated that Japan is going to invest US$30 billion over the next three years, with an emphasis on "investment in people" and "quality of growth," and that this investment will help the progress of Japan-Africa relations.
Concretely, he announced that Japan will launch "Japan's Green Growth Initiative with Africa" and provide US$4 billion in public and private financial contribution. Japan will also co-finance up to US$ 5 billion with the African Development Bank, including a special loan of about US$ 1 billion, for advancing reforms that result in sound debt management.
ED: What should local firms do to gain access to Japanese markets?
JE: Japan has a vast market with a taste for high standards of quality products and other specifications. Since Zimbabwe is rich in minerals and has decades of experience in agriculture, we believe that there are many opportunities to collaborate on.
We also believe that in the spirit of "leaving No One and No Place Behind", the Zimbabwean government will reach out to all interested stakeholders intending to collaborate with it in participating in Osaka Expo 2025.
As far as preparations for Osaka Expo 2025 are concerned, the embassy is working closely with ZimTrade to spread awareness of the Expo. Two engagements have taken place, beginning with an inaugural stakeholder engagement seminar, which was held on 10 June 2022, and recently a press conference on 2 May, 2023.
We hope the Osaka Expo 2025 will open up the new market between the two countries.
ED: In April 2017 Osaka announced its bid for World Expo 2025. Yekaterinburg in Russia also announced its bid a month later. What was key to Japan's selection to host the expo?
JE: Japan fully understood the value of hosting the international expo.
The country presented an ideal environment and there was a strong commitment from all spheres.
It was an advantage in the bidding process, because Japan possessed a wealth of experience in hosting successful international events like Osaka Expo in 1970, Aichi Expo 2005 and the 2020 Tokyo Olympics and Paralympics.
The theme "Designing Future Society for Our Lives", focused on responding to global challenges, such as population growth, environmental sustainability, which are of utmost importance to many countries.
ED: How will Japan fully apply this theme to bring the entire globe to Osaka?
JE: Japan intends to facilitate the participation of as many people as possible, collecting their ideas to create a better tomorrow.
The envisioned future society aims to have a society in which global problems are solved. Japan has low birth rates and an aging population, which is prone to social problems related to medical treatment and health care.
It is also concerned with global problems such as food and agriculture, energy and resources, environment and climate change and is now focused on solving these problems through technology.
Hosting the expo is a good opportunity for Japan to share its vision of a future society.
Currently the government and private sector are jointly promoting a national project called "Society 5.0, which aims to create new solutions using Artificial Intelligence, robotics and other advanced technology.
Having learned from the success of Dubai Expo, the Osaka Expo will present an innovative event, that will create an experimental laboratory, contributing to the establishment of a sustainable society on a global scale.
Related Topics