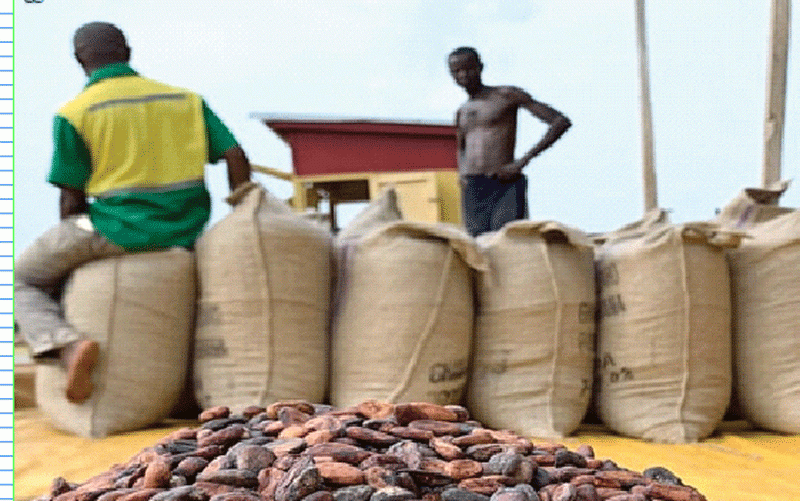 A PICTURE of more than half the country's population languishing in world record unemployment, poverty, and inequality, but at the same time literally sitting on major deposits or reserves of natural resources, is just baffling.
Zimbabwe has an abundance of land, water, forests, mineral resources, as well as a stock of human skills/expertise that could drive the growth of the entire southern Africa.
But breakthrough to that level of growth remains elusive. Guided by the Vision 2030 (Zimbabwe: a Middle-Income country by 2030), the performance (annual GDP growth against target) of the National Development Strategy (1) is also strikingly uninspiring. But why?
For close to half a century, experts have pondered on this peculiarly African paradox. There are front pages of many United Nations and World Bank publications carrying pictures of starving African children in a sordid environment, with messages harping on this peculiar issue.
Why must it be a challenge for Zimbabwe to transform, when the country's agricultural sector has so many inbuilt advantages, such as abundant agricultural land, a rapidly growing population, the lower cost of capex for industrial plants, and low labour costs?
Could it be because of international market price trends? Or perhaps does this point to western hegemonic influences under global capitalism, bent on impoverishing Africa through prevalent unequal trade regimes?
Or maybe is it one sign of policy leadership failure among African countries? In 2023, millions of Africans and Zimbabweans are unemployed, vulnerable; subsisting below the poverty datum line; U$1 per day, because of the failure of transformation in a context of massive natural resource endowment.
Cote d'Ivoire, Ghana, Cameroon and Nigeria in West Africa produce over 70% of the global output of cocoa, and yet 75% of the crop is exported as raw beans to Europe and Asia.
Is there really nothing else that could be manufactured from coffee in these countries, beyond cocoa butter, powder and some chocolate? Then there is the 70% of cotton (mainstay of West Africa's agricultural sector) exported raw to Asia, where it is processed into yarn and fabric and re-exported back to Africa.
As noted in the World Mining Magazinehttps://www.worldminingmagazine.com and the Mining Frontier, https://www.miningfrontier.com, the current disparity between Africa's contribution of raw materials to some of the world's most lucrative industries compared with the value chain benefit is unsettling.
For instance the DRC supplies 70% of the world's cobalt for use in electric vehicle EV manufacture but while capturing only 3% of the battery and EV value chain. In Zimbabwe, there is export of raw lithium, black granite, and many other minerals and products.
In the end there is again this quite unsettling picture of plunder, as Africans import expensive garments, car batteries, diamond wedding rings, that are all manufactured from raw materials that the continent itself produces, before exporting these goods to other regions of the world at give-away prices.
It means Africa perpetually loses through net resource outflows, and also that the continent is literally subsiding labour costs in other continents.
Giving credence to World Bank predictions about poverty in Sub Saharan Africa "..the number of people living in poverty in sub Saharan Africa to "increase to 100 million by the end of the century". (World Bank 1994; Rural Household Studies In Zimbabwe: A Review by B. H. Kinsey, Hilary Mcquie and Mandivamba Rukuni Working Paper AEE 2/95).
With the discovery of vast deposits of the lithium in the country, Zimbabwe could have had a head start in the manufacture of lithium batteries, granted some capacity to manufacture batteries has always existed in the country.
As noted in the 2021 African Mining Markets Report, Zimbabwe is the leading country in Africa to produce lithium ore, and the 4th largest in the world.
"Zimbabwe's Bikita Lithium mine, in south-western Masvingo, has the world's largest-known deposit of the alkali metal, at around 11 million tonnes." (https://www.a HYPERLINK "https://www.african.mining.markets)/" As the country ranks among the world's 10 largest producers, including Australia, Chile, Bolivia, Peru, China, Mexico and Argentina, Zimbabwe reportedly has the potential to meet 20% of the world's demand of lithium.
Global shifts towards decarbonisation mean that lithium is the world's most sought-after metal for global clean energy transition, representing important opportunities low income countries, like Zimbabwe and much of Africa,as the continent is home to key battery minerals; cobalt, copper, lithium and manganese.
Localising the lithium-ion battery value chain presents opportunities for Zimbabwe to establish herself as a global (electrical vehicle) EV manufacturing powerhouse, with attendant employment and economic benefits (Local manufacturing: more local factories, more local jobs, more local incomes, more taxes to government, expanded social and physical infrastructure, better education, and healthcare). Yet it appears 'prosperity, new jobs and better incomes for all' will remain election campaign promises and slogans for quite some time.
Some preconditions
Economic growth today is largely a function of resources, institutional factors and markets. Studies show that key to the transformation of African countries towards beneficiation are issues of governance, structure and depth of markets, and opportunities created by technology transfer. The Journal of the Southern African Institute of Mining and Metallurgy (JSAIMM vol.111 n.7 Johannesburg Jul. 2011, vol IV, 2022) suggests five key preconditions for successful beneficiation/value addition experience in Africa;
Effective governance systems at regional level:The continent must be agreed on models of political and economic governance (prudent stewardship of public resources) that protect African interests. This brings to perspective the roles/functions of Africa's regional and continental bodies (Sadc, Economic Community of Western States and African Union, AU) in pioneering such technical, political, economic models.The continent needs to develop broad and integrated approaches to channel the existing technical, managerial expertise and capital to process local raw materials into other finished products with a greater value.
Governance at national level: At the national level governance influences the success or otherwise of value addition by promoting transparency and accountability in resource management, reducing pilferages and illicit outflows. To benefit value-addition are governance systems that are effective, guaranteeing smart tape (not red-tape), special economic zones, preferential tax treatment, access to key markets, and the availability of the appropriate skills.
Markets and institutions: There is an integrated approach to develop markets that reflect the true pricing and value of minerals, including other raw materials, competitive downstream beneficiation sectors, well developed infrastructure. By comparison to Zimbabwe, Australia has a higher level of beneficiation as markets, infrastructure, as well as corporate governance structures are relatively more developed
Technology transfer: Mining deals create learning opportunities for African governments to pursue technology transfers and value chain opportunities in lithium battery manufacture, as well as for other renewable energy projects that also need energy storage facilities. This will enhance preliminary local industrial process capacity.
Resource nationalism: This is a particularly relevant concept to a mineral rich continent, but that has been plundered by exploitative international trade deals and contracts. For decades, low prices for primary exports from Africa, and the activities of multinational corporations have militated against the continent realising potential benefits from mining investments (such as job creation, taxes, the transfer of technology, and funding).
Resource nationalism is about government intervening in the mining sector seeking to renegotiate existing mining contracts to get better terms, increase in taxes/royalties on the mining sector, asset nationalisation (forced equity transfers or the threat of them), or export restrictions. Through Resource Nationalism African countries stand to benefit from all foreign (western, or Chinese) investments particularly in the mining sector in the coming years.
Manyanya and Nyadome are policy analysts. These weekly New Horizon articles, published in the Zimbabwe Independent, are co-ordinated by Lovemore Kadenge, an independent consultant, managing consultant of Zawale Consultants (Pvt) Ltd, past president of the Zimbabwe Economics Society and past president of the Chartered Governance & Accountancy Institute in Zimbabwe (CGI Zimbabwe). — [email protected] or +263 772 382 852.
Related Topics