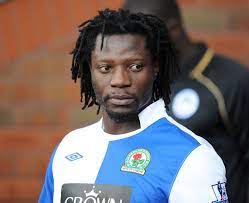 FARIRAYI KAHWEMBA FORMER Caps United and Warriors utility player Edelbert Dinha insists Benjani Mwaruwari's internationally recognised qualifications will enable the former Manchester City forward to bounce back stronger from what has been an unconvincing start to his coaching career so far.
Mwaruwari, a prolific forward during his heyday with the likes of French outfit AJ Auxerre, English Premier League (EPL) sides Manchester City, Portsmouth and Blackburn Rovers as well as the Warriors, was sacked by Ngezi Platinum Stars after just 13 matches.
That dismal performance marked a major setback for Mwaruwari's coaching career after things did not work well for him in his short stint as a Warriors assistant coach under Zdravco Logarusic.
However, Dinha told Zimbabwe Independent Sport that Mwaruwari's UEFA A coaching licence – as well as his vast experience as a player – makes the former striker an asset to the local game.
"You cannot write off a coach at a very early stage of their career," Dinha, who is studying towards a CAF B coaching licence, said. Mwaruwari's coaching qualification is one level below the much-rated UEFA Pro, which is the highest coaching certificate in Europe.
"I still believe Benjani is a good coach. People must learn to invest in coaches on a long-term basis. The hiring and firing of coaches without giving them enough time is done by those who do not understand the nature of the game," Dinha said.
"Benjani will bounce back. The qualification he possesses means he has technical skills which will be very effective when he is able to combine them well with the knowledge he has also gained over the years as a player."
The former Orlando Pirates defender – who believes that good players have the ability to go on and become excellent coaches when given a chance to showcase their capabilities by patient and football minded administrators – cited the likes of Norman Mapeza, Calisto Pasuwa, Rahman Gumbo, Pitso Mosimane and Gavin Hunt as good examples.
Mapeza, Pasuwa and Gumbo – who all represented the Warriors at international level – are now establishing themselves among the leading coaches in the southern African region.
Mapeza – who like Mwaruwari is rated among the best players ever to be produced by Zimbabwe – made a smooth transition from the playing field to the hot seat.
In 2008, he led Monomotapa to the Zimbabwe topflight league title as head coach – at the expense of a more fancied Dynamos.
He has already won two titles with his current club FC Platinum. Pasuwa, a legend at Dynamos, won the topflight in Malawi last season as head coach of Nyasa Big Bullets while Gumbo has made a name for himself in Botswana where he is coaching Premier League side Sua Flamingos following success at Highlanders.
"Players that have been exposed to international football, either with their club's or national teams, have  been privileged with good football exposure and this is why Mapeza has been able to hold his own in  Zimbabwe's top-flight league," Dinha said.
"We all know that Mapeza played Champions League football during his time in Turkey and when you combine that experience together with good coaching qualifications then you will have a dangerous football mind.
"Good players will definitely make good coaches and I believe it is just a matter of time before Benjani starts to show his pedigree. Local clubs must give him another chance."