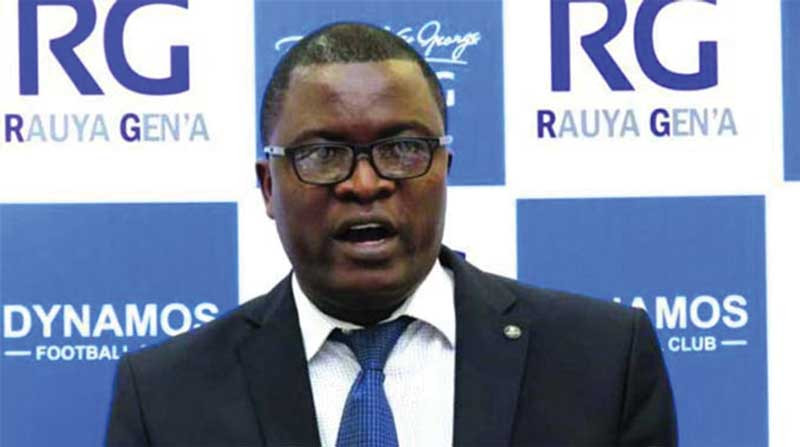 FORMER Lengthens Football Club owner Musa Gwasira has emerged as the frontrunner to replace Isaiah Mupfurutsa who was yesterday fired as Dynamos executive chairperson yesterday.
Mupfurutsa was shown the exit door a day after the club had also announced that they will not renew the contract of coach Tonderai Ndiraya, whose deal expires at the end of this year.
In a statement yesterday, the Harare giants said they had severed ties with the respected banker who has been at the helm of the club since 2018.
"Dynamos Football Club would like to reveal that Isaiah Mupfurutsa is leaving his post as chairperson with immediate effect," announced the club's spokesperson Tinashe Farawo in a press statement.
"Mr Mupfurutsa has served Dynamos with distinction since 2018 when he was appointed chairperson. Therefore, Dynamos Football Club would like to thank Mupfurutsa for his tireless dedication to the team. He will always be welcome at Dynamos Football Club because he is a staunch believer in the team."
Sources told this publication yesterday that Mupfurutsa whose has been credited with bringing stability at the club, was a victim of a vicious infighting within the executive.
Under his chairmanship, the club managed to secure big sponsorship from RG and Sakunda Holdings who have been oiling the club operations.
The sources said there are two camps in the executive which are fighting for control of the club.
On one camp is a group comprising of club owner Benard Marriot's "blue eyed boys" which include Moses Chikwariro, Webster Marechera and Francis Madzinga fighting against Mupfurutsa.
Sources said Mupfurutsa had the support of his deputy, Moses Shumba but the former Blue Ribbons Football Club chairperson is said to have changed sides and is favoured to take over the chairmanship of the club.
So bad was the situation, according to the sources, that the two camps were not on talking terms.
Marriot reportedly now prefers Harare businessman Gwasira to take over from Mupfurutsa.
"Shumba's position in the executive is also now under serious threat. Mupfurutsa's crime was to side with Tonderai Ndiraya against the wishes of the other executive members who were clearly getting orders from somewhere," a source said.
It is believed that the purging of Ndiraya and Mupfurutsa has infuriated the club's sponsor Sakunda Holdings who might consider severing ties with the team.
"We are obviously unhappy with the chaos currently obtaining at the club. We are following the events closely," an official who refused to be named said yesterday.
A list of potential candidates to replace Ndiraya has also reportedly been drawn with former coach Lloyd 'Mablanyo' Chigowe and former Black Rhinos coach Herbert Maruwa top of the file.
They are also considering former Highlanders coaches Pieter de Jongh and Elroy Akbay for the post.
Follow Henry on Twitter @henrymhara
Related Topics