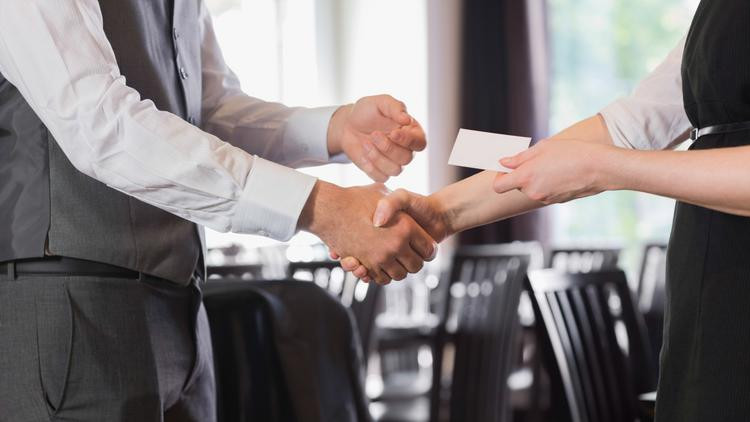 EVERYONE is a salesperson throughout their lives.
Even those that hide behind their screens and lament, "I am only in the finance department and don't like to talk about the business" — which was a recent encounter. I laughed out loud.
Brands spend money on their image and yet they do not ensure that their teams are in alignment with that promise. The world is so competitive, and the difference is in you.
How you, as an individual, represent your brand and I implore you to take that seriously. It is not just a job. So much goes into the creation of businesses and individual responsibility highlights your character.
Throughout our lives, we incorporate selling techniques, from nursery school all the way through to secondary school. How people present themselves is what makes the difference from a young age.
Then during dating and marriage, the stakes are pinned on selling skills, believe it or not. The relationship building is part of how we get things done in work and in life.
Selecting tertiary or college education and going into the workplace, our interactions are all affected by our personal brand, our image and what we stand for.
Most importantly, how we sell ourselves is what drives decisions and acceptance. Applications, interviews and conversations are how we are evaluated.
Subconsciously, we decide whether we like someone or not on first impressions. We cannot separate sales skills from our life. I am a true salesperson, and it is instinctual.
The essence of sales is arranging the product or service to match the market or person that would buy it because it is aspirational or something that is needed.
The excitement of getting things to flow and then getting the sale has been a competitive advantage in various job roles. Getting the business has not been complicated for me.
Think about your person and business presentation and what you want to be remembered for and by. Businesses do ensure that the sales force front line and those that are out meeting customers are well groomed and trained.
Taking phone calls in a meeting is taboo. Stop it immediately. One salesperson commented to me, "my phone is a switchboard", whilst he kept me waiting.
The lack of basic sales knowledge is surprising. Back in the day, Sheraton Harare Hotel, now Rainbow Towers, did not permit any recruit to have customer interface without the 'SAME' training.
I still remember that stood for Sheraton Account Management Effectiveness. This ensured consistency in brand positioning and competitive delivery of tried and tested methods of sales.
Google sales techniques and develop your own standards for sales. Really, the days of letting new workers on the public should be over.
I do have the strong feeling that businesses in Zimbabwe are hiding behind the current exchange rate dilemma. This is the reason for everything that is wrong!
It is certainly not true across every business process. Unpack how pricing is affected and attend to that. Then use sales skills and techniques to bring in the business.
Personality profiling is an excellent way to determine whether the team has natural sales profiles. They then can be assigned to front and back line sales.
Practice the sales scripts. Agree on what the benefits and values are for the customer. Prepare the sales team before they speak to a customer on the phone or on a call.
Tone of voice, grooming and deportment as well as a salesperson's personality are all factors that contribute towards sales.
Brands cannot afford for their sales teams not to meet the basic requirements. In all business, sales and the customer is everyone's business.
Once that is mandatory, then there will be less disconnect between internal departments. Measurement for all staff should be based on how they interact with the customer at the number of sales that are closed.
Whatever happened to good old notebooks and writing things down. As recent as my last job as general manager of a hotel in Chobe, I was a stickler for notebooks.
I listened to the pleas that the notes would be stored on the phone. However, when things were forgotten and not followed up, we started a new regime.
Notebooks, weekly planners and to-do lists. I never get tired of following up on the teams to-do lists and so they get used to that very quickly. They begin to check their lists, act and follow through. It does make a difference to productivity and performance.
If there are a handful of big customers and one drops out that will adversely affect the business.
Quality customers are what is needed, and you cannot please everyone. Sales is art. Profitable businesses require a robust sales structure. Albert Einstein said: "Strive not to be a success, but rather to be of value."
White is a born and bred Zimbabwean. A career spanning banking, hospitality and courier/logistics. She wrote a column in The Post newspaper in Zambia for five years and published a book, Conversations with Carol as well as hosting a TV programme featuring entrepreneurs and small businesses. Passionate about team transformation, customer experience mapping, sales and marketing and leadership which combines increases in profitability and performance, she connects the dots. — [email protected].
Related Topics