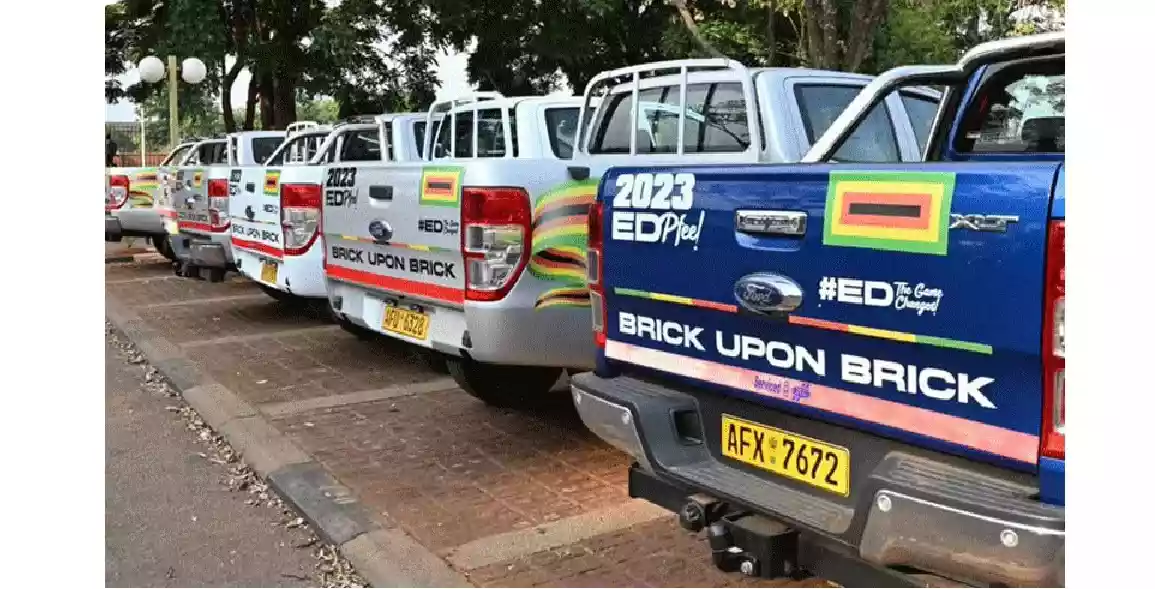 THIS weekend, members of Africa's most democratic party gather around the country to decide whether to keep the existing looters in place or to choose a new set.
Zanu PF, known far and wide for its unwavering commitment to democratic principles, is holding its primary elections this weekend.
Naturally, ahead of the voting, rival supporters are using their traditional methods of persuasion — machetes, whips and bribes.
In Chegutu West, we have one Dexter Nduna, who would not be in Parliament were it not for a patriotic Zimbabwe Electoral Commission (Zec) official, who in 2018 announced him the winner by alleged mistake.
This week, he came out whining after his supporters went after his rival, the lawyer Farai Chigavariza, only to find that the other side also were ready to implement traditional Zanu PF campaign methods. Nduna reported to the police and they took no action, he claimed.
According to Nduna: "We appeal to our rivals to allow us to campaign peacefully".
It must be quite a contest when Nduna is now sounding like an opposition official.
Sacrificial lamb
Elsewhere, the party announced that it was barring one Kudakwashe Damson from standing in the elections. The reason given shocked all faithful Zanu PF members; he was accused of violence.
Damson was arrested recently after he attacked Zec officials who were committing the crime of educating voters. We cannot have people going around telling people that their vote is secret and that it counts. Damson, it was reported, abducted the officials and assaulted them. He was, for some reason, arrested.
According to Zanu PF spokesperson Chris Mutsvangwa, Damson was barred as an example to others. He then added: "We hope he will accept the decision. He still has a future in the party and is a hard worker."
Of course, he has a future in the party. Such skills always have a part in the revolutionary party.
Mudslinging
There was widespread confusion among party cadres when it was announced that alleged criminals would not be allowed to contest in the primaries.
One Danmore Mambondiyani is said to be running for office somewhere in Manicaland.
A report this week said: "Zanu PF youth member, Danmore Mambondiyani, allegedly duped a Harare company fuel worth thousands of dollars. Prosecutor, Tafadzwa Jambawo, told the court that Mambondiyani had previously been issued with a warrant of arrest after failing to attend court sessions".
Then there is one Tendai Charuka, running for MP in Bulawayo. It was reported that, not so long ago, that he came up with a bright idea that ended up with workers at the National University of Science and Technology (Nust) missing some of their money.
It was reported: "Nust workers deposited US$149 000 into (Charuka company's) bank account as an initial payment for the 167 residential stands. The court heard that after the money was deposited, Charuka failed to develop the stands or account for the money".
Of course, these are the sort of innovative and entrepreneurial candidates we want in the party.
And yet, some people think a small thing like a documentary by Al Jazeera can help them win an election?
Talking about it will only make them and their circle angrier than usual. Does it change anyone's vote? No.
Confused chief
The nation was shocked this week when Chief Fortune Charumbira was captured on video talking what, by his standards, is some sense.
At the funeral of the mother of Jacob Mafume, the Mayor of Harare and a relative of Charumbira, the chief of all chiefs said there is no need for politicians to hate each other.
"As chiefs, we are happy to work with any party, Zanu PF or CCC that would have won the elections.
"They are all sons of the soil. You say this one has sold out — but what will he gain when the whole country is struggling? That is silly propaganda," Charumbira said.
This would have surprised those of us who cheered just a week earlier, when the same man was telling the nation that chiefs belong only to Zanu PF.
This, surely, cannot be the same man who ignored a court ruling that found him in violation of the constitution by siding with one party.
How can we live with such unpredictable chiefs?
How can they receive cars from our Second Republic and then turn around and talk peace with the enemy?
Besides, did we not fire Killer Zivhu from the party for similar dangerous talk about making peace with the opposition?
Charumbira can no longer be trusted.
Busy
The Americans and the Chinese have been having quite a war of words over little Zimbabwe, it seems.
First, the incoming ambassador of sanctions, US envoy Pamela Tremont, came out whining about how the Chinese have come in to reap where they did not sow.
The US, she said, invested US$4,5 billion into Zimbabwe to feed its hungry people and so forth, and yet it is the Chinese who are reaping the fruits.
Of course, the Chinese did not like this, and they put out a long-winding statement, saying: "We noticed that the new ambassador alleged the US invested US$4,5 billion in Zimbabwe. We are curious about where the money went to, what projects have been completed. It is easy to find out where the Chinese funds are used and what benefits is generated".
It is, indeed, easy to find out where Chinese funds are being used.
We have all seen the mansions in the North of Harare. As for the Americans, can they please find another country to colonise. We are rather too busy for their whining.
CCC everywhere
Some shadowy internet people with little to do with their fast internet have been complaining for months about the delimitation report, claiming that it is part of some elaborate scheme to rig the elections.
None of them seems able to make up their minds. One day, they tell us that our owner Emmerson Mnangagwa wants to call an early election, the next day they tell us he wants them postponed.
Another day they tell us that he wants the delimitation report shelved, and then the next day we are told that he in fact wants it because it helps him win.
But now Nelson Chamisa has put a stop to the talk. The whole thing does not matter, he reportedly said in Masvingo.
"I heard some people with no supporters have challenged the delimitation report in the courts, but we are not worried about the boundaries created. Our party is everywhere, even if they move people, the people will vote in those new areas. We are ready to win, this time I will score without looking at the goal," Chamisa said.
And now those that claimed to be angry on his behalf about the delimitation process are just as confused about it as the rest of us.
Related Topics