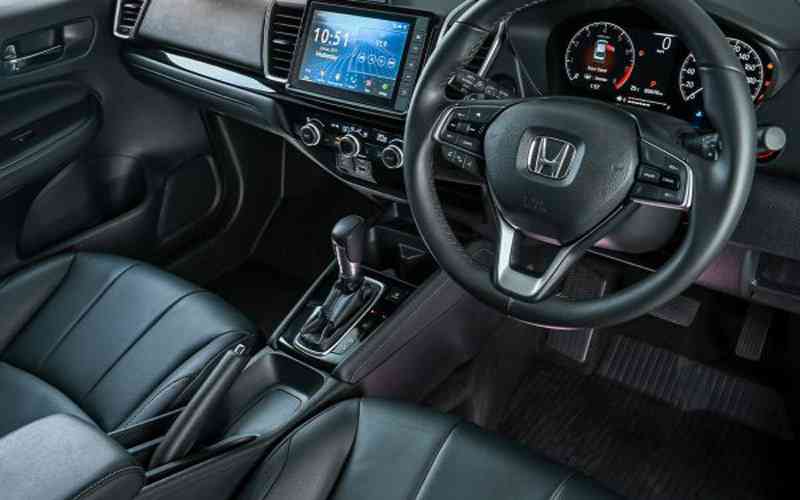 YOU probably remember the Honda Ballade as one of the hottest cars to own if you grew up in the 1980s.
Your elders will likely become lost in a moment of nostalgia when they recount their experiences with their Ballade to you. The Ballade nameplate has gradually developed a Honda Civic aesthetic over time, creating a swankier product than before.
Although it may be wonderful to see these upgrades on such a distinguished sedan, the Ballade is fighting a losing battle. The growth of SUVs has all but eliminated sedans, leaving the Ballade with the challenging task of restoring an extinct breed.
I recently took the newest Ballade for a test drive to determine whether Honda made the right choice to continue using the nameplate. Back then, one of those automobiles with swag inside was the Ballade.
Your mother will tell you that guys who drove Honda Ballades were cool, though not as cool as those who drove Alfa Romeo Giulias, if you ask her. The Giulia ranks as my favourite 1980s vehicle.
When the first Honda Ballade was introduced domestically in 1982, it swiftly rose to prominence as one of Honda's most recognisable products in the nation, competing much above its peers in terms of both style and performance.
In honour of Honda Motor Southern Africa's 20th anniversary and as a representation of the growth of their brand in Southern Africa, the brand-new Ballade made a comeback.
When it comes to Honda automobiles, Zimbabwe is underrepresented. Grey imports rule the roost. The brand-new Ballade upholds Honda's longstanding reputation for excellence, durability and dependability while also setting a new standard.
The all-new Ballade is the pinnacle of Honda innovation, combining a startlingly sporty yet elegant exterior design with class-leading interior spaciousness and a long list of high-tech amenities.
Only a few automakers have had as much of an impact on the global aftermarket as Honda. The truth is that other manufacturers have always needed major trickery to extract performance to match the performance of Honda's performance variations, whether it be in the form of displacement, superchargers, or turbochargers. Certainly, folks rip on Honda with the lawnmower jabs.
As the saying goes, VTEC took the place of displacement. The Honda Civic hatchback and the Ballade sedan models were originally introduced in 1996, but earlier iterations of the Honda Civic were known as the Ballade in Southern Africa.
And fortunately for us, both were outfitted with the fantastic B16 DOHC VTEC 1.6-litre motor - despite the fact that the system initially made its appearance in the 1989 Honda Integra, a first for Southern Africans.
Powerful engine
You can count on Honda to ensure that any vehicle, whether an SUV, hatchback, or sedan, is constructed with an engine that is consistently powerful.
The most recent Ballade model is another example of how Japanese manufacturers have managed to perfect the art of producing well-built engines.
A new 1.5-litre DOHC engine that generates 88kW of power and 145 Nm of torque is added to the Ballade. The redesigned Honda Continuously Variable Transmission (CVT) makes the Ballade a very smooth driver on the road, making it the ideal car for cruising. Under accelerated driving, the CVT may sound a little whiny.
Having a civic-like appearance
It now has a sportier appearance than previously thanks to its lower stance and halogen headlights. The Ballade may not be everyone's cup of tea, but it definitely represents Honda's unique design aesthetic.
The taillights are also pretty attractive to look at, giving one the impression that the Germans may have served as design inspiration.
The Ballade has a family-friendly charm even though it may not be a car that will get you around in elegance.
Comfortable and spacious
The Ballade has plenty of room inside; the boot alone has a capacity of 510 litres. In fact, I was pleasantly pleased by how roomy the interior was, demonstrating that it is in fact a family-oriented car.
Even if you donot particularly like the Ballade's look, you will probably like it inside. It includes an 8-inch touchscreen display with a gorgeous design that supports both Apple CarPlay and Android Auto.
It has superb Bluetooth connectivity, and the sound system will make you feel at home.
As the Ballade is so spacious and comfortable, you might forget that you are driving a sedan.
Key features and specifications
Engine 1.5: Type DOHC i-VTEC 16-valve in-line 4-cylinderDisplacement (cm3) 1498
Power: (kW @ r/min) 89 / 6600
Torque: (Nm @ r/min) 145 / 4500
Compression ratio: 10.6
Bore & stroke (mm): 73 × 89.5
Fuel consumption (93/116/EC) — combined (l/100km) 5.5
Fuel type: Unleaded petrol
Power steering
Electric windows
Cruise control
Rear ventilation
Automatic air conditioning
AM/FM radio with buetooth (HFT) and- USB connectivity
Four speakers
Halogen headlights & fog lights
LED daytime running lights
15" alloy wheels
Start/stop button engine start system
SRS airbags: Front,side & curtain
Anti-lock braking system (ABS)
Electronic brake-force distribution (EBD)
Hill start assist (HSA)
ISOFIX child seat anchor
My decision
It was easier to dismiss the Ballade before I entered as yet another effort to revive a failing brand. Yet after using it for a while, I could see why Honda decided to continue producing the Ballade.
It's roomy, comfy, and generally an all-around well-made, sturdy car. Honda may have created the ballade that we have been waiting for a long time, but they still have a tough time selling it in a market that is almost entirely driven by the need for SUVs. Perhaps they'll create a Ballade SUV someday.
Related Topics