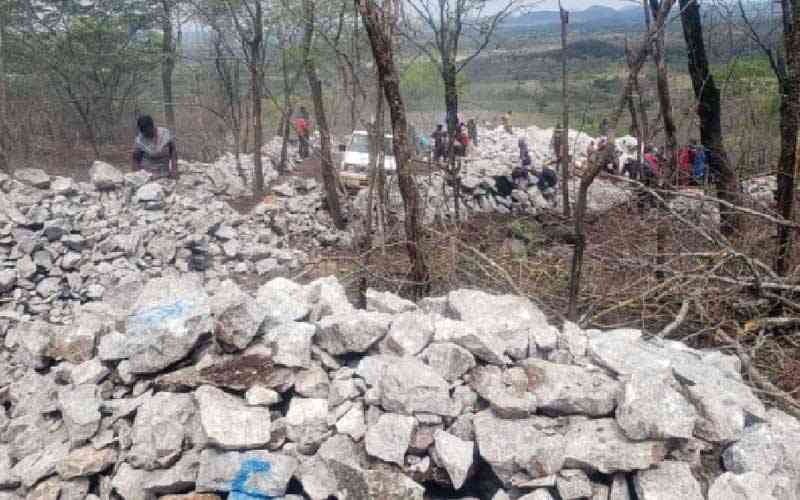 Through Statutory Instrument 213 of 2022 (Base Minerals Export Control for Unbeneficiated Lithium Bearing Ores), Zimbabwe banned the export of raw lithium from the country. The regulation points that no lithium bearing ores, or unbeneficiated lithium shall be exported except under written permission from the Minister of Mines. The regulation empowers the minister to exempt miners if an application is made and if the Lithium has been valued in terms of Value Added Tax Act for the purposes of paying export tax.
Move to enforce beneficiation
The ban also carries with it a secondary aim to enforce the beneficiation of the new white gold. Lithium is an essential part of lithium-ion batteries that are used in electric vehicles (EVs). The global demand for EVs has risen rapidly over the past few years and is projected to reach more than 30% of annual vehicle sales by 2030. In addition to EVs, lithium is an essential part of the technology that powers mobile phones, computers, power tools and battery storage of energy generated from wind and solar power (Renewable Energy). Lithium can also be used in ceramics, greases, and pharmaceuticals. This means that the beneficiation of lithium ore to lithium carbonate, chloride, or hydroxide (used in cell production) has immense benefits to the economy in terms of export earnings and industrialisation.
New white gold
Lithium is experiencing a global boom. Prices have surged roughly 500% year-over-year, triggering a global rush to secure lithium resources and fit in the value chain. With just Australia, Chile and China controlling 90% of world lithium production, the International Energy Agency (IEA) has called it a quasi-monopoly situation.
On the world market, the current raw battery grade lithium carbonate costs over US$70 per kg. The price of lithium has risen from US$6 000 per tonne in 2020 to the all-time high of US$86 000 a tonne in November 2022, a 14-fold increase in less than two years. The manufacture of lithium-ion (high grade and rechargeable) batteries is worth billions with the market for the same batteries set to eclipse US$200 billion by 2030.
Rush for Zimbabwe lithium
Zimbabwe has the largest lithium reserves in Africa and 4th largest in the world. The country has at least 11 MT of lithium reserves with more being expected as exploration gathers momentum. The country has verified lithium deposits in more than 15 locations dotted around all the country's provinces. The Bikita Lithium Mine (Bought by China's Sinomine in 2022 for US$180 million) is Africa's biggest lithium producer and is home to the world's best-known deposit of 10,8 million tonnes of lithium ore. It is also the world's foremost producer of lithium petalite. Zimbabwe also has other lithium mining projects at various stages of development. Chinese Huayou Cobalt bought Arcadia Lithium Mine in December 2021 in a deal valued at US$422 million while another Chinese firm Chengxin Lithium acquired Sabi Star Lithium in a deal worth US$77 million. UK mineral exploration companies Red Rock, Galileo and Premier African Minerals have also invested millions into Zimbabwean lithium exploration and mines. Ireland's Arkle Resources recently secured three exploration licenses in Insiza. Australia's Mirrorplex has started to produce lithium from its Shamva mine. A dozen of foreign companies are quietly exploring lithium in various parts of the country with the aim of determining resource size and sell to bigger mining companies with access to global battery producers. It is anticipated that by 2030, Zimbabwe will have at least 15 operating Lithium mines.
Global competitors
Bolivia, Argentina and Chile have the world's largest known lithium reserves. Bolivia has reserves estimated at over 21 million tonnes while Argentina and Chile have 19 and 12 million tonnes respectively. This puts the South American countries ahead of Zimbabwe (11 million tons), Australia (7,3 million tons), and China (nine million tons). Owing to the massive pace of exploration, identified lithium reserves are increasing and changing substantially in each month. The race to process lithium and produce batteries has already been won by China which controls 65% of the world's lithium processing and refining capacity. China imports raw lithium from most producing countries, refines it and manufactures lithium-Ion cells and battery components.
Impact of the ban
The ban is limited to the export of lithium ore (petalite rock which is not crushed) and does not apply to the export of lithium concentrates (spodumene), which all the major lithium miners in the country already produce or plan to produce.
The government does not consider concentrates as raw or unprocessed lithium.
As was the case when diamonds were discovered in Marange or the case with gold mining, artisanal miners had rushed to lithium mining areas across the country and illicit trade channels were quickly forming.
Thus, the ban will therefore significantly impact the work of artisanal miners who had taken positions on private mining assets such as Sandawana Mine which is owned by the state entity, Zimbabwe Mining Development Corporation (ZMDC). This explains why the regulation was rushed before artisanal miners could cash in from their stockpiles.
The Mines and Minerals Act of 1961 criminalises artisanal mining, even though small-scale mining is encouraged provided the miner acquires mining claims from the state. Recently, it was reported that the army-controlled Zimbabwe Defence Industries (ZDI) had been awarded a permit to export raw lithium despite the recent ban.
It remains to be seen whether ZDI will be engaged in mining operations as is the case in diamonds where it owns 40% of Anjin in Marange or if the military special purpose vehicle will restrict itself to the selling of mined ore.
Incentivising value chain actors
The government pointed out that it was losing at least US$1,7 billion from the export of lithium ore which is not being processed into batteries. The lithium-ion battery value chain consists of the four main stages, which include mining and production of raw materials, cell component (electrodes) manufacturing, cell assembly, and recycling. To produce battery cells for lithium batteries, the value addition process requires other minerals such as graphite, manganese, nickel, aluminium, and copper. Almost all these minerals are mined locally. However, Zimbabwe would need to have anode, cathode, electrolytes, and separator manufacturers locally to provide materials to cell production. So far there is no lithium battery and EV industry locally and the country remains an insignificant player as a market for EVs. This means that the government should direct its effort at ensuring that the country benefits more from the sale of explored and confirmed resources. It is clear that most prospecting firms have their sights on selling to larger corporates after confirming the value of the resource base, hence sales done within five years of completing exploration should significantly benefit the owners of the resource (citizens). Additionally, more effort should be made on luring cathode manufacturers and electrolyte separators to set up shop in Zimbabwe. The same can be done for cell component manufacturing and assembling firms with an eye at the South African market which is larger and more advanced in terms of EV demand. Thus, Zimbabwe must lure South African capital through bilateral agreements to engage in chemical, cathode, anode, cell production or cell assembling with an eye at exporting products to developed markets such as China and the European Union.
Benchmarks from other countries
Zimbabwe is not alone in this lithium export dilemma. Larger producers such as Chile and Argentina are in the same predicament. Similarly, smaller producers in Africa such as DRC face the same challenge. Chile's government has called local and foreign companies to submit proposals on how they can add value to lithium concentrates to produce lithium-ion batteries. Similarly, the Argentinian government is expected to sign a bill to promote electromobility in the lithium value chain. This would seek to encourage the industrialisation of lithium, as well as the manufacture of EVs using local components, and developing the battery market in the country. Argentina's stance mirrors efforts by most EU countries and the United States among others.
As global firms dash to Zimbabwe to cash in on lithium exploration and concentrate exports, it remains to be seen what the government will do to ensure Zimbabwe does not remain a mere producer of concentrates. The ban on the export of lithium ore was necessary and critical in curbing the invasion of lithium assets by unregulated artisanal miners. It remains to be seen if exemptions and special permits will not reverse this positive regulation which has so far affected artisanal miners. Mining is now a cog in Zimbabwe's social and economic fabric as a source of employment and foreign currency. For now, citizens can only wish that licensed lithium miners are contributing their fair share in terms of paying taxes and levies to rural district councils where they mine. Similarly, safety and employment standards are strictly enforced on all foreign owned mines to protect vulnerable mine workers. The government must be seized with luring lithium battery component manufacturers and creating a conducive environment for beneficiation. Lastly, the nation hopes that the lithium rush will not yield another resource curse where the country suffers the scars of excessive mining with no tangible social benefits in the areas that are endowed with the resource.
Bhoroma is an economic analyst. He holds an MBA from the University of Zimbabwe (UZ). — [email protected] or Twitter @VictorBhoroma1
Related Topics