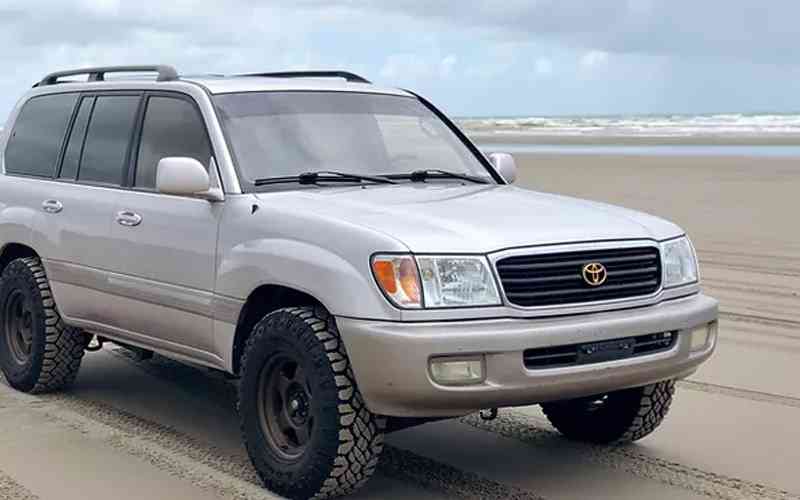 Gus Mberi, a gentleman based in the United Kingdom who reads my motoring analyses, asked me to write a review on the Land Cruiser Amazon 4,7 litre. It is his dream vehicle and he is considering owning one. Land Cruiser Amazon is a grey import in this region of the world. Locally, the Land Cruiser 100 series serves as the equivalent. I have had plenty of opportunities to operate the 100 series. Let us examine the reasons this SUV is regarded as a global legend.
As tastes change, certain cars may go out of style and favour, but some manage to survive the storm and become timeless masterpieces. The Toyota Land Cruiser 100s or Amazon, is a reliable Japanese off-roader with a respectable history that might offer you a lot of value for your money. It is a timeless masterpiece.
The Toyota Land Cruiser Amazon, also known as the 100 series, has historically been one of the 4x4 models on the market with the slowest rate of depreciation, although prices have recently stabilised. Indeed, you'll receive a lot for your money, especially if you're ready to choose a diesel model. In the UK it has to be petrol because of the carbon emission regulations.
You could get yourself a rather affordable entry point into off-roading if you're willing to take a chance on a 15-year-old car with more than 200 000 miles on the odometer.
Why is it so well-liked?
Up until it was discontinued in favour of the 200 series in 2007, the Amazon's fundamental components underwent only minor aesthetic changes in the 2006 model. There is a reason for this saying: don't fix what isn't broken. It's an incredibly powerful beast that is ideal for towing due to its substantial size and weight.
It is also a true workhorse. The engine can handle high mileage provided it has had routine maintenance. It's also constructed like a tank, making it perfect for eager beginners who want to jump straight in.
Of course, the AHC suspension hasn't held up well over time, and the transmission can wear out. It is not at all resistant to corrosion. However, that is the purpose of our aftermarket 4x4 enhancements.
The engineering marvel of Japan
The Amazon is undoubtedly a particular instance since there is something about Japanese automobiles that is difficult to pin down.
You won't mistake the 4.2 litre engine and big stature for a stealthy behemoth, but if you're prepared to put in a little time and work, you might wind up with a remarkably original 4x4 configuration that will carry you through hundreds of kilometres of off-road enjoyment.
The Toyota Land Cruiser has been recognised as the king of dependable off-roading for more than 70 years. This was particularly true for the Land Cruiser's initial incarnations.
The Land Cruiser's primary function up until the 80 Series had been exploration.
The Land Cruiser then underwent a transformation to a more opulent SUV experience starting with the 80 series of Toyota vehicles while maintaining its famed four-wheel capabilities.
One of the Land Cruiser models with the biggest sales to date was Toyota's well-liked 1998–2007 100 Series Land Cruiser. On some review websites, where online auctions are held, 100 Series Cruisers and their Lexus sibling, the LX 470, have gained a lot of popularity. It's always interesting to watch these auctions, especially when bids for low-mileage, immaculate cars soar into the high US$40 000 - US$50 000 bracket. Some people might be able to appreciate the appeal of spending that much money on a 21-year-old SUV, while others might think it's crazy.
So, what draws someone to a Land Cruiser?
Any online Land Cruiser forum will provide you access to a community that is fiercely dedicated to the brand. The message being evangelised makes claims about unbreakable powertrains that can travel 500 000 km without much difficulty, don't require any major maintenance for the first 25 years of their lives, and have some of the finest out-of-the-box off-roading credibility.
Is it real, though?
I have taken the 2000 Land Cruiser on some drives over the past 21 years. It has never abandoned me. You can feel that it's under-stressed 4.7-litre V8 can double its 200 000-plus km on the clock without a fuss
It is also true that it's one of the best off-roaders on the market today. It's astonishing what this ancient truck is capable of, considering that it hasn't undergone any changes over the years.
In the back, there is plenty of room for the children and their belongings, although there are not many storage spaces.
I have enjoyed my time on the Cruiser, but it hasn't been free. With an average of 5-km per litre around town, fuel economy is among the poorest available.
Every time I had to fill its enormous tank, which required premium fuel, I sobbed. You're welcome, dinosaurs. Gus Mberi might overlook its thirsty gas consumption behaviour and let his love for this SUV rule his head and heart.
The statements that major maintenance won't be required for the first 25 years seem a little bit exaggerated. The Cruiser would still technically run if all you wanted to do was sometimes replace the oil, and it would probably travel quite a distance into the desert before giving in to ageing. Nevertheless, the Cruiser has required a good deal of maintenance since the beginning, when it was only 15 years old. Repairs have been required for coil packs, the starter, timing belt, water pump, bushings, axle boots, sway bar end links, and more.
Without physically inserting the key and unlocking the driver's door, some lock actuators won't operate. With an older automobile, new parts have been required every year, which is to be expected, but it hasn't been as maintenance-free as the "25 years no maintenance" legend you've heard.
Oh, and components for Land Cruisers are more expensive because they are rarer than parts for other cars. To put it another way, your Cruiser will likely last as long as you want it to, but it will cost a little more than you had anticipated.
Occasionally utilising the Land Cruiser as a family vehicle over the many years has also been intriguing. I'm not very concerned about kids being in it since there is nothing in it that is so precious that they can mess with. They're cosy enough for short trips every day, and it's the ideal size for a family SUV.
Nevertheless, it's not the cosiest family car for protracted road journeys. It begins to feel a little constrictive. It's a bit of a bumpy trip. The seats are passable but not outstanding. It's a little disconcerting that there are only two front airbags and none in the back.
Having said that, I have enjoyed it, but you can't hide the fact that you are clinging to the past because modern cars are more comfortable. Perhaps it is time to consider moving on.
In general, I concur with a lot of the criticisms made of the 100 Series Land Cruisers online.
They are stylish, functional, and tough SUVs designed for off-roading. If I was still doing the school run would I continue to transport my family in it for a while? Most likely not.
A change is necessary due to the lack of safety features, and some contemporary comforts would be excellent.
In the end, this SUV will get you where you need to go (and back home), but keep in mind that it's still an older vehicle, will require maintenance and it's super thirsty.
Specifications
Engine type - Number of cylinders: V 8
Fuel System: MPI
Engine Alignment: Longitudinal
Engine size - Displacement - Engine capacity: 4664 cm3
Number of valves: 32 Valves
Aspiration: N/A
Maximum power: 175 kW @ 4800 rpm
Maximum torque: 434 Nm @ 3400 rpm
Drive wheels — Traction — Drivetrain: AWD
Related Topics