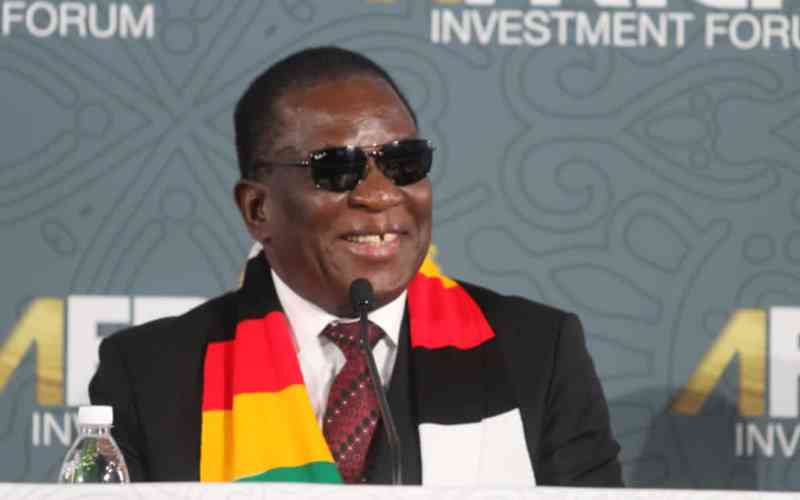 The Zanu PF congress sadly ended last weekend when the whole world was hoping it would go on forever. However, it ended with a resolution that left many unsure as to the direction the party is taking.
First, the party's current owner took to the podium and declared that he accepts all sorts of people as party members, from teachers to doctors, musicians to councillors. "But we do not accept thieves," he said. There was deathly silence across the conference room. It was a shock to everyone that the leader was suddenly expelling everyone from the party.
He even dared to go on and declare: "We reject violence and declare it alien to our society."
Surely, if thieves and violent people can no longer find a home in Zanu PF, we may as well shut down the whole organisation.
A must-read report
Still with the once-revolutionary party, Muckraker got patriotic enough to sit under the mango tree this weekend to read through the party's Central Committee report. It is a must-read document for some of our bright psychology students doing a self-delusion module in college, although it has some flashes of unintended truth-telling.
There is a section in which the party complains about one of the most patriotic activities in the country; land grabbing. The party whines about land barons that it says have invaded plots of land all across Harare. We have always been told that we should leave them alone, because they are building the nation and give themselves names like "Ushewokunze" and "Tongogara" to sound revolutionary. But Zanu PF is not so sure about these land thieves.
"It was found out that a single housing stand was being sold for the average of US$5 000 by land barons doing their business in the name of the party, resulting in most housing stands benefiting opposition members," says the party to itself.
Of course, these barons must be stopped. It is the law that when people engage in corruption, it must benefit the party. We condemn all corruption that does not include us. What sort of corruption is that?
Parallel election results
We all know that our country is known around the world for running clean elections. This is why it was a surprise to hear that these Western-sponsored stooges want to count votes to check if figures from the Zimbabwe Electoral Commission (ZEC) are correct or not.
According to the reeling party, there is a ploy by unruly elements like the Zimbabwe Election Support Network to conduct parallel vote tabulation next year.
"In pursuit of that, they will deploy election observers at all polling stations who will also double as CCC agents," says Zanu PF. "These will send results to their established Command Centres and have consolidated results before ZEC announces. If ZEC announces what is different from what they have, they are planning to start violent protests. This plan is a recipe for chaos and mayhem as well as a serious security threat."
That it is ZEC chair Priscilla Chigumba herself who publicly encouraged parallel tabulation, because she is confident of her commission's transparency, is neither here nor there. We cannot have people counting votes and suddenly finding out that some comrades like Dexter Nduna should not be in Parliament. If anything, we should just get rid of ZEC and get Tobaiwa Mudede back to count our votes. It is obvious that he was more patriotic than Chigumba.
Commitment?
Zimbabwe is on the path to rejoining the Commonwealth. We believe this because The Herald told us so this week, and that paper is known far and wide for its credibility and journalistic integrity.
Besides despising the British, our revolutionary party is desperate to join the club of former British colonies, whose sole use is an annual party where people dress up and have tea. According to The Herald: "The Second Republic led by President Mnangagwa is doing a lot to be readmitted into the Commonwealth, and the Club's Secretariat is expected to travel to Zimbabwe sometime this month to assess the situation on the ground, the group's secretary general Mrs Patricia Scotland has said."
The paper quotes Scotland as saying she was "delighted that Zimbabwe is putting a great deal of energy and commitment to be readmitted back into the Commonwealth".
We have no doubt that this "great deal of energy" includes all the hard work of jailing opposition MPs and activists, dispersing noisy opposition rallies and beating up journalists who try to do their jobs.
Hardwork for Ambassador
Speaking of the British, their Parliament has been making noise about our elections.
Clearly bored by all the drama in their own politics, the old men in the House of Lords decided they would discuss events in their favourite former colony, Zimbabwe.
One Lord Hayward, who we invited to observe the 2018 election when we were still trying to be good people, says "there is no sign that (Zimbabwe government) will enforce any form of free and fair elections" in 2023.
We can only commiserate with one Melanie Robinson, the UK ambassador. She must have read all these statements with horror. Now she has to move around dusty offices explaining to the country's owners why her country should be allowed the privilege of observing the election when they already know the results.
Cool President
There was much speculation this week after the country's owner went about an investment summit in West Africa in shades, even though it was indoors.
Of course, detractors started wondering if, once again, we have an owner who cannot see. Our last owner could barely keep his eyes open because, according to his spokesman, who is also the spokesman of the new owner, the old owner liked to rest his eyes a lot. Seeing Mnangagwa with shades on brought questions about whether his eyes were going the way of his predecessor, which is the same direction that his leadership has taken.
But Nick Mangwana, the world's busiest spokesman, had a better explanation, saying: "His Excellency the President looking cool in Abidjan." It is clear he was only blinded by the brightness of Zimbabwe's future under his rule.
No to dildos
It was reported this week that a university lecturer was arrested and taken to court after alert customs officials searched her bag and found three sex toys. She was sentenced to a six-month jail term, but the aptly named magistrate Musaiona Shotgame mercifully gave her the option of a fine.
She was charged under a Customs and Excise Act regulation which prohibits the importation of "any goods which are indecent, obscene or objectionable."
This is good news to all of us morally upright people in the country. We cannot have people importing these sinful items into our country. We can marry off our underage daughters, conduct debauched romps in our high offices with the young married women who work for us, murder with impunity, and steal from the public. But on dildos, we draw the line. We are a Christian nation.
Related Topics