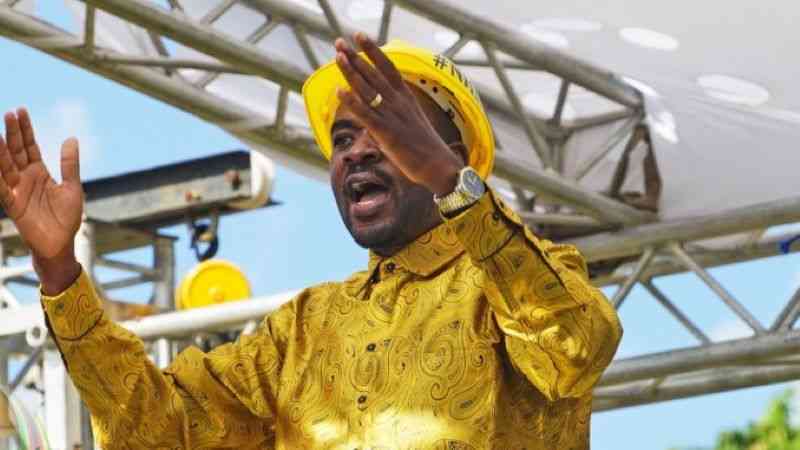 CITIZENS Coalition for Change (CCC) leader Nelson Chamisa finally launched his party campaign before a capacity crowd at Gweru's Mkoba Stadium yesterday following weeks of being denied to do so by the police.
The campaign launch rally was supposed to have been held at Chipadze Stadium in Bindura last week on Sunday.
Yesterday, Chamisa threw jibes at incumbent President Emmerson Mnangagwa while ignoring other presidential candidates.
In his campaign message, he said his party would bring an end to partisan politics, national divisions and ensure all farmers have security of tenure by providing title deeds as opposed to 99-year-old leases.
In an attempt to appeal to farmers, artisanal miners and the rural folk, who have largely voted for Zanu PF, Chamisa said nobody would be evicted or deprived of opportunities as a result of his ascendency to power.
"Artisanal miners, you have been told that once Chamisa gets into power, he will displace you. That is a lie. I will give you dignity and ensure that you enjoy your rights," the youthful opposition leader said.
"People don't have to benefit from resources because they have allegiance to a political party. You must not mine because you are paying royalties to party bigwigs. You have already paid your tithes to God, who gave you the right to be born in a country rich with mineral resources."
The launch rally, which appeared to have been snubbed by vice-presidents Welshmen Ncube and Tendai Biti, both notable senior members in the opposition party, lived up to its billing.
Chamisa promised to end corruption, which appears to be at the crux of Zimbabwe's problems, improve salaries for civil servants and arrest the economic collapse which has eroded household incomes.
"This election is not about choosing a political party, but about choosing between light and darkness. It's about choosing between a government that can make life better for you or one which can make things worse," he said.
Chamisa accused Mnangagwa of allowing minerals to be exported without value addition.
"When we get into power, we will not allow our lithium to be exported raw, we will not allow our gold to be stolen by this gold mafia," Chamisa said.
"At the centre of our government will be benefaction and creation of jobs. We will ensure that our minerals give us value."
The CCC leader said attempts to block former Zanu PF political commissar Saviour Kasukuwere from contesting smacked of cowardice on the part of Mnangagwa.
Chamisa said he would be happy to face both Mnangagwa and Kasukuwere, adding that they were good candidates for defeat ahead of polls.
"I would have wanted them to come united so that I can defeat them both, they are customers and everyone in Zanu PF is a customer. The late former President Robert Mugabe, when he died, did not want anything to do with Zanu PF. Why would you want to vote for them when you get nothing out of the party," Chamisa said.
Blighted by double nominations, and failing to find solutions to the problem which might cost the party urban seats, Chamisa told party supporters he would soon publish a list of genuine candidates.
"We have had a challenge of double candidates and these people were being sponsored by Zanu PF-linked Forever Foolish Zimbabwe (Forever Associate Zimbabwe) and they lied to be CCC candidates. The list of genuine candidates will be published soon," Chamisa added.
Related Topics