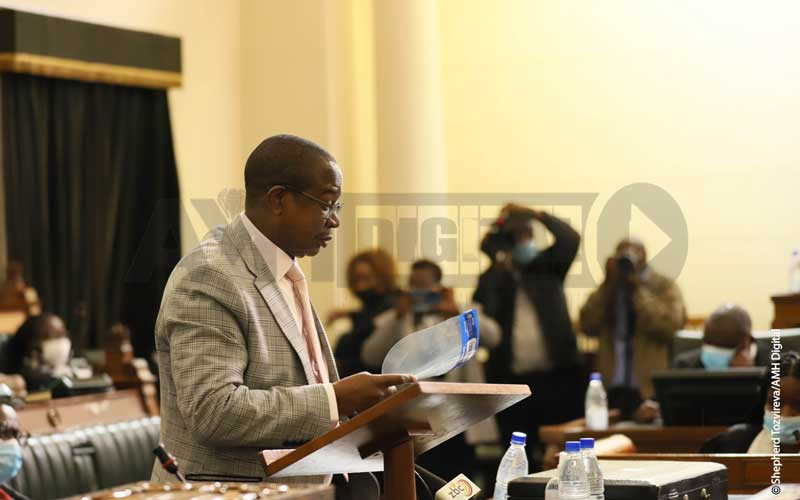 ZIMBABWE'S gross domestic product (GDP) will grow by 3,8% in 2023, slightly below a projected 4% this year, Finance and Economic Development minister Mthuli Ncube said Thursday, citing pressures emanating from domestic and external shocks.
He said the 3, 8% growth during 2023 will be sustained mainly by the mining industry, which last week revealed it will not achieve its US$12 billion revenue target during the same period. Instead, annual mining revenues would come to about US$7 billion, according to the Chamber of Mines of Zimbabwe.
The construction, agriculture and accommodation sectors will also be the biggest growth drivers in 2023, said the Treasury boss.
Zimbabwe has been haunted by a sea of negative factors including depressed spending throughout this year.
These have been amplified by aggressive rate hikes mid-year, which pushed the policy rate up to 200%, up from 80% previously, further dampening recovery prospects.
Tepid growth is projected globally throughout 2023, unless concrete solutions are found to current global conflicts, and foreign currency shortages on the domestic front.
The 4% projected this year was a downward review from 4,6%, but some leading international organisations have placed the growth rate at 3%. Ncube, who presented his ZW$4,5 trillion (US$1:ZW$646,24) 2023 national budget in Harare, said the 3,8% lagged behind his original estimates of 4,6% and fell short of targets set under the National Development Strategy 1 (NDS1) blueprint, which runs from 2021 to 2025.
"In the outlook, the economy is now projected to grow by 3,8% in 2023, compared to the NDS1 target of not less than 5%, on account of the uncertain global economic outlook and potential domestic adverse factors," Ncube said. "However, the average growth rate for the period 2021–2023 is estimated at 5,4%, which is in line with the NDS1 target. In the medium term, GDP growth is projected to improve to about 4, 8% and 5% in 2024 and 2025, respectively," he added.
Ncube added that this would be underpinned by assumptions that include favourable international commodity prices, normal to above normal rainfall, stable power supply, tight monetary and fiscal policies and the continued multi-currency regime. He warned that the uncertain global economic outlook presents risks to the growth projections through continued tapering of international commodity prices. "Similarly, the impact of climate change through droughts, floods, cyclones, as well as uneven distribution of rainfall may affect the attainment of the desired targets," he said.
Ncube projected that the mining sector will register 10,4% growth next year, a slight increase from this year's projected 10% growth. Ncube projected the agricultural sector to rebound from -14,1% this year to 4% growth next year. "The projected positive agriculture growth for 2023 is based on the normal to above normal rainfall forecast, climate proofing measures under the National Accelerated Irrigation Rehabilitation Programme, as well as the restructuring and transformation of agriculture systems to improve the viability and productivity of the sector," he said.
Ncube, however, warned that potential risks to the expected output remain, largely from climate change impacts of floods, droughts, uneven distribution of rainfall, as well as high cost of inputs. "Government will continue to restructure the sector and strengthen existing 78 agro-based value chains, increase domestic production of fertilizer and other agricultural inputs, as well as deepen the liberalisation of agricultural markets," he said. On the manufacturing sector, Ncube projects growth of 2,5% next year, slightly down from 2,6% this year before gaining momentum to 4% in 2025. "This growth will be anchored on expected better performance of the primary sectors of agriculture and mining, as well as a conducive macroeconomic environment," Ncube said.
He said the tourism industry is expected to continue to grow in the outlook, benefiting from the recovery in international tourism, coming in of new players in the aviation sector and meetings, incentives, conferences and exhibitions (MICE). "Therefore, tourists' arrivals are expected to increase to 1,4 million in 2023, whilst tourism receipts are projected at US$623 million," he revealed.
On inflation, Ncube projected that annual inflation, which stood at 268,8% in October, will slow down in 2023 underpinned by continued tight monetary and fiscal policy stance, stable foreign exchange market, strengthened government procurement processes, implementation of measures to mop up excess liquidity; such as the sale of gold coins and fairly stable global commodity prices. He said the government has set a month-on-month inflation target range of between 1% to 3%, and a fiscal budget deficit of not more than 1,5% of GDP during 2023. Economist Prosper Chitambara warned that next year's harmonised elections could scuttle Ncube's growth projections. "There is usually some political turbulence when the country holds elections and this could have a destabilising effect on the economy," he said.
Chitambara projected that growth next year will be at 3% and he pegged growth for this year at 3,5%. Labour market analyst and former executive director of the Employers' Confederation of Zimbabwe John Mufukare said the projected growth hinges on next year's elections. "The projections do seem starry eyed. The projections will depend on how the elections will be held," he said.
"I hope that the minister factored in the elections in his growth projections because if he has not then we are in real trouble," Mufukare noted.
Related Topics