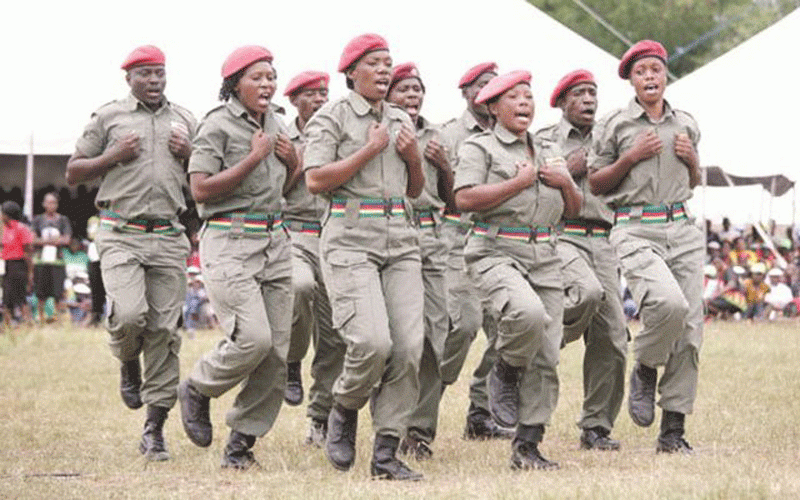 CIVIC society organisations (CSOs) have called on government to appoint a commission of inquiry to probe past human rights violations perpetrated by members of the National Youth Service (NYS) before resurrecting the programme which critics blame for electoral violence in previous polls.
They made the call as suspected Zanu PF youths yesterday disrupted a parliamentary public hearing on the NYS in Bulawayo.
Government has announced plans to reintroduce the NYS beginning next year, with Sport, Arts and Recreation minister Kirsty Coventry last week saying the programme will be rebranded to include early childhood development learners.
The NYS programme, first introduced in 2001 by the late Youth minister Border Gezi, was stopped after six years due to funding challenges.
"We call for the appointment of a commission of inquiry into the alleged human rights violations and violence committed by the past NYS graduates in order to establish what actually went wrong, before reincarnating the programme," the Zimbabwe Human Rights Monitor Platform (ZHRMP) said in a statement yesterday.
"The rebirth of the NYS must put in place measures to ensure that it is not established on partisan grounds and that the national ethos is not replaced by those of a political party".
"Create an NYS that is youth-centred and youth-oriented, a programme whose objective is the personal development of the young person in terms of skills, knowledge and values in a manner that enables them to be agents of societal development."
In the past, however, NYS members underwent mandatory military training and critics alleged that they were used as Zanu PF storm troopers, especially in rural and peri-urban areas.
They were linked to election-related violence, including sexual abuse and torture of opposition supporters.
The NYS trainees were nicknamed Green Bombers because of their uniforms.
"It is imperative for the government to consider the NYS programme as a voluntary programme in order to uphold constitutional provisions on rights to freedom of choice, of association and assembly," the ZHRMP said.
"Detachment of the NYS programme from direct links with the army by closing all training sites linked to military bases such as the Mt Darwin Border Gezi Camp, which was a former 2 Brigade military camp."
Real Agenda for Youth Transformation Trust said: "A commission of inquiry needs to be established in order to assess the previous NYS successes and failures.
"Rebrand NYS to de-link it from the previous negative programme and ensure independence from manipulation and militarisation.
"Government should establish a Youth Act and Youth Service Act first and ensure youth participation — nothing for youths without youths. Adopt inclusive approaches for all youths and ensure it is voluntary by upholding freedom of choice and assembly."
Yesterday, Zanu PF youths ran riot and disrupted a public hearing on the NYS in Bulawayo.
One victim, Eric Gono, was attacked by the youths after he expressed disquiet at plans to reintroduce the controversial programme.
"What you want to introduce has been there all along. There are vocational training centres which have been doing these things. What is so special about this training that you want to start it now as if it's a new thing? Supporting my country is enough and qualifies me to be patriotic. The NYS training should not be prioritised," Gono said at the hearing.
Bulawayo police spokesperson Inspector Abednico Ncube professed ignorance about the violence when contacted for comment.
Zanu PF Bulawayo provincial spokesperson Achirbold Chiponda denied reports that ruling party youths disrupted the hearings.
"It is absolutely impossible for people to claim that the youths that disrupted the meeting are from Zanu PF. As a party, we don't condone any form of violence. It sounds quite unreasonable for anyone to associate violence with Zanu PF youth. How can we jeopardise government initiatives?" Chiponda said.
Analysts and the opposition have expressed fears that the NYS was being deliberately resurrected to intimidate the electorate ahead of the 2023 elections.
Political commentator Effie Ncube said the NYS was a "completely unnecessary exercise".
"We don't need it as a country as it is expensive and it does not contribute to democracy and respect of human rights, it doesn't create jobs nor eradicate poverty and hunger," he said.
Political scientist Eldred Masunungure said: "The motive behind resuscitating it is crucial and it should be noble. But if it is interconnected with politics and electoral issues, then it becomes suspicious and its resuscitation, especially with the difficult history becomes tricky".
Follow us on Twitter @NewsDayZimbabwe
Related Topics