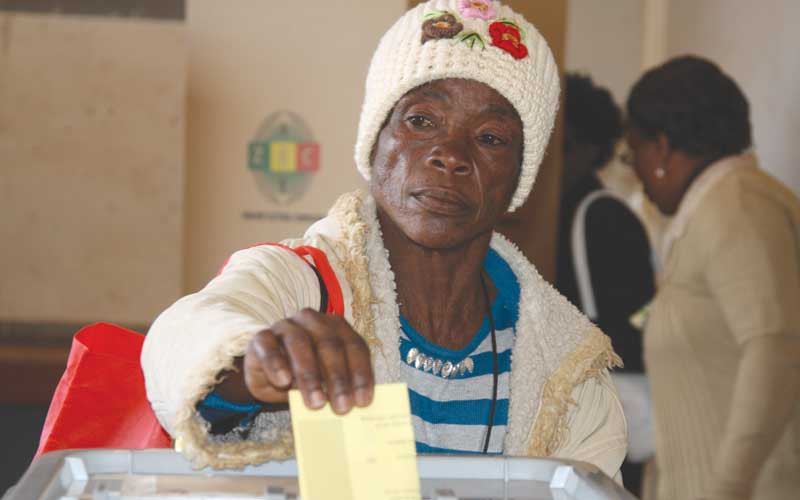 Vote overwhelmingly to counter rigging
ELECTION rigging has become a topical issue of the day in Zimbabwe as political parties prepare for the most fundamental elections to elect representatives of their constituencies and the President next year.
The opposition, since time immemorial, has been trying to push for electoral reforms so as to create a conducive environment to hold free and fair elections, but there has been a lot of resistance from the ruling Zanu PF party, which in actual fact, has declared that it cannot reform itself out of power.
Now the main opposition CCC party has been caught between a hard rock and line, where it cannot afford to boycott these elections, but instead to face the elephant in the room.
It cannot be business as usual, the opposition must turn on the heat on the ruling party.
The opposition should face the ruling party head-on and match them pound for pound.
There are many issues which need urgent attention and address.
The opposition must find ways to push for these sticking issues in order to avoid another disputed election.
For example, we still have intimidation of voters, violence, abuse of traditional leaders, a big number of assisted voters, manipulation of the voters roll.
The call for electoral reforms must not die.
Those in the diaspora must register and vote in order to help in the running of the country.
Zanu PF's rigging modus operandi must be deflated through mobilising a big number of voters and the deployment of polling agents at every polling station in Zimbabwe.
The political field has never been even in every country across the globe.
Boycotting is not the way to go. The opposition must stay in it and prove a point.
Election rigging can be prevented if complaint forms are provided, which the agents can fill to challenge the process.
Results should be posted at each polling station entrance for transparency, public audit and future references.
Tracking mechanisms must be strictly monitored and ballot boxes must be tracked all the way from polling station to the national command centre.
Election agents must always be vigilant and record the entire process using their smartphones. - Leonard Koni
SA reprieve: Politics at play
THE slight extension of documented Zimbabweans' stay in South Africa is meant to douse xenophobic flames while the Cyril Ramaphosa-led government adopts a wait-and-see attitude regarding Zimbabwe's 2023 elections.
This means if the situation goes out of control in Zimbabwe in 2023, there is a likelihood of asylum seeker permits being issued again for Zimbabweans.
The issue of the Zimbabwe Exemption Permits (ZEPs) remains contentious in the South African political space.
The South African government is also not keen to continue issuance or renewal of ZEP permits as this can later be translated as having rubber stamped the future transition of ZEP permits into permanent residence permits and ultimately citizenship.
This is a tricky and precarious situation which must be carefully managed owing to potential uprisings, militancy, vigilantism and xenophobic nature of certain sections of South African opposition parties.
South African opposition parties think that driving out foreigners, particularly Zimbabweans who are the majority of the foreigners, is a trump card that will win them votes from the poorest of the poor.
Then again there are the ongoing court battles being driven by organisations such as the Helen Suzman Foundation.
Here, the South African government is trying to find common ground where they don't confront esteemed litigants in legal action which will attract the eyes and ears of international human rights defenders.
Let's hope this move to extend the deadline for ZEP holders to enable them to apply for mainstream permits will help douse xenophobic flames in the interim.
But personally, I feel the Zimbabwe political divide must also take this opportunity to push for and/or accept the diaspora vote since this newly-opened interim window means Zimbabweans in South Africa will not be able to go and register to vote in their native country. It makes a lot of sense, therefore, to allow for the diaspora vote. - Concerned
Hunger, elections, violence have a huge bearing on Zim future
OF Zimbabwe's almost 16 million people, about five million of them require food aid, and the number is growing.
An estimated two million tonnes of maize, the staple crop, is required to feed the entire population.
But harvests have been reducing by the years despite concerted efforts to retool the agricultural sector and provide inputs and funding.
About one-third of all planted summer crops failed due to lack of irrigation and almost half of the maize crop had to be written off.
The World Food Programme has come in handy in the past to bridge the gap and budget for food needs.
Why is Zimbabwe once again facing food shortages? Many believe it's as a result of drought related to climate change.
They have called for the development of drought-resistant maize varieties and have even introduced one such variety developed by the Scientific and Industrial Research and Development Centre in Harare.
It is certainly true that there is a shortage of rain in most parts of the country.
According to the Meteorological Service Department, rains are starting late and are below normal in the first half of the growing season.
But the cause of hunger is more than drought. Some banks have been financing the production of cotton and tobacco rather than maize.
A major contributing factor is government agricultural policy. Also contributing is the planting of maize in areas that are unsuitable for the crop.
Hunger, agriculture, and land continue to have a racial subtext in Zimbabwe.
For many — perhaps most — of the remaining whites and many others as well, Zimbabwean hunger's root cause is the late former President Robert Mugabe's administration's seizure without compensation of white-owned commercial farms, ostensibly for distribution to poor peasants, but very often also to his political cronies and allies.
Certainly there is drought in Zimbabwe, but official government policy probably has turned an agricultural challenge into a disaster.
It is too soon to say what the impact of hunger will be on Zimbabwe's currently stalemated politics.
But, if elections come soon, as the current regime wants, hunger could be the backdrop.
Elections in Zimbabwe have been characterised by violence. That in conjunction with hunger could again set off refugee flows. - Campbell
Related Topics