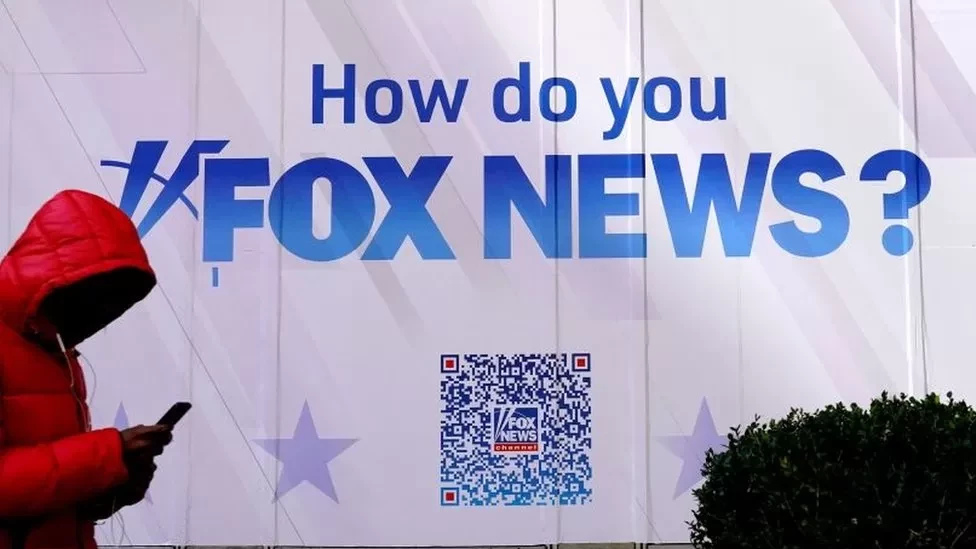 In a last-minute deal, Fox News has settled a defamation lawsuit from voting machine firm Dominion over its coverage of the 2020 US election.
The network, controlled by media mogul Rupert Murdoch and his family, agreed to pay Dominion $787.5m (£634m).
While the payout is large, it means Fox avoids what was billed by some as the defamation trial of the century.
However, the network faces a second, similar lawsuit from another election technology firm, Smartmatic.
The settlement means that Fox and Dominion can now put the case behind them with both firms being able to claim victory.
"The reality is two big companies in this case, are by nature risk averse. And any time you got a jury, it's risky," David Logan, professor of law at Roger Williams University, told the BBC.
At almost $800m, it is one of the biggest ever financial settlements in a defamation case.
"It's obviously a significant number, and we shouldn't dismiss that. I mean, it is a really, really large number," Angelo Carusone, president of left-leaning media watchdog Media Matters for America, told the BBC.
However, it is less than half the $1.6bn initially sought by Dominion.
"That said, the number isn't big enough on its own to actually change Fox News' behaviour," Mr Carusone added.
To put the payout into context, parent company Fox Corporation reported net income of $1.23bn for the last financial year
It is also sitting on large reserves of cash - around $4bn, according to recent company filings.
Rupert Murdoch and his family - who control the News Corp media empire which includes Fox News, The Times of London and The Wall Street Journal - are estimated to have a fortune of $17.6bn, according to Forbes magazine.
The deal also spares Fox executives, including Mr Murdoch, and some of the network's anchors from having to testify in one of the most high-profile defamation trials in history.
"Fox was going to have to deal with another round of embarrassing revelations," Prof Logan said.
The company's legal team may have also been weighing the potential financial cost if the case had gone ahead and Dominion had won.
However, Fox will not be able to put the issues of its reporting on the 2020 presidential election behind it quite yet.
It still faces a second, similar defamation lawsuit from another election technology firm, Smartmatic, which is seeking $2.7bn.
For Dominion, the $787.5m Fox payout may be just the start.
It still has outstanding cases against Fox's smaller rivals Newsmax and OAN plus several of former President Donald Trump's associates.
Related Topics