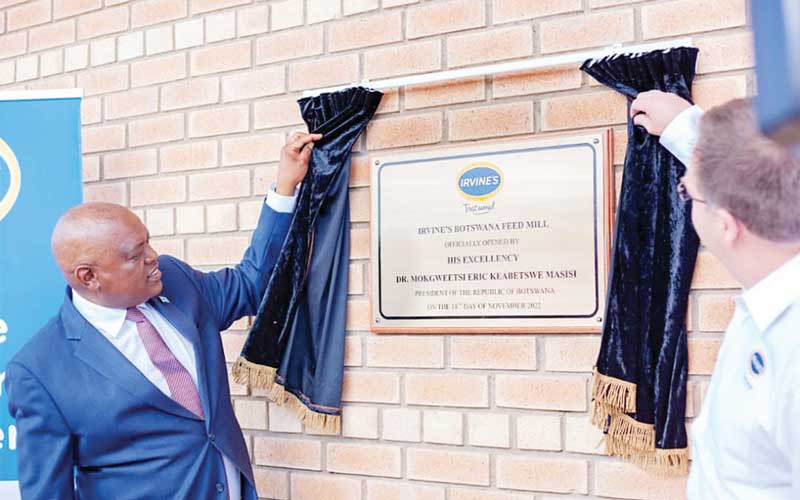 ZIMBABWE'S biggest day-old chicks producer, Irvine's, has opened a new feed mill in neighbouring Botswana, officials told NewsDay Business yesterday.
Irvine's new investment into that market, which it entered about 20 years ago, underscores the firm's regional growth ambition.
The facility was officially opened by Botswana President Mokgweetsi Masisi in Gaborone recently, according to Irvine's chief executive David Irvine's.
He said the firm's success had been underpinned by ensuring that it feeds its network of clients with high quality products manufactured at international standards.
"All our investments are done to the highest international standards to ensure good levels of bio-security and the latest international standards in manufacturing practices, which enables us to provide all our customers with the quality products they expect from us," Irvine's told NewsDay Business.
Irvine's Botswana business started operations in 2002 with a hatchery producing Cobb day-old chicks for that market.
This was the same period when Zimbabwean firms were making aggressive moves into foreign markets to save their operations from a vexing economic crisis domestically.
The firm produces 18 million day-old chicks in the Botswana market, according to Irvine's, who spoke exclusively to NewsDay Business.
He said Irvine's feedstock operation manufactures 48 000 tonnes of feed per year in Botswana.
In Zimbabwe, Irvine's has no feedstock processing facility.
The firm relies on chicken feed produced by units of the Zimbabwe Stock Exchange-listed blue chip, Innscor Africa Limited, for feed, according to Irvine's.
He said the firm supplied over 60 000 farmers across Botswana, Zimbabwe, Mozambique and Tanzania with locally-produced chicks in each of these countries.
According to Irvine's, the firm's focus is on building a one-stop shop operation with capacity to provide day-old chicks, feed, vaccines, equipment and other inputs across its regional markets.
The majority of Zimbabwean companies which made forays into the region 20 years ago struggled to stand the heat in foreign lands and immediately retreated to the motherland.
Today, the regional expansion fever has returned again.
Several banks, insurance firms and manufacturing companies have announced plans to establish regional footprints, possibly to reposition their businesses as the African Continental Free Trade Area takes shape.
Still, scores of those making fresh inroads into southern Africa are trying to escape a protracted meltdown that has recently been triggered by depressed demand, high interest rates and inflation.
Foreign currency shortages have also affected companies operating in Zimbabwe.
Related Topics