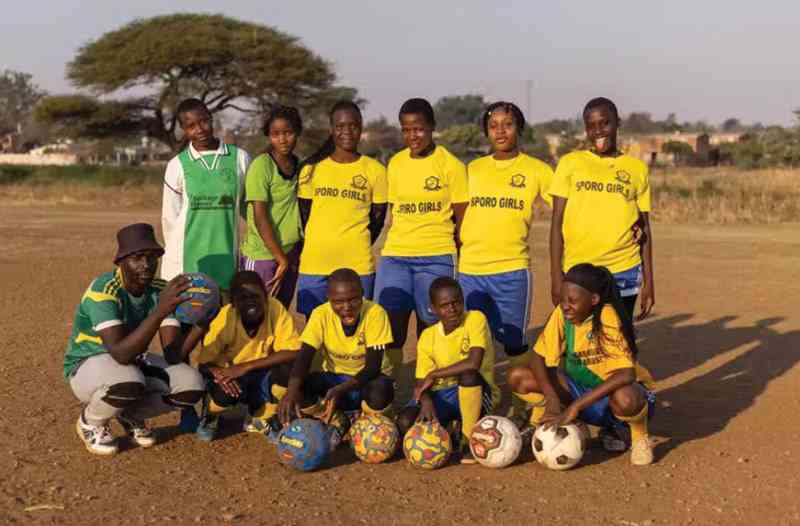 WHEN Trish Muparadzi started playing football at the age of nine she had to join the boys' team, the only squad at her primary school in a parched rural area outside Kwekwe in central Zimbabwe.
At first, the coach refused to play her. But one day, during a friendly match, the team ran out of substitutes.
With no other options, Trish was brought off the bench, and scored a brace, one of them the winner, earning the respect of both her coach and her young male teammates.
She continued to play and develop her skills in midfield. But it wasn't until she moved with her family to the city of Bulawayo that her fortunes changed.
"I was on my way home from school when I saw girls training. I asked how I could join and they invited me for trials," says Trish, now 17, recalling the first time she saw a full squad of girls playing football.
Trish had stumbled upon Street Set, a football club in Bulawayo that recruits girls from the city's teeming suburbs and equips them not only with skills in dribbling and passing, but also with the tools to navigate adolescence.
Zimbabwe is not an easy place to be a teenage girl, with high rates of pregnancy, enforced early marriages and drug abuse, particularly among girls who drop out of school. The Covid pandemic made things worse, with lockdowns shutting girls out of the relatively safe space of the classroom.
In Street Set, Trish had found an alternative to Bulawayo's dangerous streets and the attention of older men. "By the following weekend I was playing my first game," she recalls. "I started as a substitute until I made it to the starting lineup a few weeks later."
On a sunny, breezy afternoon in the suburb of Tshabalala, girls in a variety of school uniforms sit under a tree by a dry, pitted football pitch and plan their training session.
In the absence of changing rooms, they then struggle to change into the club strip of blue shorts and yellow shirts and to lace up their boots of varying vintage and colour.
During daily training sessions they practice ball control, passing accuracy and dribbling.
For inspiration, some of them watch the Premier League and the Women's Super League at home on pay-per-view television or catch highlights on their phones.
Trish, an attacking midfielder, is inspired by the lightning speed and skills of Senegalese forward Sadio Mané. In just a year, she has risen through the ranks of her squad to become captain.
"Perhaps it's because I have leadership qualities," she says, laughing and cracking jokes in Ndebele, her mother tongue.
Street Set Football Club started as an all-boys soccer team in 2009. But two years later, when a tournament in Bulawayo made it mandatory for participating clubs to have a girls' team, the coaches began to train female players.
In 2014, the boys' team was disbanded and the founders decided to focus on girls' soccer. As well as fitness and skills training, the coaches also set out to protect girls with off-the-pitch learning. "Street Set is playing a good part in preventing child pregnancies and discouraging substance abuse," says club founder Lee Mangena.
"The only thing men expect is you sleeping with them"
Although child marriage was outlawed in 2016, the practice remains widespread in Zimbabwe, particularly among girls from poor households in the densely populated suburbs from where most of the Street Set girls are drawn.
Child rights campaigners say the situation worsened during the pandemic which left many families in abject poverty, forcing girls to get married early. Schools were shut leaving young girls vulnerable to sexual abuse. Tapped water is supplied just twice a week, with teenage girls often sent to wait in line with jerry cans – a hazardous errand in a city also hit by regular power cuts.
In 2020 alone, more than 10,000 learners, mostly girls, dropped out of school due to early marriages and unwanted pregnancies, according to statistics from the Ministry of Education. In that year, nearly eight in 100 girls aged 15 to 19 gave birth.
Trish says the club has helped her to stay on track. "I keep myself busy so that I avoid peer pressure. We as girls give each other pressure. Like when someone's got an iPhone 11 and I'm using a Nokia, I'll always wonder where she got that: But at the end of the day, those (men) will expect something in return. And the only thing they expect in return is you sleeping with them."
The club organises workshops where the girls learn about sexual consent and contraception, pregnancy and drug dependency.
"As a team captain, I have attended some girls' summits where I learned the effects of drug abuse, how to prevent sexually transmitted infections, reporting rape and sexual abuse. We discuss all these issues with the girls," says Trish.
Mangena says some of the girls are survivors of sexual abuse. "When they come for training, I can easily see that some of them are depressed. Through their captain, they can talk about any challenge they're having and we help them to address it," he says.
Street Set has trained more than 500 girls and competed in Zimbabwe's premier league up to 2018 when the club had to pull out due to lack of funding.
"Few corporates fund girls' soccer, especially compared to their male counterparts," Mangena says. "Some of our girls go on to play for bigger clubs in the country and the national team as well as clubs in South Africa."
The club now has two teams that compete in Division One and Division Two but it survives on funds that are donated randomly, whenever they have a match, by well-wishers in the neighbourhood.
A big draw for the players is the chance to win scholarships to attend some of Bulawayo's best schools.
"The ones which are serious about their football always knock on our door when they want players so the majority of our girls, when they are shining, are offered scholarships to the schools that produce the soccer legends, says Mangena.
One of them is 14-year-old Dineo Njayala, a talented winger who joined Street Set in April. With the help of the club she secured a scholarship that is allowing her to continue her secondary education.
"My mum is self-employed and she struggles to pay for my school fees. Now I am playing for my school and for my club. We are one family. We are sisters and we look after each other."
Not like other teenagers
Wearing a bucket hat to keep the sun's heat off, the team coach, 36-year-old Nqobizazi Nkomo, an ex-local club player, shouts instructions as the girls dribble around red training cones.
"Some of these girls want to play for the Zimbabwe national team. I am helping them achieve that," says Nkomo. The whole squad has been inspired by the triumphs of England's Lionesses who lifted the Euro 2022 trophy and South Africa's Banyana Banyana who were crowned champions of Africa in July. "The girls are talented and willing to learn. Girls play just like boys," he says.
As the smell of frying groundnuts wafts through her small, rented brick house in Tshabalala, Trish's mother, Spiwe Sibanda, 39, says she's grateful for the opportunities football has given her daughter. "She's unlike other teenagers, who end up abusing drugs," she says. "Soccer has taught her discipline, delaying her from getting married early or having an unwanted pregnancy. She's from soccer to school, school to soccer. She's a role model to her siblings."
After having to drop out of school briefly because there was no money to pay for fees and books, Trish has a scholarship to finish her O-Level exams and she's planning a future in football.
"I hope to get a football scholarship to study aerospace engineering abroad and to become a professional football player, playing for Arsenal or Liverpool women's soccer teams in England," she says.
*This story was first published by the Evening Standard in London as part of its Let Girls Learn reporting project
Related Topics