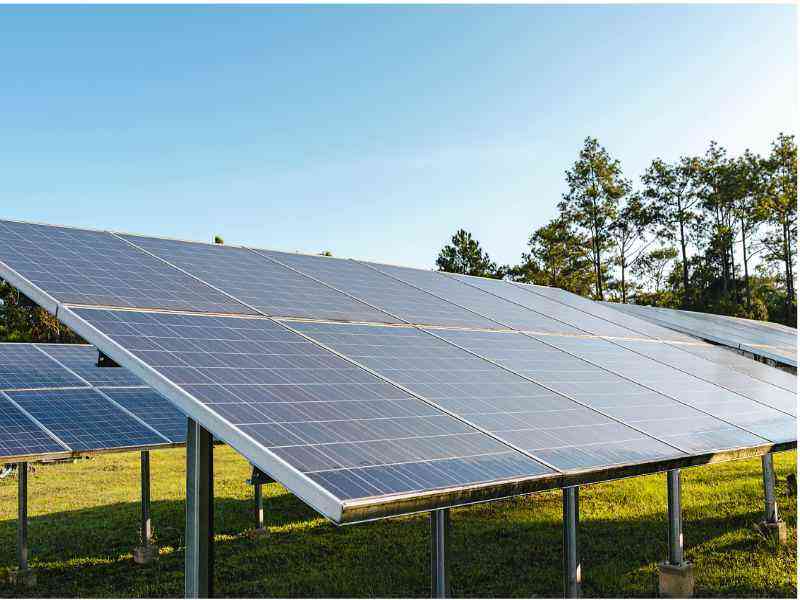 AFRICA'S electricity supply is in disarray. Millions of Africans now own mobile phones that require electricity to charge the batteries.
In many African countries, less than 20% of the population has access to electricity; in rural areas, less than 5% is linked to the grid. In 2020, renewable energy accounted for 9% of all energy generated in Africa, with hydropower accounting for a sizable share (6,8%).
However, the PricewaterhouseCoopers research indicates that progress is being made in this area. Solar and wind capacity climbed by 13% and 11%, respectively, from 2019 to 2020, while hydropower increased by 25%.
"Since 2013, total installed renewable energy capacity in Africa has increased by more than 24 GW," the research states. Forecasts until 2050 indicate an additional 27,3 exajoules (EJ) compared to the present 1,8 EJ.
With an average of 325 days of intense sunlight each year, solar power remains one of Africa's most abundant but underutilised resources.
Thousands of African settlements are so distant and far apart that bringing electricity to every corner of the continent would take decades and billions of dollars.
Small towns and villages that were previously overlooked by governments now have a significant demand for electricity. Mobile phones, which have been widely used in Africa, have altered the profile of power consumption throughout the continent.
Millions of Africans in rural areas are in need of energy as a result of the mobile phone revolution. More individuals rely on mobile phones to contact family, get general news and information about agricultural product pricing, and send and receive modest money transfers.
What Africa requires now is a low-cost, easy-to-implement alternative that is decentralised and effective enough to bring electricity to millions of people in the shortest amount of time. Solar electricity is the only option that meets all of these criteria!
The sun (solar power) is the most abundant and free of all the alternative and renewable energy sources accessible for Africa's future — wind, sun, and water!
However, the World Bank's Global Solar Atlas, whose data Statista analysed for its infographic, still refers to Africa's solar potential as a "unique opportunity"to provide a "large share of humanity where improved economic opportunities and quality of life are most needed" with affordable, dependable, and sustainable electricity.
Africa is one of the region's most vulnerable to climate change, although producing only around 4% of global greenhouse gas emissions. The solar energy potential of Africa is immense.
However, realising this potential will require the collaboration of governments and multiple partners.
Since the majority of Africa is located near the equator, the sun's radiation can be seen everywhere, even in the most isolated communities and mountain summits.
After many decades, this untamed energy has already reached areas of the continent where infrastructure and electricity networks do not yet exist.
The quickest way to link all of Africa to electricity is undoubtedly solar energy!
Solar power has the potential to reduce emissions and increase access to electricity in Africa, but the continent is still in the early phases of developing its solar resources.
According to Statista, Africa generates 9% of its energy from renewable resources, while solar capacity in Africa increased 13% between 2019 and 2020.
PwC, a professional services company, says that there is "substantial solar power potential" in Africa in its Africa Energy Review 2021.
Although the majority of Africa's energy still comes from fossil fuels, attempts are being made to advance solar and wind power, according to the report.
As stated by PwC, solar energy provides power for rural communities without the need for pricey connections to the electrical grid. At US$995 per kilowatt, solar panel technology is also the most affordable among all renewable technologies.
To achieve Africa's solar energy potential, however, investment is required.
The International Energy Agency (IEA) reports that Africa possesses 60% of the world's finest solar resources but only 1% of solar generation capacity.
According to the International Energy Agency, Africa requires US$190 billion in investment per year between 2026 and 2030 to meet its energy and climate targets, with two-thirds of that going to renewable energy.
The World Bank, the International Energy Agency, and other partners, including the United Nations, have recently called on rich nations to provide more assistance to emerging economies, notably Africa, in strengthening energy and renewables sectors. The African Development Bank (AfDB) has authorised US$28,49 million in funding to help Ghana electrify. The Climate Investment Funds (CIF) provided this funding as part of its Scaling Up Renewable Energy in Low Income Countries (SREP) programme.
Other Sub-Saharan African countries participating in the CIF programme, include Madagascar, Kenya, Tanzania, and Niger. The CIF award in Ghana is supporting a project to speed electricity through off-grid solar installations.
Ghana's government intends to create stand-alone solar systems and install 35 solar photovoltaic mini-grids in 400 schools, 200 health institutions, and 100 community energy service systems in the Lake Volta and Northern areas.
In March, the United Nations development Programme announced the extension of its African Mini-Grid Programme to Burkina Faso, with a €1.6 million (US$1,75 million) investment in the building of solar mini-grids over the next four years.
The effort, which has already been established in Somalia and Nigeria, is aimed at remote areas of 21 African countries.
Kenya announced plans in February to build 136 solar mini-grids as part of a World Bank-funded programme worth US$150 million.
As headlines around the world focus on looming energy issues, millions of Africans remain without access to basic electricity services. The solution to the current energy issue lies in ongoing investment from developed regions, continued political cooperation, and a unified energy infrastructure based on inexpensive and clean energy.
Start-ups like as Karm Solar in Egypt and GridX Africa in Kenya have shown the way forward; now it is up to African leaders to stimulate fresh investments and harness commercial possibilities.
As the need for clean energy grows, so has the deployment of solar power, which is now the most popular form of new electricity generation.
As time runs out to limit global temperature rise to 1,5°C, widespread adoption of a clean energy source such as solar could not come at a better moment. There are a few African market niches that have huge potential for a solar power business. People in these categories are drawn to solar electricity because they have a true need.
People in rural areas who do not yet have access to the electric power grid; People who are already connected to the grid but spend a lot of money on high (and crazy) electricity bills; and environmentally-conscious people who appreciate the "green" benefits of solar power are a few of these customer segments that come to mind.
Denhere is a freelance journalist and business development strategist, who is determined to leveraging his creative mind for the improvement of Africa. — [email protected] WhatsApp +263773894975
Related Topics