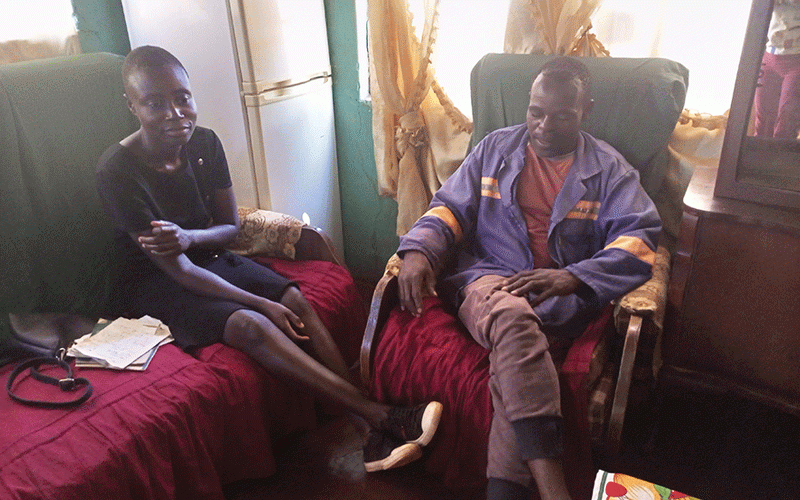 Incessant chest and stomach pains are what Martha Nyambipo (32) is left with to remind her of a near death experience in 2020, and a miracle differed.
She is the mother of the famous Siamese twins separated in February 2021 by a huge team of doctors at one of the country's health institutions.
She told NewsDay Weekender during a visit to her Banket home that the twins tragically died in the same year they were separated.
"I'm reminded of what I encountered through the pregnancy and what happened after that. I had hopes they would grow up against the odds, but it was God's will and I accept what happened," Nyambipo said.
"When I was pregnant, I developed chest pains coupled with difficulty in breathing, I approached our local hospital in Mutoko and I was told to go for a scan," she said, while narrating how she got to know the condition of her unborn babies.
At the hospital, she was made aware of what every mother would dread, that her children were sharing organs.
"They told me to go for further expert tests at Parirenyatwa Hospital and I was told the children were sharing blood," she said.
Her alternate stay in hospital began then.
Her chest and breathing challenges continued to worsen until she gave birth through Caesarean section (C-section) in December of 2020.
Unlike any mother, her joy of giving birth was short-lived as it was confirmed that the twins were conjoined.
The twins, Anotidaishe and Atipaishe, were joined at the abdominopelvic region and were successfully operated on in a 22-hour surgery performed on February 23, 2021 at Sally Mugabe Central Hospital, formerly Harare Central Hospital.
The operation involved sharing the liver and intestines between the two babies. While talking to our sister paper The Standard in 2021 after the successful operation, Nyambipo said at first she had no hope that her children would be successfully separated.
She repeated the same during the recent visit by NewsDay Weekender, adding that her faith was boosted after the operation.
She said she was comforted by the welcoming and good treatment she got from health personnel attending to her and the twins during their prolonged stay in hospital.
"I would have not made it during childbirth, but it is by the Grace of God that I am alive today. It's all good that I survived to see my remaining children through."
Apart from the twins, she and her husband, Tapiwa Mutare, have two older children.
"I am grateful for the efforts made by government and the health personnel who tried to ensure my boys made it. It is unfortunate that they didn't. I had doubts they would make it, not that I didn't have faith in our health personnel, but something from within kept telling me we may be fighting a losing battle," she said.
"My stay was made easier by the love I was given while in hospital," she said.
The first twin died at four months, while the second died at seven months.
So rare are conjoined twins that their occurrence is estimated to range from one in 50 000 births to one in 200 000 births in the world.
The overall survival rate for conjoined twins is approximately one in four.
Owing to the ill-health she carried forward from giving birth, Nyambipo and her husband Tapiwa Mutare living under difficult circumstances, both are not working, but have the mercy of living rent free at her in-laws' house.
They relocated to Banket from Mutoko during the time she was having complications with her pregnancy.
"Previously, we were into small-scale gold mining in Mutoko, where we both come from. It is my wish to get a simple job to do as I cannot do hard jobs now," Nyambipo said.
"Apart from the chest problem, I also developed challenges with my stomach which began after I gave birth to the twins."
"It is my wish to establish what is really wrong with me but financial constraints are making the mission impossible."
Nyambipo said she is unable to afford proper healthcare beyond paying the nominal consultation fees, leaving her to rely on over-the-counter painkillers.
"I don't understand where the stomach problems come from because the pains usually start when I eat, I don't know what it is that is not getting along with my system.
"I was told to go for visual inspection with asetic acid camera (Viac) but they found no problem," she said.
So dire is their situation that she does household chores for other people to earn money to feed the family.
"Normally, I charge US$2. It is my wish to get well and be able to provide for my family," she said.
Nyambipo expressed hope of having more children though their current state of living was serving as a deterrent.
Her husband said he has a desire to get a permanent job to ensure that their remaining children have a better life.
"It pains me to see them go to school without proper requirements. The first born is still in Grade Two at 10 years and the second is in Grade One at seven years," Mutare said.
"I feel helpless seeing my wife facing all those challenges. Sometimes I find it difficult to come to terms with the fact that my wife has had to endure such extremes emanating from childbirth.
"The death of the twins was painful, but we had to accept it because the children were in pain."
Mervyn Venge, a consultant obstetrician and gynaecologist, said linking Nyambipo's current state of health to giving birth to Siamese twins may not be ideal.
Venge said many reasons could be drawn to explain the twins' deaths.
"It's difficult to link the two, but also difficult to dismiss her worries," he said.
"This (death) depends on a number of factors from the shared organs, birth weight, among other things. Remember Siamese are rare, so it will be difficult for one to say they will survive to a certain stage." Atipaishe and Anotidaishe became the country's second successfully separated conjoined twins after the historic first such feat that was executed by surgeon Bothwell Mbuwayesango in 2014 and a team of health personnel.
Zimbabwe has had five documented cases of conjoined twins since independence and only one was referred outside the country, while in two instances, the babies died before surgery.
Related Topics