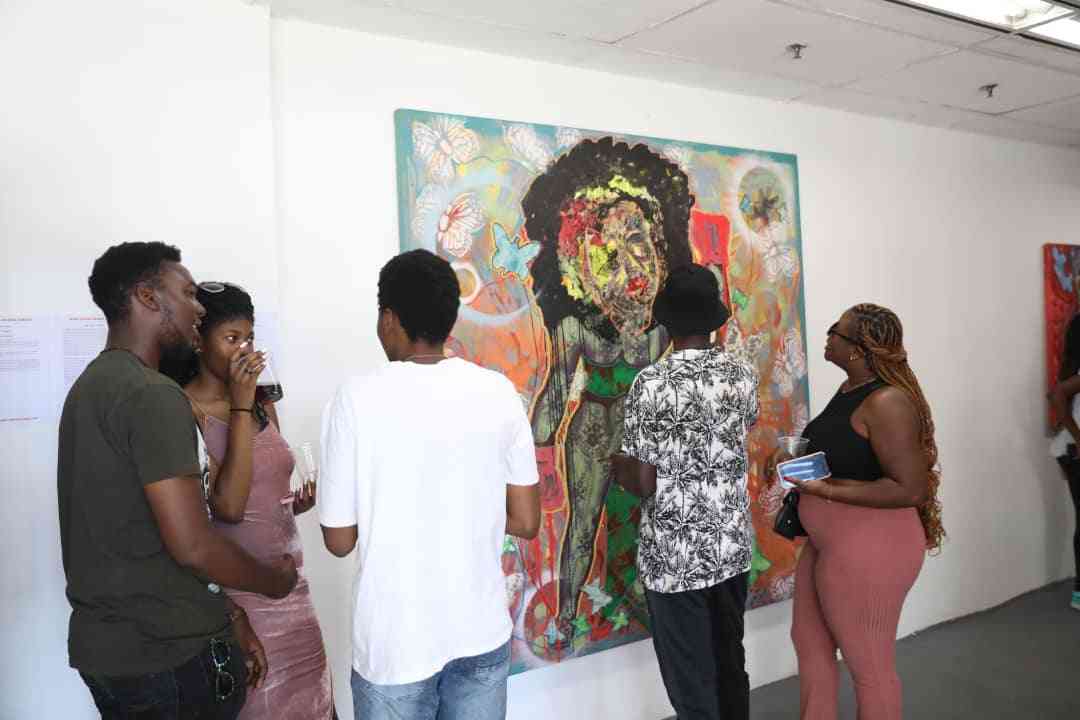 Zimbabwean visual artist known for her blend of surreal and futuristic imagery, Mavis Tauzeni, recently opened a solo exhibition titled It Is Reality! at First Floor Gallery in Harare.
The exhibition, which will run until the end of May, officially opened on April 8 and marks her first solo show since 2018.
In her artworks, she expresses herself using a range of bright colours. Stitching is central to her theme and very much visible throughout the 10 pieces on display where she also applies spray paint, stenciling, card print collage, as well as painting.
Tauzeni lets the painting be the storyteller: most of her creations are experiments in which she occasionally lets the paint take on its own course by beginning with splashes on canvas and watching what happens.
Tauzeni has a powerful description of womanhood. The symbolism of butterflies that seem wrapped by threads of various colours is a reoccurring motif in her work. She told IndependentXtra that the butterflies mirror the process of puberty. She says the transformation from being a girl to being a woman feels like the imagery emulates the metamorphosis of a butterfly.
"First you are a caterpillar and then you have to turn into your most beautiful self, and also for me, it represents the transformation of today's woman, from being a housewife to going into the working class."
The soft-spoken artist said that looking oneself from the outside in, as opposed to the inside out, inspired her most recent exhibition.
"I am learning every day, and learning that every top has to stand on its own bottom. We compare ourselves amongst ourselves, and we each are created to be individuals. We have to be constantly introduced to ourselves because we are growing every day and anything that is not growing is dead," she said.
The exhibition is a stunning showcase of her unique artistic vision and dedication to exploring complex themes.
"For me, it means growth in my practice. I have to enjoy the experience because of the traffic of observers. It connected me to different people both young and old, male and female. I enjoyed their interpretations of each piece," she said.
Tauzeni acknowledges her father who, after noticing her talent, assisted her to look for an institution where she could pursue her talent.
She then enrolled for painting lessons at Peter Birch School of Art in Harare and then went to the National Gallery of Zimbabwe (NGZ) Visual Art School where she did drawing, painting and sculpture. Her pieces were chosen for NGZ's yearly exhibition in 2014 and 2015, respectively. Her exhibitions have appeared in numerous shows since 2014, including Half Gallery in New York, Investec Cape Town Art Fair in South Africa, AKAA Paris Art Fair, PS Art Space in Australia, Turbine Art Fair in Johannesburg, Contemporary African Art Fair in London, UK, and Berliner Liste 2013 Art Fair in Berlin, Germany. Additionally, she took part in group exhibition titled Women Speak Out that took place at the Fondation Blachère Arts Centre Apt in Vaucluse, France.
Her works are included in several collections, including The Rubell Museum, formerly the Rubell Family Collection, which is a private contemporary art museum with locations in Miami, Florida and Washington DC, as well as the Fondation Blachère, a foundation for contemporary art with headquarters in France.
Related Topics