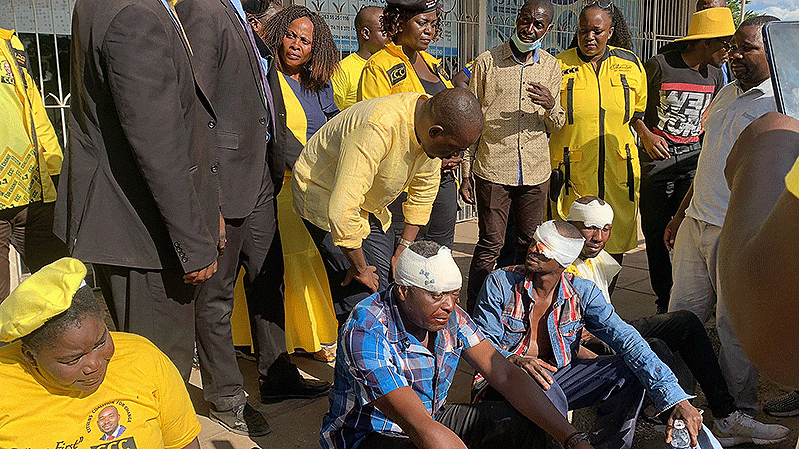 THE Zimbabwe Lawyers for Human Rights (ZLHR) on Wednesday joined the rest of the world in commemorating International Day of Peace and called for an end to polarisation and intolerance within the Zimbabwean society.
In 2022, International Day of Peace, which is dedicated to strengthening the ideals of peace, is commemorated under the theme End Racism. Build Peace.
It gives an opportunity for all humanity to commit to peace above all differences and to contribute to building a culture of peace.
The pertinently chosen theme emphasises the building of societies where all people feel that they can flourish including creating a world in which people are treated equally, regardless of their race.
Across the world, much progress has been registered in tackling and dismantling systemic racism.
However, racism still remains a threat to democracy today and continues to deny people opportunities to enjoy their fundamental human rights and freedoms.
This requires much work to be done to dismantle the structures that entrench racism in our midst and entails speaking out against hate speech — both offline and online and help create a world where compassion and empathy overcome suspicion and hatred.
In Zimbabwe, unchecked polarisation and intolerance, which has led to non-acceptance of each other's diverse views, remains a threat to functioning democracy and peace.
ZLHR is concerned that 35 years after ending its senseless atrocities in Matabeleland and Midlands provinces, President Emmerson Mnangagwa's government has been faulted by United Nations Committee on Elimination of Racial Discrimination for continuing to make the Gukurahundi massacres a source of ethnic tension, with many victims remaining traumatised and barred from participating in mourning and commemorative activities by suspected State security agents.
This finding was reached by the UN after reviewing the States parties in its latest session held in August, where it urged Zimbabwe to take measures to ensure that mourning and commemorative activities can be conducted without restrictions or threats.
The National Peace and Reconciliation Commission (NPRC), the UN said, should fulfil its responsibilities to provide a platform for post-conflict public truth-telling.
ZLHR believes that the foundation of freedom, justice and peace recognises the inherent dignity and equal and inalienable rights of all members of the human race.
A peaceful Zimbabwe can only be built in an environment of economic and social development and hence there cannot be sustainable development without peace.
It is lamentable that nine years have passed since the adoption of a new Constitution which provided for the establishment of NPRC with no implementation of concrete measures designed to reveal the truth concerning gross human rights violations, including Gukurahundi, that have occurred in Zimbabwe.
Perpetrators of Gukurahundi massacres must account and pay reparations to the families of the victims and survivors and government must pay reparations for the state-sanctioned gross violations and apologise.
To help build a peaceful nation, ZLHR implores government to;
End racism and build peace blocks through ending violence and arresting the exponential regression on human rights;
Take steps to restore the dignity of victims of gross human rights violations by allowing families and relatives to conduct commemorative activities without restrictions or threats and making reparations;
Investigate all documented cases of gross human rights violations and hold perpetrators accountable and pay reparations to relatives and survivors of victims;
Allow NPRC to fully execute its mandate of preventing conflict, promoting peace, pursuing the healing and reconciliation agenda and ensure post-conflict justice and provide rehabilitative programmes for victims of human rights violations;
Withdraw the Private Voluntary Organisations Amendment Bill and start a comprehensive consultative process for an enabling law to be enacted that facilitates the work of civil society organisations.- ZLHR
Movement of cattle too expensive
I AM a farmer in the communal area. Moving bovine from our area into town has become very expensive.
Firstly, one has to approach the veterinary officers who demand at least US$10 to go and view the beast while I drive them in my motor vehicle.
Then the clearance form from Zimbabwe Republic Police costs US$10.
The veterinary officer then pretends that he does not have the permit book from which to issue the permit and phones a friend, who brings it and it also costs US$10.
The transportation of the beast to town costs US$50. Add to this your own expenses such as fuel and wear and tear, which conservatively is around US$25 for a round trip of 70km on very rough terrain. This is a rural dirty road. The total is an astronomic US$105.
These charges are the reason we have uninspected meat being sold in towns and thus jeopardising the health of the population.
The police officer claims that the station needs money to buy stationery.
Both officers will not issue the requisite papers before they collect the money.
No formal receipts are issued. The permit is deemed to be the receipt.
This is warped accounting. These charges are not stipulated and displayed anywhere at the respective offices.- Nyonyana Gwabeni
Related Topics