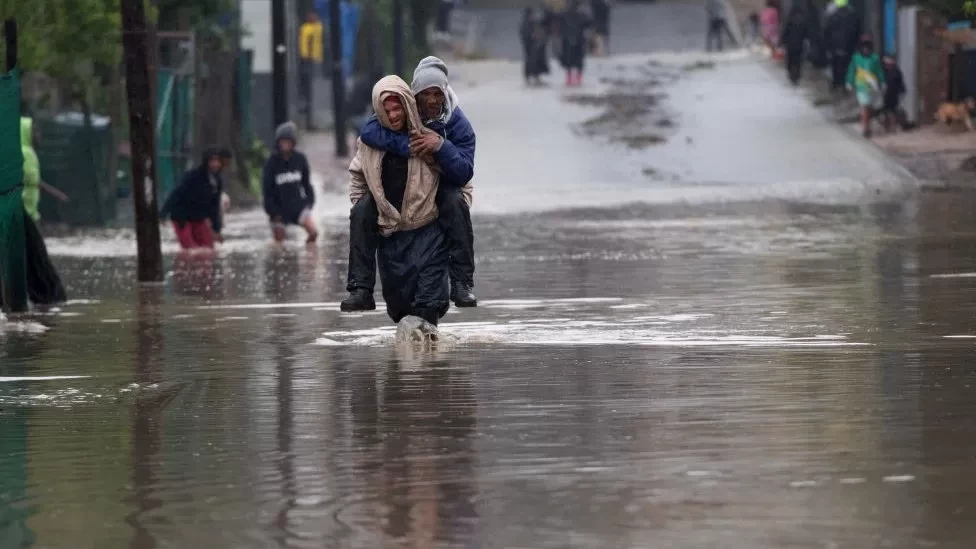 At least 11 people have been killed after heavy rain and winds hit South Africa's Western Cape province, including Cape Town, over the weekend leaving a trail of destruction.
Authorities warn that the death toll may rise as the floodwater subsides.
The destructive weather flooded homes, tore off roofs, destroyed crops and damaged roads and other infrastructure.
Rescue teams are still searching for people who are feared trapped in their partially submerged homes.
Eight of the 11 people who died were electrocuted in an informal settlement when waters swamped illegal connections to the power lines.
Seventy-two primary school pupils and 10 adults were trapped in a resort in the town of Oudtshoorn after a nearby river overflowed. They were later rescued after the water subsided.
More than 80 roads were closed and at least 15,000 homes were cut off from the power grid, Electricity Minister Kgosientsho Ramokgopa said.
City of Cape Town Mayor Geordin Hill-Lewis has signed a major incident declaration appealing for additional resources and relief measures to deal with the aftermath of the rainfall.
The city has also closed the popular Steenbras Nature Reserve and Gorge hiking route to assess the impact of the floods.
Anton Bredell, a provincial cabinet minister in charge of environmental affairs, said that helicopters were searching for some people who had been trapped. "We expect the worst there," he said.
The damaging rains, which ended on Monday, came a week after larger than normal spring tides hit the area.
Climate change has been blamed for some recent weather-related incidents in South Africa.
In 2022, flooding in KwaZulu-Natal led to the deaths of more than 430 people, while the coastal city of Gqeberha almost ran out of water last year.
Related Topics