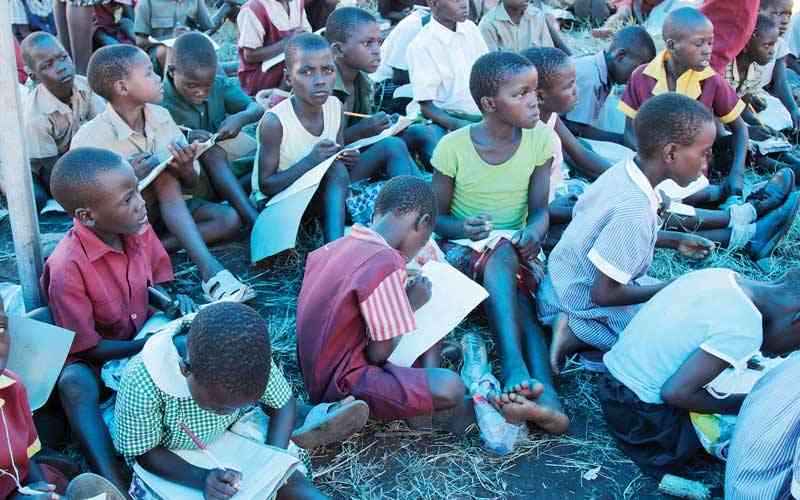 IT hardly rains, but pours for Zimbabweans, the majority of whom are parents with schoolgoing children.
For the past many years, Zimbabwe's education sector has been nothing, but agony for parents and their children who have been at the receiving end of poor and inconsistent policies of a government that seems no longer interested in whether the country's education goes to the dogs or not.
As schools opened yesterday for the third term, teachers gave notice of a go-slow to protest over the same old story of incapacitation, meaning that for the umpteenth term, children will bank on their own initiative, the grace of God, the gods and ancestors to pass their examinations.
In fact, the go-slow was supposed to be a full-scale strike, but the educators decided to embark on a go-slow to avoid being victimised after some alleged "State security" personnel reportedly threatened them with unspecified action if they went on strike.
The educators' decision to continue their age-old protest over poor salaries and working conditions comes as school authorities at both public and private schools have decided to migrate to United States dollar (US$) fees, which many parents can hardly afford.
The biggest question many parents are now asking is: What is the use of opening schools and demand US$ fees when children are not even accessing the basic education they enrolled to get?
Honestly speaking, ever since the COVID-19 pandemic struck at the beginning of 2020, children in Zimbabwe have hardly learnt given the lockdowns and unending job actions by teachers. It has now become a complete waste of time and money for parents and their children to keep supporting these schools.
And the most worrying issue about this very untenable state of affairs is government's apparent uncaring attitude regarding the state of the country's education sector as it remains unflinching on the issue of the teachers' salaries and conditions of service.
That government is sticking to fulfilling a school calendar regardless of the fact that nothing is happening at the schools in terms of learning is callous, to say the least. Government's complicity in the destruction of our children's future is more than shocking, it is horrendous.
All the blame for the mess in the education sector, indeed, lies squarely at the doorstep of government which is apparently either at a loss on what to do or simply does not care.
The crux of the matter is: why allow schools to charge in US$ when the majority of Zimbabweans earn in the local currency?; why allow schools to charge US$ fees when the teachers are not teaching?; why force teachers to teach other people's children when they cannot afford to send their own children to school given the poor salaries they earn and why is government being so headstrong over not significantly reviewing teachers and civil servants' wages and conditions of service?
The situation in the education sector is making no sense. It is, in fact, now a whole load of nonsense because parents and their children are being taken for some bloody fools.
It would be in order if parents and children simply boycott schools because there is no point in paying school fees and attending school to do absolutely nothing.
Related Topics